Venetian Palace - Alloro Apartment
Veneto and Trentino - Venice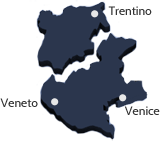 "Venice is like eating an entire box of chocolate liqueurs in one go." - Truman Capote.
Number of beds: 6
Bedrooms: 3

Amenities *
:
ADSL Wi-Fi Internet
City Views
Concierge service
Dishwasher
Hairdryer
Heating
Hi-FI System
Open fireplace
Satellite TV
Washing machine
* Please note:
the included amenities may vary according to final agreement, make sure to check your contract for complete list.
Nearbies:
Venice Marco Polo Airport 14 km Treviso 42 km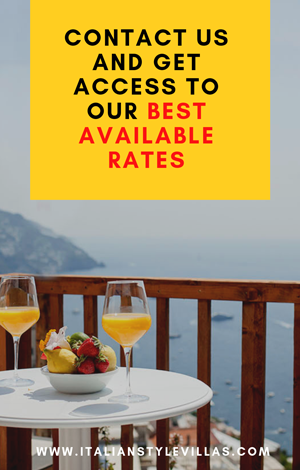 Search for your villa in Italy
Venetian Palace - Alloro Apartment - Venice
3 Bedrooms
Location and Surrounding Area. A jewel within the stunning landscape of Venice, Venetian Palace is set within the canals of this unforgettable city. The 15th century villa with nine individual and impeccable apartments lies in an charmingly maintained residential area near the Rialto Bridge in the San Polo district. Venetian Palace is a place for those who want complete luxury merging with garden lounging as the sun sparkles on the canal. Days spent relaxing, visiting the sights of Venice and the Veneto area, sipping wine at sunset will decidedly create an unforgettable vacation with family and friends. Enjoy views of the canals from a one-of-a-kind villa which astonishes with its elegance and attention to detail. The villa is set in a peaceful location right outside of the central tourist area with all necessary services as well as plenty of historical places to explore.
The villa and its apartments are located in the fun and trendy San Polo district with its main square bustling with the well-known Venetial bacari serving traditional tapas called "chicheti" and typical wine bars. The San Polo and the Rialto districts are connected by the Ruga Rialto main thoroughfare full of local artisan shops. Rialto is famous for its markets and exquisite bridge, the San Giacomo di Rialto church and the Basilica di Santa Maria Gloriosa dei Frari.
The property is set in the cultural capital of Venice, with its canals, islands and unforgettable piazzas. The capital of the Veneto region, Venice is one of the most sought-after destinations in Europe. The well-maintained and preserved historical center is home to the famed San Marco Basilica and tower with ornate gold details and mosaics which is located in one of the most beautiful piazzas in Italy. Take a gondola ride under the captivating Rialto Ponte in the Grand Canal which is both romantic and charming as are all the bridges and narrow streets of this artistic city. Not to miss is the island of Murano which is just a quick boat ride away. There you can find characteristic colourful buildings and the famous glasswork and museum.
Treviso is 45 minutes north of Venice and a little under an hour from the villa and is home to flower-adorned canals with buildings emerging directly from the water. The narrow streets are full of archways and 15th century architecture with colorful frescoes adorning the local houses. For something for the wine-connoisseur's palate, the Luca Ricci farm and winery in Collalto di Susegana is about an hour drive from the villa. Located on the acclaimed "Strada del Vino Bianco" (the white wine road), this bucolic setting is perfect for a relaxing day in nature sipping a variety of famous wines of the region.
The exclusive Venetian Palace is an oasis for a large family or small groups with apartments able to be connected to accommodate groups of up to 32 people. It is a perfect place for get-togethers and meetings. Served by the Line 1 and 2 public transport Vaporetto ACTV, the villa is 14 km from the Venice Marco Polo airport and the well-connected Venice train station and bus station are easily accessed in the center of the city. Treviso is 42 km and the Luca Ricci winery in Callalto di Susegana is 73 km.
The Property. Venetian Palace is the epitome of modern luxury is an immense estate filled with impeccably decorated rooms with antiquities from across the centuries. This villa which is surrounded by canals was first occupied in the 15th century by a noble family whose famous son brought back the famous quadriga from the War of the Fourth Crusade which is considered to be one of the symbols of Venice. The villa is less than an hour's drive from Treviso and an hour from the base of the Dolomites for skiing, biking and hiking are opportunities not to miss!
Venetian Palace has nine sprawling apartments which have all been remodelled to a home full and garden of modernity yet a distinct respect for the past. The architecture and décor are clean-lined and light-filled with all the comforts and technology that make any guest have an unforgettable stay. One of the lovely features of this one-of-a-kind property is that it is set in an area full of life yet not overrun with tourists. It is close to the Grand Canal and the famous Basilica dei Frari and can also be reached easily by the public boat transport.
The ground floor of the Venetian Palace has two stunning one-bedroom apartments with access to the private outdoor space. The first apartment is situated on two floors, sleeping two people with a sitting room, kitchen, double bedroom and full bath. The second one is also perfect for two people with a full separate living room, large kitchen, double bedroom and private bath.
On the first floor there are three apartments: one one-bedroom and two two-bedroom apartments. You can find an apartment which has an eat-in kitchen, living room and double bedroom. The second one features a full kitchen and large eating space with a table for ten, two double bedrooms, two full bathrooms and a large living room with access to a private terrace. The Coriandolo apartment also has access to a private terrace and includes two double bedrooms and full bathrooms, a roomy living space with an eat-in kitchen.
Within the second floor you will discover two one-bedroom and one three-bedroom apartments, two of these with a private balcony which overlook the San Polo canal. The first apartment is on two floors with a view of the canal. The bottom floor has a large open plan kitchen and living room space with an adjoining full bathroom. Ascending the stairs you will find two large double bedrooms with sitting rooms as well as a full bathroom. The Ginepro has two bedrooms as well and faces the St. Agostin square. The double bedroom has a connecting private bath with a small living room whose couch makes into a double bed. The large eat-in kitchen has an adjacent full bathroom.
The Alloro apartment has a view of the canal and sleeps six. There is a large living room with two master suites and full private baths connecting on both sides. Through a hallway there is a large twin bedroom and adjacent bathroom and a large kitchen and dining space.
The historical and secure Venetian Palace is a private, pristine and beautiful property and is fitting for small groups, couples and families. The nine apartments measuring between 40 and 150 sq. m. have top quality linens, bedding and mattresses, fully-equipped kitchens with Nespresso coffee machines, Istrian stone bathrooms, hairdryers, irons and ironing boards, flat-screen TV's, surround-sound stereo systems, dishwashers and washing machines.
On the ground floor there is a perfect space for intimate get-togethers and some of the apartments can convert into meeting and event spaces. The exquisitely kept large 300 sq. m. garden has an open-air kitchen and views of the canal and has been designed with architectural features for lounging and wonderful conversations in the breeze coming off of the ancient San Polo canal to inspire wonderful moments of relaxation. The property also has a water gate and can be reached directly by water taxi.
Features *
2 Double bedrooms
1 Twin Bedroom
3 Bathrooms
Equipped kitchen with refrigerator, Nespresso machine and dishwasher
Washing machine and dryer
Iron and ironing board
Hairdryer
SAT TV and Surround audio system
Wi-Fi
Courtesy products
Housekeeper and laundry upon request
* Please note:
the included amenities may vary according to final agreement, make sure to check your contract for complete list.