Villa Orange
Sicily - Lentini
Taormina, perched 200 meters above sea level, soars above a landscape dominated by the Ionian Sea and the volcanic Etna. With its intrigue derived from its history and vibrant lifestyle, it is no surprise that it is one of the most sought after locations in Sicily. Just further down the Eastern coast we find Siracusa with its persevering Greek origins mixed with baroque detailing all framed by the unbeatable seaside.
Number of beds: 16+4/6
Bedrooms: 8+2

Amenities *
:
ADSL Wi-Fi Internet
Air Conditioning
Babysitter
Barbecue
Breakfast Service
Butler
Caretaker in the grounds
Concierge service
Cooking Class
Cooking Service
Country Views
Daily cleaning
Dishwasher
DVD Player
Hairdryer
Heating
Hot-tub
iPod docking station
Laundry service
Open fireplace
Parking
Playground for children
Pool Table
Satellite TV
Swimming Pool
Table tennis
Tennis Court
Washing machine
WIne Tasting
* Please note:
the included amenities may vary according to final agreement, make sure to check your contract for complete list.
Nearbies:
20 miles to Intl. Airport of Catania 23 miles to Catania 40 miles to Siracusa 20 miles to beach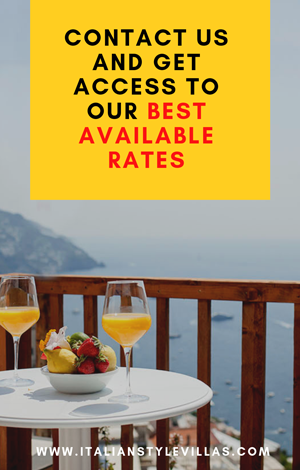 Search for your villa in Italy
Villa Orange – Lentini – Sicily
7 Bedrooms + 1 Suite + the Old Boathouse + Pool + Tennis court
Villa Orange is a luxury property on a family-run citrus plantation, just 20 minutes from Catania. The estate has been transformed into a cosy 8-bedroom home-away-from-home set within 300 acres of fragrant orange groves (mostly blood oranges). Charming & comfortable, rustic-chic interiors with spectacular views of Mount Etna and beyond can be enjoyed from the Orangery and its terraces. A vision of terracotta reds and whitewashed walls against clear blue Sicilian skies, this chic retreat is nestled among fruit and palm trees and guests can easily while away a sunny day by the large infinity pool. Just 5 miles to the nearest village this peaceful oasis at the foot of an extinct volcano is perfect for exploring Catania or relaxing in the peaceful gardens without a care in the world.
Villa Orange makes the perfect luxury villa for friends and family to take over in its entirety. Fully staffed and serviced with a stunning pool and floodlit tennis court there is no better place to enjoy Sicilian sunshine, good food and wine and of course your own choice of company. Nearest airport is Catania: 20 minutes driving distance.
Accommodation 7 rooms & 1 suite each individually-decorated with authentic Italian character, dark wood against white walls, thick woven rugs and embroidered bedcovers all make you feel welcomed and comfortable. The Orange Estate has been run as a family home for over 300 years by a European aristocratic family, and who have chosen to use a variety of their private collection interesting antiques in each room. Intricately painted wooden headboards add to the charm and bookshelves hold tasteful ornamental ducks, flowers and books creating an intimate lived-in ambience.
Rooms are set up as either twins or doubles and the spacious en-suite bathrooms have either double-showers or baths, hand-painted tiles, locally-produced natural soaps made from olive oil and plenty of bath & pool towels. Rooms have air-conditioning as well as colonial wooden fans.
The property consists of two buildings: the main house laying on 2 levels hosts all the bedrooms, 4 are on the ground floor and have own independent access through the garden. 4 bedrooms (2 suites and 2 superior bedrooms) are on the upper level where you can have access through a charming in stone staircase. The second floor features a very sought and large living rooms with handpicked furnishings, well lit spots with armchairs and sofa and precious books to read in a relaxing evening!
Walking through the garden on a perfect grass and under palm trees and colourful orange trees you'll reach the elegant orangerie with a huge and stylish living room connected to the dinner rooom and the kitchen. the dinner room can host more than 20people also for formal dinners.
Activities. The outdoor infinity pool at Villa Orange is lined with palms and guests can, swim, soak in the sun and sip drinks by the poolside, or play a game of tennis on the floodlit court. The Orangery offers majestic views of Mount Etna and the orange groves and the terracotta terraces look out onto the pool and garden pond. It is easy to find a quiet spot around this gorgeous lux retreat from which to admire the natural setting in peace. Explore the nearby villages or take a day trip to Mount Etna.
Dining: The villa's chef is availible to prepare meals upon request and has wide Mediterranean culinary background and is happy to cater to guests preferences, vegetarian, fish and/or meat, using all locally grown, produced or caught, organic ingredients with an eye on the carbon footprint using local suppliers wherever possible. Pricing upon request.
The "Old Boathouse" has been fully refurbished and has an additional 2 ensuite double-rooms with a convertible sitting-room with it's own bathroom apart. Fotos shall be sendt shortly.
Ammenities:
air conditioning
babysitting upon request
car parking
gardens
swimming pool
tennis court
wheelchair access
Wi-Fi - Internet
Availible as a destination wedding venue
Features
7 Bedrooms (double or twin)

2 ensuite double-rooms on request in the Boathouse with a convertible sitting-room with it's own bathroom apart

Stunning pool with furniture

Wi-Fi internet connection

Sat TV
Amenities *
ADSL Wi-Fi Internet
Air Conditioning
Babysitter
Barbecue
Breakfast Service
Butler
Caretaker in the grounds
Concierge service
Cooking Class
Cooking Service
Country Views
Daily cleaning
Dishwasher
DVD Player
Hairdryer
Heating
Hot-tub
iPod docking station
Laundry service
Open fireplace
Parking
Playground for children
Pool Table
Satellite TV
Swimming Pool
Table tennis
Tennis Court
Washing machine
WIne Tasting
* Please note:
the included amenities may vary according to final agreement, make sure to check your contract for complete list.
This is the area where your selected property is located - the pin is indicative and not an exact address.
All the availabilities below are indicative. Please
Contact us
to verify your dates.
Oct 2020
Nov 2020
Dec 2020

| | | | | | | |
| --- | --- | --- | --- | --- | --- | --- |
| Su | Mon | Tu | We | Th | Fr | Sa |
| | | | | | | |
| | | | | | | |
| | | | | | | |
| | | | | | | |
| | | | | | | |

| | | | | | | |
| --- | --- | --- | --- | --- | --- | --- |
| Su | Mon | Tu | We | Th | Fr | Sa |
| | | | | | | |
| | | | | | | |
| | | | | | | |
| | | | | | | |
| | | | | | | |

| | | | | | | |
| --- | --- | --- | --- | --- | --- | --- |
| Su | Mon | Tu | We | Th | Fr | Sa |
| | | | | | | |
| | | | | | | |
| | | | | | | |
| | | | | | | |
| | | | | | | |

Jan 2021
Feb 2021
Mar 2021

| | | | | | | |
| --- | --- | --- | --- | --- | --- | --- |
| Su | Mon | Tu | We | Th | Fr | Sa |
| | | | | | | |
| | | | | | | |
| | | | | | | |
| | | | | | | |
| | | | | | | |
| | | | | | | |

| | | | | | | |
| --- | --- | --- | --- | --- | --- | --- |
| Su | Mon | Tu | We | Th | Fr | Sa |
| | | | | | | |
| | | | | | | |
| | | | | | | |
| | | | | | | |
| | | | | | | |

| | | | | | | |
| --- | --- | --- | --- | --- | --- | --- |
| Su | Mon | Tu | We | Th | Fr | Sa |
| | | | | | | |
| | | | | | | |
| | | | | | | |
| | | | | | | |
| | | | | | | |

Apr 2021
May 2021
Jun 2021

| | | | | | | |
| --- | --- | --- | --- | --- | --- | --- |
| Su | Mon | Tu | We | Th | Fr | Sa |
| | | | | | | |
| | | | | | | |
| | | | | | | |
| | | | | | | |
| | | | | | | |

| | | | | | | |
| --- | --- | --- | --- | --- | --- | --- |
| Su | Mon | Tu | We | Th | Fr | Sa |
| | | | | | | |
| | | | | | | |
| | | | | | | |
| | | | | | | |
| | | | | | | |
| | | | | | | |

| | | | | | | |
| --- | --- | --- | --- | --- | --- | --- |
| Su | Mon | Tu | We | Th | Fr | Sa |
| | | | | | | |
| | | | | | | |
| | | | | | | |
| | | | | | | |
| | | | | | | |