Taormina, perched 200 meters above sea level, soars above a landscape dominated by the Ionian Sea and the volcanic Etna. With its intrigue derived from its history and vibrant lifestyle, it is no surprise that it is one of the most sought after locations in Sicily. Just further down the Eastern coast we find Siracusa with its persevering Greek origins mixed with baroque detailing all framed by the unbeatable seaside.
Number of beds: 6+2
Bedrooms: 3

Amenities *
:
ADSL Wi-Fi Internet
Air Conditioning
Barbecue
Dishwasher
DVD Player
Hairdryer
Heating
Hi-FI System
Ocean Views
Parking
Satellite TV
Swimming Pool
Washing machine
* Please note:
the included amenities may vary according to final agreement, make sure to check your contract for complete list.
Nearbies:
Noto 2 km, Vendicari Reserve, Isola delle Correnti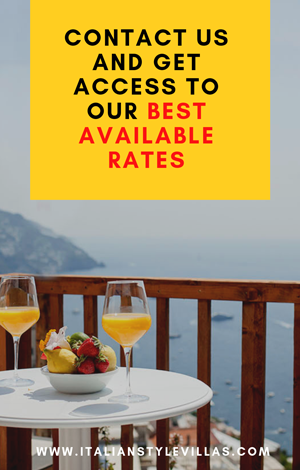 Search for your villa in Italy
Villa Gold – Noto - Sicily
3 Double Bedrooms – Pool
Villa Gold is a beautiful modern designed Villa, with private pool, inside a splendid citrus grove (citrus papeda is the scientific name of a local species of lemon). The building is located on a hill, 2 km far from the center of Noto. On the eastern side, it faces the sea and part of the town of Noto (the lights view at night is particularly suggestive).
The recently built villa, the position of which guarantees total privacy, is located in a suggestive citrus field and others local plants, such as olive and almond trees, which project refreshing shadows even in the hottest days of summer. In that regard, the near seaside permit to enjoy soft cooling breezes.
The villa is very few kilometres far from the appealing beaches of Vendicari Reserve and the "Caribbean like" ones (so called for their white sands) near the "Isola delle Correnti" (Isle of Tides).
The villa is built on a single floor, very bright interiors, and from every room there is a direct exit to the garden, full of indigenous plants, the lawn, and patches of succulent plants.
The villa has a summer porch with pergolas around, for staying outside sheltered from sunlight, BBQ area, and exterior lounges for relax.
Internally: large living room, kitchen, three large bedrooms, one with exclusive bathroom, one shared bathroom and laundry-closet space. The furniture is of modern design.
Externally: the property extends for an area of about 2.5 acres of land. The areas neighbouring the villa include a garden with local and succulent plants. The private pool (3 x 12) is surrounded by the lawn near the entrance of the porch.
Because of proximity, the villa can be rented jointly with "Villa Silver". Together they can comfortably accommodate 14-16 people.
Features *
3 Double bedrooms (double or twins in according to guest's needs)
2 Bathrooms
Outdoor Pool (3 x 12) with sun beds
Private Park with local plants
Breathtaking Sea View
Outdoor relax and lunch areas
Porches and pergolas
BBQ grill
Equipped kitchen with microwave, dishwasher, fridge and freezer, electric kettle, toaster
Air conditioning and heating system
Cribs for infants and high chair
DVD player, stereo system, sat TV, VHS player
Hairdryer
Iron and Washing machine
Linen and towel stock
Free Wi-Fi
Private parking lot
Cleaning and kitchen staff on demand
* Please note:
the included amenities may vary according to final agreement, make sure to check your contract for complete list.
This is the area where your selected property is located - the pin is indicative and not an exact address.
All the availabilities below are indicative. Please
Contact us
to verify your dates.
Jun 2020
Jul 2020
Aug 2020

| | | | | | | |
| --- | --- | --- | --- | --- | --- | --- |
| Su | Mon | Tu | We | Th | Fr | Sa |
| | | | | | | |
| | | | | | | |
| | | | | | | |
| | | | | | | |
| | | | | | | |

| | | | | | | |
| --- | --- | --- | --- | --- | --- | --- |
| Su | Mon | Tu | We | Th | Fr | Sa |
| | | | | | | |
| | | | | | | |
| | | | | | | |
| | | | | | | |
| | | | | | | |

| | | | | | | |
| --- | --- | --- | --- | --- | --- | --- |
| Su | Mon | Tu | We | Th | Fr | Sa |
| | | | | | | |
| | | | | | | |
| | | | | | | |
| | | | | | | |
| | | | | | | |
| | | | | | | |

Sep 2020
Oct 2020
Nov 2020

| | | | | | | |
| --- | --- | --- | --- | --- | --- | --- |
| Su | Mon | Tu | We | Th | Fr | Sa |
| | | | | | | |
| | | | | | | |
| | | | | | | |
| | | | | | | |
| | | | | | | |

| | | | | | | |
| --- | --- | --- | --- | --- | --- | --- |
| Su | Mon | Tu | We | Th | Fr | Sa |
| | | | | | | |
| | | | | | | |
| | | | | | | |
| | | | | | | |
| | | | | | | |

| | | | | | | |
| --- | --- | --- | --- | --- | --- | --- |
| Su | Mon | Tu | We | Th | Fr | Sa |
| | | | | | | |
| | | | | | | |
| | | | | | | |
| | | | | | | |
| | | | | | | |

Dec 2020
Jan 2021
Feb 2021

| | | | | | | |
| --- | --- | --- | --- | --- | --- | --- |
| Su | Mon | Tu | We | Th | Fr | Sa |
| | | | | | | |
| | | | | | | |
| | | | | | | |
| | | | | | | |
| | | | | | | |

| | | | | | | |
| --- | --- | --- | --- | --- | --- | --- |
| Su | Mon | Tu | We | Th | Fr | Sa |
| | | | | | | |
| | | | | | | |
| | | | | | | |
| | | | | | | |
| | | | | | | |
| | | | | | | |

| | | | | | | |
| --- | --- | --- | --- | --- | --- | --- |
| Su | Mon | Tu | We | Th | Fr | Sa |
| | | | | | | |
| | | | | | | |
| | | | | | | |
| | | | | | | |
| | | | | | | |