Villa dei due Golfi
Amalfi, Sorrento and Islands - S. Agata sui due golfi
It is one of the most popular destinations with international tourism, attracted by the vivacity of this seaside resort. Its beauty has been celebrated since Roman times: the town overhanging the gulf of Naples, surrounded by gardens of land diving into the sea.
Number of beds: 22
Bedrooms: 11

Amenities *
:
Access to the beach
ADSL Wi-Fi Internet
Air Conditioning
Breakfast Service
Cooking Class
Daily cleaning
DVD Player
Hi-FI System
Ocean Views
Parking
Satellite TV
Swimming Pool
Tennis Court
WIne Tasting
* Please note:
the included amenities may vary according to final agreement, make sure to check your contract for complete list.
Nearbies:
Sorrento 13,4 km Positano 26,9 km Amalfi 42,4 km Circumvesuviana railway from Naples 60 km Naples Airport "Capodichino" 60 km RomeAirport "Leonardo da Vinci 280 km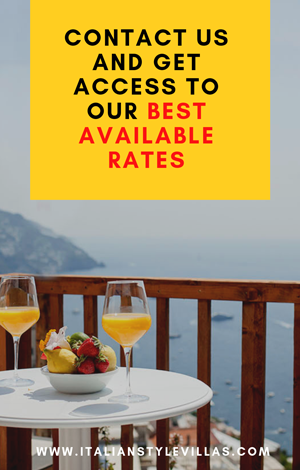 Search for your villa in Italy
Villa dei due Golfi – S. Agata sui due Golfi – Sorrento Coast
11 Bedrooms - Pool
Built on the hillside above S. Agata sui due Golfi in one of the most panoramic spots on the sorrentine peninsula, the Villa dei due Golfi provides a scenery of great suggestion and the best in elegance and hospitality. It is the ideal setting for those wishing to spend their holiday in peace and tranquillity, relaxing in this corner of paradise where the peace and quiet surrounding it guarantee the best of holidays. It's style, class and taste together with the attention to detail are indispensable elements which create an overall welcoming atmosphere which will make your holiday unforgettable. This charming property offers suggestive scenery and the best in hospitality and elegance. It is the ideal place for those wishing to spend a tranquil and serene holiday relaxing in this corner of paradise, where the surrounding peace guarantees a perfect and unforgettable holiday.
The rooms and suites are exquisitely decorated with antiques and period furniture, and wherever possible, the original brightly coloured ceramics, so characteristic of this area, have been retained. Many of the en-suite bathrooms have Jacuzzi baths and all rooms have balconies with fabulous views, Its terraces look out onto two sweeping bays in the Tyrrhenian Sea. Across one, the famous Bay of Naples, you can see the looming shadow of Vesuvius behind the city of Naples.
By car on arrival in Naples, take the A3 Napoli-Salerno motorway and exit at the Castellammare di Stabia junction. Continue along the SS. 145, following the signs for Vico Equense and Sorrento; When reaching the junction in Meta, follow the sign towards "Amalfi -Positano" and turn off for S. Agata Sui Due Golfi; continue until you reach the Villa dei due Golfi
By Train: Circumvesuviana railway from Naples (60 km). By Air: Naples Airport "Capodichino" (60 km), RomeAirport "Leonardo da Vinci (280 km). By Helicopter: private area in front of the hotel.
Features *
11 bedrooms with ensuite bath

Daily maid service

Park, Garden

Swimming pool

Tennis Court

Private beach

Rooms and suites with Balcony, Satellite TV Air conditioning Telephone, Mini bar, Safe Hydro massage bath or shower

Available on Request:

Cooking classes

Breakfast

Wine tasting

Transfers by car

Bike tours

Persoanl view

Excursions by driver

Tour/Transfer by Helicopter

Rent a boat
* Please note:
the included amenities may vary according to final agreement, make sure to check your contract for complete list.
Reviewed by: Mrs Mck
How did you enjoy your ISV experience; actual accommodations, amenities and services

Please feel free to share with your fantastic team and everyone who had a hand in this milestone trip for my client and her group. I had a lovely and long conversation with her just this week and she went through each and every day, every tour, tour guide, driver, etc.
She told me first off that she went into this trip with very very high expectations. Right away she confirmed that her expectations were exceeded!
I would not know how to describe her favorite component – she kept telling me that each day surpassed the day before. She recounted her days in detail, from start to finish. She told me there was not one single complaint. Not from her, not from any members of her group.
She is a very satisfied guest and I hope a repeat one as well.
Again – many thanks to everyone!!!
July 2015
This is the area where your selected property is located - the pin is indicative and not an exact address.