Villa Blu Corallo
Amalfi, Sorrento and Islands - Nerano
It is one of the most popular destinations with international tourism, attracted by the vivacity of this seaside resort. Its beauty has been celebrated since Roman times: the town overhanging the gulf of Naples, surrounded by gardens of land diving into the sea.
Number of beds: 10
Bedrooms: 5

Amenities *
:
ADSL Wi-Fi Internet
Air Conditioning
Barbecue
Breakfast Service
Daily cleaning
Dishwasher
DVD Player
Hairdryer
Heating
Ocean Views
Open fireplace
Parking
Satellite TV
Swimming Pool
Washing machine
* Please note:
the included amenities may vary according to final agreement, make sure to check your contract for complete list.
Nearbies:
Sant Agata 6,5 km Massa Lubrense 9,3 km, Sorrento 17,2 km, Positano 16,1 km, Pompei 46,4 km, Naples 65 km, Naples Airport Capodichino 70 km, Naples Central Train Station 70 km, Rome 283 km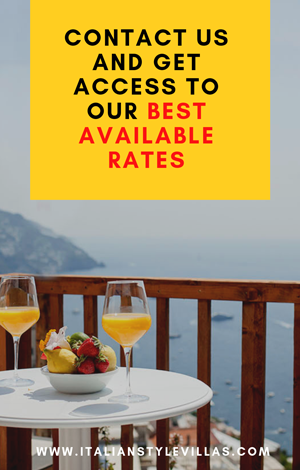 Search for your villa in Italy
Villa Blu Corallo – Nerano – Sorrento Coast
5 Bedrooms – Jacuzzi Pool on the roof - Swimming Pool
Villa Blu Corallo is in Nerano on the charming bay of Marina del Cantone at the southernmost tip of the spectacular Amalfi peninsula. This beautiful villa has been skilfully renovated and transformed into a luxury seaside residence. The three floors cover a total area of 400 square metres and have incredible views along the coast from Salerno to Capri and out across the Bay. The villa can comfortably accomodate ten people in five exclusive bedrooms and features a main swimming pool, a smaller jacuzzi pool, three private panoramic terraces with sea views, a private patio at the back of the house, air conditioning, heating and WI-FI internet access.
The area around Nerano and Marina del Cantone is an ideal destination for both lovers of the sea and lovers of the mountains. The mountain paths and scenery are a delight for walkers and the pebbly beach has several private lidos and an abundance of beach-front restaurants serving delicious local dishes. The villa is about 1 km from the beach of Marina del Cantone, where you will find several shops and a pier for the regular boats to the islands of Capri and Ischia. The SITA bus stop for the Sorrento - Massa Lubrense - Nerano line is about 500 metres away and the villa has a private garage for two minibuses and an outdoor parking space for an additional car. We can also arrange a limousine service if you prefer.
The lush gardens are full of Mediterranean plants and flowers and the patio area around the swimming pool is furnished with sun loungers and ample, comfortable seating. The pool is open from the beginning of April until the end of October. Next to the main pool area there is a huge shady patio with a long wooden table, chairs, a barbecue and a modern kitchen, perfect for those wonderfully glamorous al fresco meals.
Interior
The front door opens into a spacious hallway which is connected to the various living spaces and has multiple access points to the garden and terrace. There is a sitting room with fireplace, a TV lounge with a high-tech television, a Bose Dock Station, satellite TV, a dining room, a modern, fully equipped kitchen and a downstairs bathroom.
The living room floor is covered with original, handmade tiles and inlaid designs. The elegant furnishings include various sofas and armchairs and a lovely fireplace. The long, wooden, dining table was designed and created by the owners and can easily accommodate up to 14 guests. Worthy of note is the quality of all the furnishings and fabrics used as they are all by either Italian designers or luxury brand names.
A short flight of steps leads up the first floor with its three double bedrooms, each with en suite bathroom. One en suite bathroom has a chromatherapy whirlpool tub and the other two have showers. There is stylish sitting area on the first floor and access to another terrace with an Infinity whirlpool bath (4 x 3.80 m, depth 70 cm) and breathtaking views of the bay of Marina del Cantone. This 30 square metre terrace is partly shaded by an exceptionally pretty bougainvillea pergola. It is also equipped with sun loungers and an outside shower. From here, there is a breathtaking view out across the water. The first floor can be separated off, turning it into a magnificent suite consisting of a double bedroom and en-suite bathroom with a private terrace and jacuzzi.
There are 2 more double bedrooms on the second floor, again each with an en suite bathroom and shower. One of theses bedrooms has access to the third panoramic terrace with sea views.
The first and second floors are paved with a solid wood flooring. Four of the five bedrooms have a king size bed and the fifth has a wider-than-usual queen-size bed. All the bedrooms are equipped with a desk, orthopaedic memory foam mattress, satellite TV, mini-fridge, air conditioning and wardrobe. Four bedrooms have a safe box, three have a sea view and two have a view of the gardens. Four of the bathrooms have a shower and the fifth has a whirlpool bath. Alll of them have a hairdryer.
Distances: Sant'Agata 6,5 km, Massa Lubrense 9 km, Sorrento 17 km, Positano 16 km, Pompei 46 km, Naples 70 km, Naples international airport 75 km, Naples central train station 70 km, Rome 283 km.
Features *
5 double bedrooms

5 en suite bathrooms (one with whirlpool tub)

Satellite TV, mini-fridge, air conditioning, hairdryer in each bedroom

Private garden

Swimming pool with beach lounge chairs (5 m x12 m)

Terraces and balconies with sea-view and furnishings for outdoor dining

A jacuzzi pool (4 m x 4 m) on the first floor

Kitchen equipped with a four-burner gas cooker, an electric oven, a refrigerator with freezer, a dishwasher, a microwave oven, an Italian-style coffee-maker, an American-style coffee-maker (bring your filters!), a toaster and other small appliances

Washing machine and dryer

Barbecue and outdoor kitchen

Fireplace

Internet Wi-Fi connection

Air conditioning throughout

DVD player

Garage for 2 minibuses and an outdoor parking space for 1 car

Buffet breakfast included

Bath towels changed every day

Bed linen change midweek or when necessary

Daily maid service

For every 2 week stay, the owner is offering dinner at a restaurant on the beach
* Please note:
the included amenities may vary according to final agreement, make sure to check your contract for complete list.
This is the area where your selected property is located - the pin is indicative and not an exact address.
All the availabilities below are indicative. Please
Contact us
to verify your dates.
Jun 2020
Jul 2020
Aug 2020

| | | | | | | |
| --- | --- | --- | --- | --- | --- | --- |
| Su | Mon | Tu | We | Th | Fr | Sa |
| | | | | | | |
| | | | | | | |
| | | | | | | |
| | | | | | | |
| | | | | | | |

| | | | | | | |
| --- | --- | --- | --- | --- | --- | --- |
| Su | Mon | Tu | We | Th | Fr | Sa |
| | | | | | | |
| | | | | | | |
| | | | | | | |
| | | | | | | |
| | | | | | | |

| | | | | | | |
| --- | --- | --- | --- | --- | --- | --- |
| Su | Mon | Tu | We | Th | Fr | Sa |
| | | | | | | |
| | | | | | | |
| | | | | | | |
| | | | | | | |
| | | | | | | |
| | | | | | | |

Sep 2020
Oct 2020
Nov 2020

| | | | | | | |
| --- | --- | --- | --- | --- | --- | --- |
| Su | Mon | Tu | We | Th | Fr | Sa |
| | | | | | | |
| | | | | | | |
| | | | | | | |
| | | | | | | |
| | | | | | | |

| | | | | | | |
| --- | --- | --- | --- | --- | --- | --- |
| Su | Mon | Tu | We | Th | Fr | Sa |
| | | | | | | |
| | | | | | | |
| | | | | | | |
| | | | | | | |
| | | | | | | |

| | | | | | | |
| --- | --- | --- | --- | --- | --- | --- |
| Su | Mon | Tu | We | Th | Fr | Sa |
| | | | | | | |
| | | | | | | |
| | | | | | | |
| | | | | | | |
| | | | | | | |

Dec 2020
Jan 2021
Feb 2021

| | | | | | | |
| --- | --- | --- | --- | --- | --- | --- |
| Su | Mon | Tu | We | Th | Fr | Sa |
| | | | | | | |
| | | | | | | |
| | | | | | | |
| | | | | | | |
| | | | | | | |

| | | | | | | |
| --- | --- | --- | --- | --- | --- | --- |
| Su | Mon | Tu | We | Th | Fr | Sa |
| | | | | | | |
| | | | | | | |
| | | | | | | |
| | | | | | | |
| | | | | | | |
| | | | | | | |

| | | | | | | |
| --- | --- | --- | --- | --- | --- | --- |
| Su | Mon | Tu | We | Th | Fr | Sa |
| | | | | | | |
| | | | | | | |
| | | | | | | |
| | | | | | | |
| | | | | | | |