Villa Maestrale
Apulia Calabria and Basilicata - Carovigno
Nature, history and art have made Apulia a major tourist destination:discover a new land for your holidays.
Number of beds: 10
Bedrooms: 5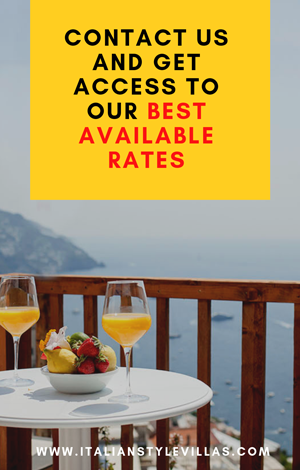 Search for your villa in Italy
Villa Maestrale – Carovigno - Apulia
5 Bedrooms – Pool with Jacuzzi
Location and Surrounding Area. Located in one of the most appreciated areas in Apulia, just a few kilometers from the marvellous Adriatic coast and out of the town of Carovigno, this exclusive five-bedroom property is ideally situated to offer complete privacy and tranquility to its guests, providing a perfect seaside retreat for the sweet idleness the Italian refer to as "dolce far niente". Villa Maestrale is just a stone's throw away from the Protected Nature Reserve of Torre Guaceto, whose incredible landscape makes it a charming place to take long walks, go hiking and go biking.
The villa is also a few kilometers from Carovigno, a lovely medieval town in northern Salento, exceptionally well-known for its beautiful coast and the production of high quality olive oil, as well as for its attractive historic center and Dentice di Frasso Castle. The land is characterized by the sprawl of centuries-old olive groves, manor farms, and beautiful varied beaches that stretch along the crystal-clear sea for nearly fourteen kilometers. Carovigno has also earned four sails in the Touring Club's Blue Guide thanks to its clean waters, and the Blue Flag of Beaches for the beauty of its coast.
In less than half an hour by car, you can easily reach Ostuni, also known as the White City. Hidden in the heart of Apulia and surrounded by ancient walls, the old town is renowned for its white-washed center, where the flat top buildings contrast against the tranquil teal waters. From the buildings that rise from the flat plains, you would not be mistaken for thinking that you are currently wandering around a charming Greek village. Ostuni's coastline meanders along seventeen kilometers of Mediterranean scrub, sandy beaches, and rocky shores.
Villa Maestrale is just 34 km from Salento Airport, 108 km from Bari International Airport - Karol Wojtyla, and 323 km from Lamezia Terme International Airport. Carovigno (where all the necessary services can be easily found) and the Protected Nature Reserve of Torre Guaceto are less than 10 km from the villa, Ostuni is less than 20 km, and Brindisi is 30 km.
The Property. Surrounded by nature and immersed in a landscape of exceptional beauty, just a few steps from the crystal-clear waters of the Adriatic Sea, Villa Maestrale is the result of a perfect balance between Italian tradition and contemporary style, providing a unique retreat for those seeking complete privacy and pure relaxation in one of the most appreciated areas in Apulia. Nestled in a peaceful Mediterranean garden overlooking the sea, this magnificent villa can accommodate up to ten guests, offering five double bedrooms with en-suite bathrooms spread across two structures linked by a patio.
The villa is surrounded by an exquisitely kept garden where you will find a modern swimming pool (4 x 15 meters and 1.5 meters deep) with heated Jacuzzi (236 x 204 cm) and a spacious poolside area equipped with comfortable sun loungers, deckchairs, outdoor showers, and a large parasol providing plenty of shade on hot summer days. Offering a peaceful atmosphere and a spectacular view over the sea, the paved area beside the pool is the ideal place for basking in the sun and enjoying moments of relaxation in the company of a good book and a glass of prosecco.
The paved patio also boasts a generous al fresco dining area with barbecue under a shady pergola, where guests can intimately spend time together while enjoying traditional Italian food and the mild Mediterranean climate. Surrounded by lawn and monumental olive trees, the patio also offers a number of furnished and peaceful corners where guests can relax while taking in the scenery with the flower-scented breeze cooling the afternoon air.
From the patio, guests can access the modern interior living space, which features an open plan living area with fully-equipped kitchen complete with oven, microwave, dishwasher, espresso machine, toaster and kettle. Flooded with light and separated from the kitchen by an exceptional bamboo partition, the living room is uniquely furnished with comfortable sofas and armchairs, and richly decorated with pieces of contemporary design, while the large windows overlooking the garden create a luminous atmosphere. From the kitchen, through a sliding glass door, you can access a covered dining area on the patio, which houses a large table that can accommodate up to ten people.
The corridor next to the living room leads to three comfortable double bedrooms with modern en-suite bathrooms, each characterized by a refined and neutral minimalist design. Two of the bedrooms are adjoining, making them the ideal solution for families with children or groups of friends. Individually accessed from the patio, two spacious suites with private bathroom with bathtub can be found in the other structure of the property, offering an exceptional living environment complete with flat-screen TV, air conditioning, comfortable sofas and armchairs.
Wi-Fi Internet connection throughout the villa, air conditioning and heating make this property complete and perfect for even the most demanding guests. The villa also features a washing machine, electric iron, ironing board and safe. An electrically operated gate provides access to the property, which features a private parking area for the exclusive use of the villa's guests. The property is also equipped with alarm system and outdoor security cameras to ensure the guests' safety and security.
Features
5 Double bedrooms

5 En-Suite bathrooms

Living Room

Fully-Equipped kitchen with espresso machine, toaster, kettle, oven and microwave

Al Fresco dining area

Swimming Pool with Jacuzzi

Furnished poolside area

Paved patio

Garden

Outdoor dining with cooking area

Barbecue

Dishwasher

Electric iron and ironing board

Washing machine

Safe

TV

Wi-Fi Internet Connection

Air Conditioning and heating

Alarm System and outdoor security cameras

Private parking area
Amenities *
ADSL Wi-Fi Internet
Air Conditioning
Barbecue
Country Views
Dishwasher
Hairdryer
Heating
Hot-tub
Ocean Views
Parking
Satellite TV
Swimming Pool
Washing machine
* Please note:
the included amenities may vary according to final agreement, make sure to check your contract for complete list.
Amenities *
Air conditioning in the bedrooms
Hairdryer in bathroom
dryer
Barbecue
Dishwasher
Washing machine
Beds and Mattresses
Parking
Swimming Pool
Daily cleaning
Heating
Heated Pool
Satellite TV
Smart Flat screen TV
ADSL Wi-Fi Internet
* Please note:
the included amenities may vary according to final agreement, make sure to check your contract for complete list.
From
To
Guests
Rate per week
02/01/2021
03/04/2021
€ 4200
03/04/2021
10/04/2021
€ 10500
10/04/2021
01/05/2021
€ 4200
01/05/2021
12/06/2021
€ 4900
12/06/2021
26/06/2021
€ 6300
26/06/2021
24/07/2021
€ 10500
24/07/2021
07/08/2021
€ 11900
07/08/2021
21/08/2021
€ 13300
21/08/2021
28/08/2021
€ 11900
28/08/2021
04/09/2021
€ 10500
04/09/2021
18/09/2021
€ 6300
18/09/2021
30/10/2021
€ 4900
30/10/2021
18/12/2021
€ 4200
18/12/2021
01/01/2022
€ 10500
01/01/2022
26/03/2022
€ 4200
Included in rental price

Electricity, water, gas, A/C and final cleaning

Cleaning and towel change services once in the middle of the week (not including linen change)

Wi-Fi Internet access

Garden and pool maintenance

Non included in rental price

Heating as per meter reading
Pantry pre-stocking service: €50 plus cost of purchased goods
Baby cot and high chair: €150/week

Further information

Security deposit of 2000€ is required two weeks prior arrival by wire transfer

Check-in 5:00 pm – 8:00 pm; Check-out 8:00 am – 10:00 am


This is the area where your selected property is located - the pin is indicative and not an exact address.
All the availabilities below are indicative. Please
Contact us
to verify your dates.
Feb 2021
Mar 2021
Apr 2021

| | | | | | | |
| --- | --- | --- | --- | --- | --- | --- |
| Su | Mon | Tu | We | Th | Fr | Sa |
| | | | | | | |
| | | | | | | |
| | | | | | | |
| | | | | | | |
| | | | | | | |

| | | | | | | |
| --- | --- | --- | --- | --- | --- | --- |
| Su | Mon | Tu | We | Th | Fr | Sa |
| | | | | | | |
| | | | | | | |
| | | | | | | |
| | | | | | | |
| | | | | | | |

| | | | | | | |
| --- | --- | --- | --- | --- | --- | --- |
| Su | Mon | Tu | We | Th | Fr | Sa |
| | | | | | | |
| | | | | | | |
| | | | | | | |
| | | | | | | |
| | | | | | | |

May 2021
Jun 2021
Jul 2021

| | | | | | | |
| --- | --- | --- | --- | --- | --- | --- |
| Su | Mon | Tu | We | Th | Fr | Sa |
| | | | | | | |
| | | | | | | |
| | | | | | | |
| | | | | | | |
| | | | | | | |
| | | | | | | |

| | | | | | | |
| --- | --- | --- | --- | --- | --- | --- |
| Su | Mon | Tu | We | Th | Fr | Sa |
| | | | | | | |
| | | | | | | |
| | | | | | | |
| | | | | | | |
| | | | | | | |

| | | | | | | |
| --- | --- | --- | --- | --- | --- | --- |
| Su | Mon | Tu | We | Th | Fr | Sa |
| | | | | | | |
| | | | | | | |
| | | | | | | |
| | | | | | | |
| | | | | | | |

Aug 2021
Sep 2021
Oct 2021

| | | | | | | |
| --- | --- | --- | --- | --- | --- | --- |
| Su | Mon | Tu | We | Th | Fr | Sa |
| | | | | | | |
| | | | | | | |
| | | | | | | |
| | | | | | | |
| | | | | | | |

| | | | | | | |
| --- | --- | --- | --- | --- | --- | --- |
| Su | Mon | Tu | We | Th | Fr | Sa |
| | | | | | | |
| | | | | | | |
| | | | | | | |
| | | | | | | |
| | | | | | | |

| | | | | | | |
| --- | --- | --- | --- | --- | --- | --- |
| Su | Mon | Tu | We | Th | Fr | Sa |
| | | | | | | |
| | | | | | | |
| | | | | | | |
| | | | | | | |
| | | | | | | |
| | | | | | | |