Palazzo Leccese - Masseria Acqua
Apulia Calabria and Basilicata - Muro Leccese
Nature, history and art have made Apulia a major tourist destination:discover a new land for your holidays.
Number of beds: 14
Bedrooms: 6

Amenities *
:
ADSL Wi-Fi Internet
Air Conditioning
Barbecue
City Views
Dishwasher
DVD Player
Hairdryer
Heating
Hi-FI System
Open fireplace
Parking
Satellite TV
Swimming Pool
Washing machine
* Please note:
the included amenities may vary according to final agreement, make sure to check your contract for complete list.
Nearbies:
Maglie 1 km, Otranto 16 km, . Castro 16 km, Santa Maria di Leuca 35 km, Gallipoli 35 km, Lecce 35 km, 18-hole Golf Club only 37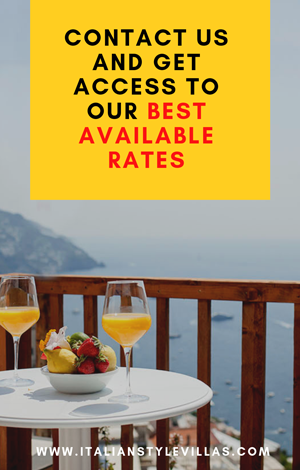 Search for your villa in Italy
Palazzo Leccese – Masseria Acqua - Muro Leccese – Apulia
6 Bedrooms – Pool
Luxurious Salento farmhouse in the centre of a charming village, ideal for a large group wanting plenty of space and a private swimming pool.
Location and Surrounding Area. Masseria Acqua is situated in the heart of the pretty village of Muro Leccese near Otranto in the south of the Salento. In addition to the stunning natural beauty, the area is significant for its local archaeological finds. There are plenty of shops and restaurants in the village, all within easy walking distance of the villa.
The turquoise waters in the sheltered cove at Porto Badisco make for safe swimming and excellent snorkelling. According to Virgil, Porto Badisco was the site of Aeneas's first landing in Italy after his escape from Troy but some historians dispute the fact and suggest the Roman harbour of Castro instead. Castro is a gorgeous coastal fishing village with the historical centre up on the hill and the lively marina below. The nearby coastline is studded with pretty caves, perhaps the most famous being the spectacular Grotta Zinzulusa limestone caves.
The city of Otranto is offers all the splendours of an original Greek settlement. The city's story is perhaps best told in the cathedral with its large-scale mosaics dating back to the 12th century and the bones of the 813 martyrs displayed behind the altar. The city is set on the spectacular Adriatic coastline and also offers gorgeous, sandy beaches and lively beach clubs.
Beautiful baroque Lecce has to be seen to be believed. It's the perfect destination for wandering around the little lanes and admiring the distinctive 17th century architecture. It has a delightful historical centre and an excavated Roman amphitheatre.
Masseria Acqua is 16 km from Otranto, 1 km from Maglie, 16 km from Castro and 35 km from Santa Maria di Leuca, which is right on the southernmost tip of Puglia. It is 35 km from Gallipoli, the last outpost of Magna Grecia and 40 km from Ugento. The stunning, baroque capital of Lecce is 35 km away and if you enjoy a round of golf, there is an 18-hole Golf Club only 37km away in Acaya. The nearest international airport is Brindisi (85 km) and the larger Bari International Airport is 200 km away.
The Property. Masseria Acqua was lovingly restored to its former glory by the architect Federico Pace. The property dates back to the 16th century and the interior décor is stylishly sleek, bohemian-chic. It offers luxurious accommodation for up to 14 guests in six spacious bedrooms. There is also a flexible option of adding six extra guests in two additional twin rooms and an extra attic apartment with two double bedrooms with en suite bathrooms on request.
Masseria Acqua has four spacious double bedrooms, two enormous triple rooms and a total of six bathrooms. Each bedroom is beautifully decorated and the furniture blends harmoniously with an eclectic mix of modern, antique pieces and fine art from the owner's private collection.
The living areas are enormous and full of glorious sunshine. The vaulted ceilings are typical of the farmhouses in Puglia and the large glass windows ensure that almost every room is indeed a room with a view. The dining room has a table capable of comfortably seating 16 guests and again, has fine views over the garden. There are two fully-fitted kitchens and the whole house can easily be divided into four self-contained units if guests prefer some family privacy.
The old stone walls that surround the garden create an oasis of peace and privacy. The uniquely shaped swimming pool is perfect for sportier guests looking to burn off that extra helping at dinner time.
Features
4 Double bedrooms
2 Triple bedrooms
(option of 2 extra twin rooms and/or a 2 bedroom apartment with 2 en suite bathrooms)
6 Bathrooms in the main property
2 Kitchens
Living/entertaining area
Dining room with seating for 16 guests
Fireplace
Wi-Fi
TV
Air conditioning
Heating
Washing machine
Iron
Hairdryers
Baby equipment
Outdoor dining area
Swimming pool (20m x 2m, depth between 1m and 2m)
Furnished poolside deck
Private parking
Services on request: housekeeping (10€/hour), chef service, grocery shopping, transfers, guided tours, boat rentals and tours
Amenities *
ADSL Wi-Fi Internet
Air Conditioning
Barbecue
City Views
Dishwasher
DVD Player
Hairdryer
Heating
Hi-FI System
Open fireplace
Parking
Satellite TV
Swimming Pool
Washing machine
* Please note:
the included amenities may vary according to final agreement, make sure to check your contract for complete list.
From
To
Guests
Rate per week
02/01/2021
31/05/2021
€ 7875
01/06/2021
31/10/2021
€ 9625
01/11/2021
31/12/2021
€ 7875
Included in rental price

1 bed linen set

2 bathroom linen sets per bed room

garden maintenance

electricity and gas up to € 100,00 consumption

Non included in rental price

Electricity and gas over € 100,00 comsuption

final cleaning ffe 300,00€

A maid is available 7 days a week upon request at an additional cost of 10,00€ per hour

Further information

Security Refundable deposit EUR 1.000
This is the area where your selected property is located - the pin is indicative and not an exact address.
All the availabilities below are indicative. Please
Contact us
to verify your dates.
Feb 2021
Mar 2021
Apr 2021

| | | | | | | |
| --- | --- | --- | --- | --- | --- | --- |
| Su | Mon | Tu | We | Th | Fr | Sa |
| | | | | | | |
| | | | | | | |
| | | | | | | |
| | | | | | | |
| | | | | | | |

| | | | | | | |
| --- | --- | --- | --- | --- | --- | --- |
| Su | Mon | Tu | We | Th | Fr | Sa |
| | | | | | | |
| | | | | | | |
| | | | | | | |
| | | | | | | |
| | | | | | | |

| | | | | | | |
| --- | --- | --- | --- | --- | --- | --- |
| Su | Mon | Tu | We | Th | Fr | Sa |
| | | | | | | |
| | | | | | | |
| | | | | | | |
| | | | | | | |
| | | | | | | |

May 2021
Jun 2021
Jul 2021

| | | | | | | |
| --- | --- | --- | --- | --- | --- | --- |
| Su | Mon | Tu | We | Th | Fr | Sa |
| | | | | | | |
| | | | | | | |
| | | | | | | |
| | | | | | | |
| | | | | | | |
| | | | | | | |

| | | | | | | |
| --- | --- | --- | --- | --- | --- | --- |
| Su | Mon | Tu | We | Th | Fr | Sa |
| | | | | | | |
| | | | | | | |
| | | | | | | |
| | | | | | | |
| | | | | | | |

| | | | | | | |
| --- | --- | --- | --- | --- | --- | --- |
| Su | Mon | Tu | We | Th | Fr | Sa |
| | | | | | | |
| | | | | | | |
| | | | | | | |
| | | | | | | |
| | | | | | | |

Aug 2021
Sep 2021
Oct 2021

| | | | | | | |
| --- | --- | --- | --- | --- | --- | --- |
| Su | Mon | Tu | We | Th | Fr | Sa |
| | | | | | | |
| | | | | | | |
| | | | | | | |
| | | | | | | |
| | | | | | | |

| | | | | | | |
| --- | --- | --- | --- | --- | --- | --- |
| Su | Mon | Tu | We | Th | Fr | Sa |
| | | | | | | |
| | | | | | | |
| | | | | | | |
| | | | | | | |
| | | | | | | |

| | | | | | | |
| --- | --- | --- | --- | --- | --- | --- |
| Su | Mon | Tu | We | Th | Fr | Sa |
| | | | | | | |
| | | | | | | |
| | | | | | | |
| | | | | | | |
| | | | | | | |
| | | | | | | |