Masseria Specchia
Apulia Calabria and Basilicata - Specchia
Nature, history and art have made Apulia a major tourist destination:discover a new land for your holidays.
Number of beds: 10
Bedrooms: 5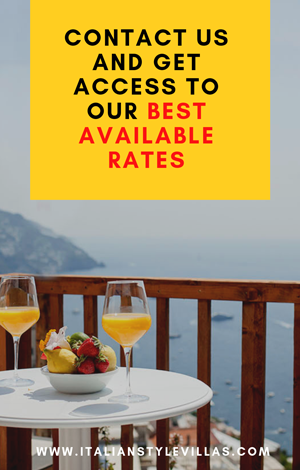 Search for your villa in Italy
Masseria Specchia – Specchia - Apulia
5 Bedrooms – Pool
Location and Surrounding Area. This stunning 17th century property is found amongst the trees in the luscious surroundings of pristine Southern Puglia. Modern meets classic Mediterranean in this delightful gem near Specchia, in the province of Lecce. The exclusive home is nestled within the lush greenery and its decorated light-filled rooms give the gift of serenity and peace to all who visit. The villa has been designed for modern comfort within a historic structure and is a place for days which stretch from dawn to sunset full of simplicity and enjoyment. The estate, with its uniquely designed pool and landscaped garden offers rustic luxury for every visitor that spends their days at this enchanting property.
The villa as in its distant past it was used at a place for sheep grazing, can be found in the heart of Specchia. Specchia has been named as one of only eleven Puglia's "Most Beautiful Villages in Italy". The villa, purchased a few years ago owned by one of the most important noble families of the region is located near the beautiful church of San Nicola. The quaint larger village of Tricase can be found a short 15 minute drive from the villa. Santa Maria di Leuca, named after a mermaid is a delightful coastal town located on the tip of the heel of the boot and can be reached in less than 30 minutes from the Masseria. This southernmost town sitting where the Ionian and Adriatic seas meet offers the visitor an opportunity to relic in its poetic past or explore the coastline nuanced with greens and blues only to be found in this magical location. The natural wonders of the Grotta del Soffio, Tre Porte Caves, Fiordo del Ciolo will leave the traveller shocked by the beauty and the charming town with excellent restaurants like Ristorante Fedele and its Basilica of Santa Maria de Finibus Terrae will surely not disappoint.
Masseria Specchia is about a 40 minute drive from the Baroque city of Lecce. With its white stone and incredible architecture it is an unforgettable city to explore. After the scenic trip through the Salento countryside, grab a gelato made of local fruit, almonds or pistachios then head to the Roman amphitheatre, the Cathedral and the Basilica di Santa Croce. Another gem is the town of Gallipoli which was the last outpost of the Magna Grecia. About a forty minute drive from the villa and thirty minute drive from Lecce, Gallipoli which means "beautiful city" in ancient Greek is located on the Ionian Sea. There you can taste local seafood delights, have a swim at the Spiaggia di Puritate or visit the churches and the ancient fountain while strolling along the little streets of this paradise. In addition, the villa's proximity to two different sea coasts is a perfect opportunity to explore the diverse beaches of the area like Torre Mozza (Ionia Sea) and Tricase Porto (Adriatic Sea).
The villa can easily accommodate ten people and is perfect for a family, couples or a group of friends. It is about 103 km from Brindisi Airport or 221 km from the Bari Airport. Tricase is 3 km and Marina di Novaglie is 3,5 km. Santa Maria di Leuca is 21,5 km, Lecce and its central train station and bus stations are 46 km from Masseria Specchia, Gallipoli is 36 km from the villa, Torre Mozza beach is 19,5 km and Tricase Porto beach is 10 km.
The Property. Masseria Specchia, with more than 500 square meters of garden, is situated in the natural setting of palms and orange trees in the austere Salento landscape. The artfully renovated villa boasts clean lines and elegance and will decidedly bring magic and calm to your vacation. The property is a place for relaxing days spent at the crystal turquoise pool, visiting the local beaches, and sipping wine at sunset while light breezes accompany your evening. The setting of the house which is full of character and charm and the well-designed stone patio is immersed in elegance amongst nature. Imagine meals on the patio by the pool in the open air, relaxing under the palms at the artistically designed pool in the surroundings of a landscaped garden. The villa is found in the center of Specchia villa so shops, restaurants and services can be reached in just a moment's stroll. If you'd like to opt for a delicious restaurant you can try Le Macinate or La Bettola or try a scrumptious breakfast at Martinucci which is found near the main piazza.
The guest will enter historic 300 sq. m. stone villa through the wooden doorway in recycled old Burmese teak. The exceptional artisanal, Oriental decor has five elegantly decorated double bedrooms which have been furnished with objects from around the world, all with en suite bathrooms and floor heating and cooling. Two of the bedrooms have two single beds, two have king sized beds, and one has a queen bed. The sprawling living area has an open kitchen with guest bath and under the hall there is a still functioning ancient water cistern. The Burmese teak can be found throughout the villas with the tables and the external benches. The décor creates an atmosphere which mirrors the outdoor beauty of the priceless landscape.
Masseria Specchia could not be more well-designed with palm and orange trees and courtyard nestling this paradise of a villa in the deep Mediterranean beauty. The landscape is equipped with a 11x4 heated, chlorine free pool and pergola with fixed cover. The patio, large pool, and large garden with a splendid view of the garden allure the guest with light breezes, and gorgeous memories to be forever treasured. It comfortably houses ten people and is a perfect choice for a peace-filled vacation.
Features
5 double bedrooms, each with their own bathroom
1 large kitchen with bathroom
1 living room
Fireplace
1 furnished patio
Heated pool
Solarium
Outdoor dining table and lounge area
Private garden
Courtyard
Floor Air Conditioning and Heating in bedrooms
Wi-Fi
Dishwasher
Washing machine
Hairdryer
Maid Service (up to three times a week)
Additional services: private cook for up to 10 guests, grocery shopping
Amenities *
ADSL Wi-Fi Internet
Air Conditioning
Dishwasher
Hairdryer
Heated Pool
Heating
Open fireplace
Swimming Pool
Washing machine
* Please note:
the included amenities may vary according to final agreement, make sure to check your contract for complete list.
Amenities *
Pets admitted


up to 10 kg



Air conditioning in the bedrooms
Hairdryer in bathroom
Baby cot
DVD/HiFi System
Dishwasher
Washing machine
Beds and Mattresses


Bedroom 1: Queen size bed + one single bed Bedroom 2: Queen size bed Bedroom 3: Queen size bed + one single bed Bedroom 4: Queen size bed Bedroom 5: Queen size bed



Toilettries and courtesy kit
Swimming Pool
Daily cleaning


3 days of cleaning service



Heating


underground heating system



Satellite TV
High chair
ADSL Wi-Fi Internet
* Please note:
the included amenities may vary according to final agreement, make sure to check your contract for complete list.
This is the area where your selected property is located - the pin is indicative and not an exact address.
All the availabilities below are indicative. Please
Contact us
to verify your dates.
Feb 2021
Mar 2021
Apr 2021

| | | | | | | |
| --- | --- | --- | --- | --- | --- | --- |
| Su | Mon | Tu | We | Th | Fr | Sa |
| | | | | | | |
| | | | | | | |
| | | | | | | |
| | | | | | | |
| | | | | | | |

| | | | | | | |
| --- | --- | --- | --- | --- | --- | --- |
| Su | Mon | Tu | We | Th | Fr | Sa |
| | | | | | | |
| | | | | | | |
| | | | | | | |
| | | | | | | |
| | | | | | | |

| | | | | | | |
| --- | --- | --- | --- | --- | --- | --- |
| Su | Mon | Tu | We | Th | Fr | Sa |
| | | | | | | |
| | | | | | | |
| | | | | | | |
| | | | | | | |
| | | | | | | |

May 2021
Jun 2021
Jul 2021

| | | | | | | |
| --- | --- | --- | --- | --- | --- | --- |
| Su | Mon | Tu | We | Th | Fr | Sa |
| | | | | | | |
| | | | | | | |
| | | | | | | |
| | | | | | | |
| | | | | | | |
| | | | | | | |

| | | | | | | |
| --- | --- | --- | --- | --- | --- | --- |
| Su | Mon | Tu | We | Th | Fr | Sa |
| | | | | | | |
| | | | | | | |
| | | | | | | |
| | | | | | | |
| | | | | | | |

| | | | | | | |
| --- | --- | --- | --- | --- | --- | --- |
| Su | Mon | Tu | We | Th | Fr | Sa |
| | | | | | | |
| | | | | | | |
| | | | | | | |
| | | | | | | |
| | | | | | | |

Aug 2021
Sep 2021
Oct 2021

| | | | | | | |
| --- | --- | --- | --- | --- | --- | --- |
| Su | Mon | Tu | We | Th | Fr | Sa |
| | | | | | | |
| | | | | | | |
| | | | | | | |
| | | | | | | |
| | | | | | | |

| | | | | | | |
| --- | --- | --- | --- | --- | --- | --- |
| Su | Mon | Tu | We | Th | Fr | Sa |
| | | | | | | |
| | | | | | | |
| | | | | | | |
| | | | | | | |
| | | | | | | |

| | | | | | | |
| --- | --- | --- | --- | --- | --- | --- |
| Su | Mon | Tu | We | Th | Fr | Sa |
| | | | | | | |
| | | | | | | |
| | | | | | | |
| | | | | | | |
| | | | | | | |
| | | | | | | |