Masseria Le Anfore
Apulia Calabria and Basilicata - Ostuni
Nature, history and art have made Apulia a major tourist destination:discover a new land for your holidays.
Number of beds: 16
Bedrooms: 7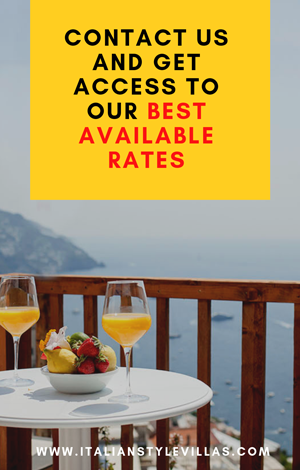 Search for your villa in Italy
Masseria Le Anfore – Ostuni - Apulia
7 Bedrooms – Private Pool
Masseria Le Anfore makes a perfect holiday home for lovers of space, privacy and luxury. It is set within a traditional group of trulli and has a large swimming pool.
Location and Surrounding Area. Masseria Le Anfore is in an stunning location in the countryside near Ostuni. It's just fifteen minutes by car from this so called "White City" because of the whitewashed walls. The sea and the coastline in this area are considered to be among the cleanest and best organized in Italy and have been honoured with Blue Flag status since 1994 for the loving care of the marine area.
Masseria Le Anfore is in the middle of the Itria Valley, which is famous for its exquisite olive oil, wine and trulli. Trulli are traditional circular dwellings made of stone with a conical roof. Masseria Le Anfore is nestled inside three such trulli and its dry-stone walls are gorgeous. The property is spread over five hectares of land with silvery green olive groves. It is a splendid example of rural architecture that has been finely reorganized following the philosophy of bio-architecture and offers maximum hospitality. It is within easy driving distance of Bari and Brindisi international airport, only 100 and 40 km respectively.
The Property. Masseria Le Anfore is an exclusive villa of 300 m² in the middle of Apulia, with a large swimming pool and a lush garden with sun loungers. It has plenty of space for everyone to play in its 5 hectares of gardens and olives trees.
The villa joins three characteristic trulli together, placing the shared living areas around these once separate stone buildings. There are three beautiful living rooms, one is particularly spacious and embellished with several pieces of contemporary art from the owner 's collection. The living areas are bright and sunny and designed for kicking back with a glass of quality local red wine. There are two fully-equipped kitchens for rustling up delicious delicacies and a total of eight delightful bedrooms. Four of the double rooms have their own en suite bathroom and two of the double rooms have a private bathroom each. There is a quadruple room with two sets of bunk beds and an en suite bathroom. There is also extra double bed alongside one of the living areas.
The gardens contain an enormous swimming pool with a fully-furnished poolside area. You'll find sun loungers, bean bags and umbrellas for long, lazy days in the sun. There is an eating area on the patio for romantic al fresco dinners under the stars. For the more adventurous chefs, there is a barbecue and pizza oven alongside the recreation area.
Features
6 double rooms (4 with en-suite bathrooms and two with private bathrooms and hairdryers)
1 extra bed
1 quadruple room (two sets of twin beds and an en suite bathroom)
7 bathrooms in total
2 fully equipped kitchens with fridges, dishwashers and ovens
TV, DVD player, videos and stereo
Washing machine
Iron and ironing board
Air conditioning
Internet
Fireplace
Private swimming pool
Garden
Patio and veranda areas
Barbecue and pizza oven
Recreation area with table tennis and table football
Children's games
Bed and bath linen included
Amenities *
ADSL Wi-Fi Internet
Air Conditioning
Barbecue
Country Views
Dishwasher
DVD Player
Hairdryer
Heating
Hi-FI System
Open fireplace
Parking
Satellite TV
Swimming Pool
Table tennis
Washing machine
* Please note:
the included amenities may vary according to final agreement, make sure to check your contract for complete list.
Amenities *
Bathrobe and slippers
Access for people with mobility issues
Pets admitted


extra cleaning cost required (price on request)



Airconditioning throughout
Air conditioning in the bedrooms
Hairdryer in bathroom
Barbecue
Fireplace
Safe Box
Fast Broadband Internet
Country Views
Baby cot
Available for events
DVD/HiFi System
Internet in common areas and garden
the villa is in a peaceful area, it is recommendable for yoga retreats
Dishwasher
Washing machine
Beds and Mattresses
Toilettries and courtesy kit
Butler
Nearby
Gym
Parking


Parking in villa available up to 5 cars



Table tennis
Swimming Pool
Daily cleaning
Heating
Satellite TV
High chair
Smart Flat screen TV
ADSL Wi-Fi Internet
* Please note:
the included amenities may vary according to final agreement, make sure to check your contract for complete list.
From
To
Guests
Rate per week
06/03/2021
10/04/2021
€ 14000
10/04/2021
29/05/2021
€ 17500
29/05/2021
17/07/2021
€ 21000
17/07/2021
28/08/2021
€ 24500
28/08/2021
18/09/2021
€ 21000
18/09/2021
16/10/2021
€ 17500
16/10/2021
13/11/2021
€ 14000
Included in rental price

welcome pack (local prosecco, succhi e the fresco, taralli e frutta)

continental breakfast (dolce/salato)

courtesy line

GYM and YOGA room

city tax

Wifi

Parking up to 5 cars

Utilities Linens & towels

Internet

Change of linen and towels (Wednesday and Saturday)

Gardner Cleaning of the house on Wednesday and Saturday

Non included in rental price

DAILY HOUSE KEEPING € 400,00/week

BREAKFAST €10,00 each

LUNCH €70,00

Extra beds (6 beds max): € 150 per person per night

Further information

Security deposit €500,00
This is the area where your selected property is located - the pin is indicative and not an exact address.
All the availabilities below are indicative. Please
Contact us
to verify your dates.
Mar 2021
Apr 2021
May 2021

| | | | | | | |
| --- | --- | --- | --- | --- | --- | --- |
| Su | Mon | Tu | We | Th | Fr | Sa |
| | | | | | | |
| | | | | | | |
| | | | | | | |
| | | | | | | |
| | | | | | | |

| | | | | | | |
| --- | --- | --- | --- | --- | --- | --- |
| Su | Mon | Tu | We | Th | Fr | Sa |
| | | | | | | |
| | | | | | | |
| | | | | | | |
| | | | | | | |
| | | | | | | |

| | | | | | | |
| --- | --- | --- | --- | --- | --- | --- |
| Su | Mon | Tu | We | Th | Fr | Sa |
| | | | | | | |
| | | | | | | |
| | | | | | | |
| | | | | | | |
| | | | | | | |
| | | | | | | |

Jun 2021
Jul 2021
Aug 2021

| | | | | | | |
| --- | --- | --- | --- | --- | --- | --- |
| Su | Mon | Tu | We | Th | Fr | Sa |
| | | | | | | |
| | | | | | | |
| | | | | | | |
| | | | | | | |
| | | | | | | |

| | | | | | | |
| --- | --- | --- | --- | --- | --- | --- |
| Su | Mon | Tu | We | Th | Fr | Sa |
| | | | | | | |
| | | | | | | |
| | | | | | | |
| | | | | | | |
| | | | | | | |

| | | | | | | |
| --- | --- | --- | --- | --- | --- | --- |
| Su | Mon | Tu | We | Th | Fr | Sa |
| | | | | | | |
| | | | | | | |
| | | | | | | |
| | | | | | | |
| | | | | | | |

Sep 2021
Oct 2021
Nov 2021

| | | | | | | |
| --- | --- | --- | --- | --- | --- | --- |
| Su | Mon | Tu | We | Th | Fr | Sa |
| | | | | | | |
| | | | | | | |
| | | | | | | |
| | | | | | | |
| | | | | | | |

| | | | | | | |
| --- | --- | --- | --- | --- | --- | --- |
| Su | Mon | Tu | We | Th | Fr | Sa |
| | | | | | | |
| | | | | | | |
| | | | | | | |
| | | | | | | |
| | | | | | | |
| | | | | | | |

| | | | | | | |
| --- | --- | --- | --- | --- | --- | --- |
| Su | Mon | Tu | We | Th | Fr | Sa |
| | | | | | | |
| | | | | | | |
| | | | | | | |
| | | | | | | |
| | | | | | | |