Masseria La Residenza di Savelletri - Piccola
Apulia Calabria and Basilicata - Savelletri
Nature, history and art have made Apulia a major tourist destination:discover a new land for your holidays.
Number of beds: 6
Bedrooms: 3

Amenities *
:
Access to the beach
ADSL Wi-Fi Internet
Air Conditioning
Butler
Concierge service
Country Views
Daily cleaning
Dishwasher
Hairdryer
Heating
Ocean Views
Open fireplace
Parking
Satellite TV
Swimming Pool
Washing machine
* Please note:
the included amenities may vary according to final agreement, make sure to check your contract for complete list.
Nearbies:
Airports Bari/Brindisi 60 Km, Golf courses 18 holes (seaside)/ 9 holes 3 Km, Savelletri 2 Km, Fasano 7,5 km, Alberobello 27 km, Ostuni 27 km, Lecce 94 km, Gallipoli 132 km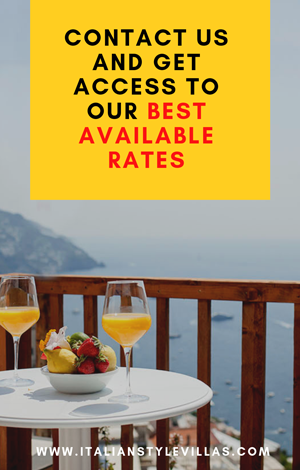 Search for your villa in Italy
La Residenza di Savelletri - Piccola - Savelletri - Apulia
3 Bedrooms – Pool
Location and Surrounding Area. This recently restructured property is found outside the pristine village of Savelletri, amongst the green and cliffs of the coast of Puglia. Modern meets classic Mediterranean in this delightful gem near Alberobello, Ostuni and Bari. The homes are hidden within the exclusive property and the pristinely decorated light-filled rooms are in a setting full of serenity and peace near the Adriatic Sea. The villa has been created for modern comfort and is a place where simplicity and luxury meet as the eyes extend across the clean-lined designer pool and garden where time seems to slow to a perfect rhythm of relaxation. The property, with its perfectly positioned location offers only the best for every visitor that spends their days at this enchanting property.
The stunning villa can be found minutes away from the Adriatic Sea of which hosts kilometers of beaches and is just a few minutes from the prehistoric town of Savelletri with its port and restaurants, bars and southern charm. Just minutes away is Torre Canne, a lovely beach resort which has natural hot springs, a lighthouse and of course plenty of beachfront restaurants, shops and cafes. In nearby Fasano there is also the ZooSafari, a wild animal park for all ages. The location of La Residenza di Savelletri Piccola is perfect for day trips but also for absorbing the countryside of Puglia in the most relaxing of settings like the Parco Naturale Dune Costiere which is full of masserie, fortified farmhouses typical for Puglia and lots of places to walk and ruins of the ancient Egnazia among the olive groves. The ancient city of Bari is 50 minutes from the villa, a two harbour city with landmarks like the Basilica of San Nicholas, the Hohestaufen Castle and the Murat quarter and plenty of nightlife and places for seaside walks. Not to be overlooked is the striking town of Alberobello, a UNESCO World Heritage site which has the picturesque trulli, the traditional, cone-shaped whitewashed dwellings characteristic for the area. Aside from wandering and taking in the different kinds of trulli, the visitor can walk around the hillside district of Rione Monti and visit the Chiesa di Sant'Antonio.
Masseria La Residenza di Savelletri - Piccola is about an hour from the Baroque city of Lecce. With its white stone and incredible architecture it is an unforgettable city to explore. After the scenic trip through the Salento countryside, grab a gelato made of local fruit, almonds or pistachios then head to the Roman amphitheater, the Cathedral and the Basilica di Santa Croce. Another gem is the town of Gallipoli which was the last outpost of the Magna Grecia. Gallipoli, located on the Ionian Sea, is an hour and a half drive from the villas whose name means "beautiful city" in ancient Greek. There you can taste local seafood delights, have a swim at the Spiaggia di Puritate or visit the churches and the ancient fountain while strolling along the little streets of this paradise. Not to be overlooked is the white, gleaming Ostuni is a jewel on the sea with the cathedral emerging with theatrics that only the Salento region in Puglia can offer.
The villa can easily accommodate eight people and is perfect for a family, couples or a group of friends. It is about 75 km from the Bari Airport and 55 km from the Brindisi Airport. Savelletri is 1,5 km, Parco Naturale Dune Costiere is 14 km, Torre Canne beaches are 6,8 km and Fasano is 7,2 km. Bari and its central train station and bus stations are 60,5 km from La Residenza di Savelletri Piccola. Alberobello is 27 km from the villa, Lecce is 94 km, Gallipoli is 132 km and Ostuni is 27 km from the villa.
The Property. La Residenza di Savelletri - Piccola is 200 meters from the Adriatic Coast and immersed in the scenery of vibrant landscape accompanied by the serenating of cicadas and light breezes of the countryside. Wandering through the Mediterranean landscape you'll find the villa. The clean lines and modern elegance of the redesigned Masseria will decidedly bring magic and calm to your vacation. It is an oasis of beauty and nature, a retreat with a designer pool and an authentic Apulian landscape. On the property there is a refined private garden and plenty of places for al fresco dining and lounging.
The guests arrive at the property through the beautiful countryside of Puglia. The exceptional villa is a place for relaxing days spent visiting the local beaches, sipping wine at sunset by the pool while light breezes accompany your evening. The subtle pastoral setting of the home, exquisite pool, outside bar and garden is immersed in elegance amongst nature. Imagine meals on the patio in the open air, relaxing by the pool in the surroundings of an extraordinary garden. Fasano is in close proximity to the villa so shops, restaurants, services and unforgettable beaches can be reached in just a moment.
The stone villa built on two levels has three sprawling, elegantly decorated master bedrooms and are have all private entrances. The rooms are full of character and create an atmosphere which mirrors the outdoor beauty of the priceless landscape. La Residenza di Savelletri Piccola could not be more exclusive as it is nestled in the deep Mediterranean beauty of Puglia. The patio, pool and splendid garden allure the guest with light breezes, views and gorgeous memories to be forever treasured. The guests of the villa can also access the exclusive Lido beach club with a fitness center, massage area and rocky and sandy beaches.
The property set on 5 hectares of land has a fully-equipped kitchen, living room, panoramic terrace and patio with wood-fired pizza oven. Each suite has luxury linen bedding, impeccable décor and furniture as well as private en-suite bathrooms, Nespresso machine and SKY TV. There is a full staff available on request, a night security guard and complimentary bicycles. Also upon request is the exclusive private charter, airport transfers, chef services, water sports activities, Yoga and Pilates classes, boat rental services, cooking classes, golf courses and masseuse and skin care treatments. Children are accepted at the discretion of the management. It is a villa which lends itself to the highest, most exclusive luxury vacations.
Features
3 double bedrooms

3 bathrooms

1 fully-equipped kitchen

1 living room

Patio

Outdoor dining table and lounge area

Private garden

Pool and solarium

Outdoor shower

Pizza oven

Access to private beach club

Heating

Air Conditioning

Flat-screen satellite TV

WI-FI internet

Washing machine and dishwasher

24/7 client assistance

Additional available services: bike tour and excursions, boat trip, cooking class, private Chef, charter from select cities, golf course, airport transfer, yoga and Pilates classes, massage, skin care treatment
Amenities *
Access to the beach
ADSL Wi-Fi Internet
Air Conditioning
Butler
Concierge service
Country Views
Daily cleaning
Dishwasher
Hairdryer
Heating
Ocean Views
Open fireplace
Parking
Satellite TV
Swimming Pool
Washing machine
* Please note:
the included amenities may vary according to final agreement, make sure to check your contract for complete list.
From
To
Guests
Rate per week
09/01/2021
01/05/2021
€ 6000
01/05/2021
29/05/2021
€ 8000
29/05/2021
03/07/2021
€ 13000
03/07/2021
04/09/2021
€ 16000
04/09/2021
02/10/2021
€ 13000
02/10/2021
30/10/2021
€ 8000
30/10/2021
29/12/2021
€ 6000
29/12/2021
08/01/2022
€ 8000
Included in rental price

Full staff (butler, waiter, daily maid service)

Grocery service

Wi-Fi

Night Security guard

Complimentary bicycles

Private access via property grounds to Pettolecchia Il Lido

Non included in rental price

Further information

Security deposit € 3.000 (pre-authorized)
This is the area where your selected property is located - the pin is indicative and not an exact address.