Villa Palaia
Tuscany - Palaia
The iconic tower of Pisa is not all there is to see here - take a walk along the river and discover many treasures both old and new in this Italian college town. Lucca just a short ride north is one of the most well preserved walled cities in all of Italy. It is the gem in the Tuscan crown and loved by all who have passed through its gates - you too will want to return again and again.
Number of beds: 8
Bedrooms: 4

Amenities *
:
ADSL Wi-Fi Internet
Air Conditioning
Babysitter
Barbecue
Breakfast Service
Butler
Cooking Class
Cooking Service
Country Views
Daily cleaning
Dishwasher
DVD Player
Gym
Heating
Hi-FI System
iPod docking station
Open fireplace
Parking
Satellite TV
Swimming Pool
Washing machine
WIne Tasting
* Please note:
the included amenities may vary according to final agreement, make sure to check your contract for complete list.
Nearbies:
Lucca 44,0 km Pisa 46,8 km Pisa Airport 41,7 km Florence 61,7 km Florence Airport 62,2 km Siena 83,4 km Arezzo 139 km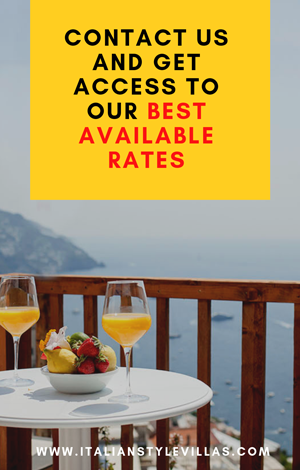 Search for your villa in Italy
Villa Palaia – Palaia – Tuscany
4 Double bedrooms - Pool
Villa Palaia is a just recently renovated, brand new property and open to the weekly rentals. It has a private swimming pool (built in the spring of 2013) and well located in the heart of Tuscany. The villa takes its name from Palaia, a very attractive destination within any itinerary in Tuscany. It should be the ideal starting point to discover the main towns of Tuscany all within 1hour and 30 min drive away: Florence, Pisa, Lucca, San Gimignano, Volterra. Therefore it is also an excellent starting point for excursions along the coast or the southern part of the Italian Riviera: Cinque Terre, Livorno, Porto Venere, Sarzana Borgheri, Castagneto.
For the variety and beauty of the land, because of the importance grew in the course of history and folk traditions, Palaia is one of the most interesting places in the province of Pisa. Its origins date back to the fourth century (BC), as evidenced by the various discoveries made in recent years in particular, confirm that the area was populated since the time of the Etruscan and Roman. Throughout the Middle Ages Palaia was a source of contention, due to its geographical and strategic position between Pisa, Florence and Lucca, In the fourteenth century enjoyed its moment of maximum splendor with the birth of a big hamlet and with the construction of various monuments, that preserves still important evidence.

VIlla Palaia was ioriginally a farmhouse, arranged over two floors, surmounted by a tower from which you can enjoy views of the hilly Tuscan landscape, unique in the world. The spacious living areas and four elegant rooms, is furnished in a style that links ancient and modern in a synthesis absolutely tasteful. The sought furnishings create the perfect setting for a holiday of comfort and relaxation. The seven acres of olive groves surrounding the property offer the possibility of long walks in plants that produce an oil refined and appreciated everywhere.
A barbecue, pergola and a large wood-burning oven restored respecting its original structure and function help to recreate the ambience and friendliness of the past.

Layout and Accommodation
The ground floor consists of the living-dining area, the kitchen equipped with every comfort, a double bedroom and a bathroom. You'll access to the upper floors either from outside through a stone staircase that leads onto a small balcony (where you can enjoy a view that, on a clear day, reaches the sea), either indoor through a major steel spiral staircase and wood, modern lit, makes the view of the picturesque stone wall adjacent to it.

On the first floor there are 2 double bedrooms, sharing a bathroom and a spacious lounge area with a sofa, a huge fireplace and antiques.
A short flying of steps will lead you in the original tower that completes the accommodation of the house. It represents the most original and distinctive architectural feature of the villa. In the tower there is a double bedroom with own bathroom.
All rooms are tastefully furnished, air-conditioned and equipped with all the modern appliances, color TV with satellite reception.

The Outdoors
Villa Palaia lays on beautiful natural terraces with mature trees and green lawns that create an environment rich of shade and quiet. It is the perfect place for walks and quiet moments. It is possible to enjoy the jogging trail through the olive groves, the trails for mountain biking, large areas of outdoor fitness to practice.
They are also available: a large barbecue area with loggia, which allows you to eat outside and enjoy the amazing natural surroundings, away from direct sunlight and protected from the day of the evening; a large wood-burning oven restored respecting its original structure, where you can prepare typical dishes of the most ancient Tuscan tradition; a private pool that offers during the summer a chance to cool off in the shade of olive trees.

Main Distances: 6 km Palaia centre town; 39 Km San Gimignano; 32 Km Volterra; 86 Km Siena; 35 Km Pisa (Airport); 40 Km Lucca; 69 Km Firenze (Airport); Bank and Post Office 5 km; Hospital 13 Km (Pontedera); Restaurant 1km; Supermarket 4 km; Golf Club 18 km; Horse Riding school 5 km; Tennis Club 9 km; Beach 45 km.
Features
4 Double bedrooms

3 Bathrooms

Garden with olve trees and green lawns

Private Pool

Outdoor Shower

Furnished pergola with barbecue and wood pizza oven

Fireplaces

Hair drier

Bed Linen, Bath and Pool towels provided

Fully equipped kitchen with dishwasher, microwave, fridge and freezer, espresso coffee machine, American Coffee Machine, toaster

Alarm System

Washing machine

TV Sat/DVD Player

Play Station/Wii

Free Internet Service and Wireless

FInal Cleaning

Welcome Package with olio extra vergine di oliva

Heating on request

No Smokers Villa
Amenities *
ADSL Wi-Fi Internet
Air Conditioning
Babysitter
Barbecue
Breakfast Service
Butler
Cooking Class
Cooking Service
Country Views
Daily cleaning
Dishwasher
DVD Player
Gym
Heating
Hi-FI System
iPod docking station
Open fireplace
Parking
Satellite TV
Swimming Pool
Washing machine
WIne Tasting
* Please note:
the included amenities may vary according to final agreement, make sure to check your contract for complete list.
This is the area where your selected property is located - the pin is indicative and not an exact address.
All the availabilities below are indicative. Please
Contact us
to verify your dates.
Feb 2021
Mar 2021
Apr 2021

| | | | | | | |
| --- | --- | --- | --- | --- | --- | --- |
| Su | Mon | Tu | We | Th | Fr | Sa |
| | | | | | | |
| | | | | | | |
| | | | | | | |
| | | | | | | |
| | | | | | | |

| | | | | | | |
| --- | --- | --- | --- | --- | --- | --- |
| Su | Mon | Tu | We | Th | Fr | Sa |
| | | | | | | |
| | | | | | | |
| | | | | | | |
| | | | | | | |
| | | | | | | |

| | | | | | | |
| --- | --- | --- | --- | --- | --- | --- |
| Su | Mon | Tu | We | Th | Fr | Sa |
| | | | | | | |
| | | | | | | |
| | | | | | | |
| | | | | | | |
| | | | | | | |

May 2021
Jun 2021
Jul 2021

| | | | | | | |
| --- | --- | --- | --- | --- | --- | --- |
| Su | Mon | Tu | We | Th | Fr | Sa |
| | | | | | | |
| | | | | | | |
| | | | | | | |
| | | | | | | |
| | | | | | | |
| | | | | | | |

| | | | | | | |
| --- | --- | --- | --- | --- | --- | --- |
| Su | Mon | Tu | We | Th | Fr | Sa |
| | | | | | | |
| | | | | | | |
| | | | | | | |
| | | | | | | |
| | | | | | | |

| | | | | | | |
| --- | --- | --- | --- | --- | --- | --- |
| Su | Mon | Tu | We | Th | Fr | Sa |
| | | | | | | |
| | | | | | | |
| | | | | | | |
| | | | | | | |
| | | | | | | |

Aug 2021
Sep 2021
Oct 2021

| | | | | | | |
| --- | --- | --- | --- | --- | --- | --- |
| Su | Mon | Tu | We | Th | Fr | Sa |
| | | | | | | |
| | | | | | | |
| | | | | | | |
| | | | | | | |
| | | | | | | |

| | | | | | | |
| --- | --- | --- | --- | --- | --- | --- |
| Su | Mon | Tu | We | Th | Fr | Sa |
| | | | | | | |
| | | | | | | |
| | | | | | | |
| | | | | | | |
| | | | | | | |

| | | | | | | |
| --- | --- | --- | --- | --- | --- | --- |
| Su | Mon | Tu | We | Th | Fr | Sa |
| | | | | | | |
| | | | | | | |
| | | | | | | |
| | | | | | | |
| | | | | | | |
| | | | | | | |