La Pineta sul Mare
Tuscany - Marina di Bibbona
Tuscan Cowboys - really? YES! Come ride some of the most spectacular horse riding trails through the rugged Tuscan terrain opening onto some of the most beautiful beaches in the world. Family fun to fine dining this area offers everything you are looking for in a versatile picturesque destination founded by the Etruscans.
Number of beds: 12
Bedrooms: 6

Amenities *
:
Access to the beach
ADSL Wi-Fi Internet
Air Conditioning
Barbecue
Breakfast Service
Daily cleaning
Dishwasher
DVD Player
Hairdryer
Heating
Hi-FI System
Laundry service
Ocean Views
Open fireplace
Parking
Satellite TV
Swimming Pool
Washing machine
* Please note:
the included amenities may vary according to final agreement, make sure to check your contract for complete list.
Nearbies:
Nearest airports: Pisa 69 km, Florence 130 Km, Rome 2 hours by car. Massa Marittima 70 km; Spa at The Tombolo Talasso Resort belonging to the Antinori family in the next village; Sports Club with Olympic Pool, tennis courts &volley ball court; Four golf courses nearby including the 18 hole Punta Ala golf club 50 minutes;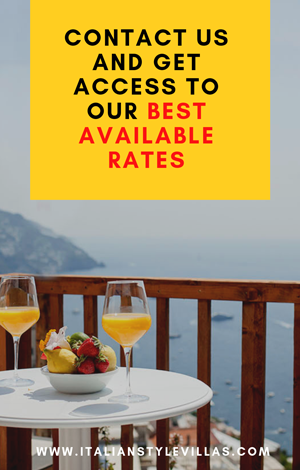 Search for your villa in Italy
La Pineta sul Mare – Marina di Bibbona – Tuscany Coast
6 Double Bedrooms – Pool
La Pineta sul Mare is a fabulous villa on Southern Tuscany coast, located in the Maremma coastline, just one hour south of Pisa, in the center of Marina di Bibbona and very close to the famous old fashioned village of Bolgheri. This home from home property is perfect for a family holiday, surrounded by a typical Tuscan seaside pine forest, unspoilt beaches and vineyards. It is one of the fewest villas for rent with a private and equipped access to a sandy beach.
Completely renovated in 2008, is featured by a number of amenities such as air conditioning, heating, internet Wi-Fi throughout (including the pool area) and much more. La Pineta sul Mare lays on 2 floors, fully surrounded from large terraces with loungers, chairs, comfortable sofas, an outside dining table, and a landscaped garden, perfect for children, as also the extensive lawn on the sea side garden. The ground floor has a large living room with comfortable sofas, satellite TV, hi-fi stereo, a dining room, kitchen, powder room, a laundry room and a terrace; on the first floor there is the sleeping area with six double bedrooms all with en-suite bathroom and two terraces; on a mezzanine there are a staff bedroom (whit a bathroom in the corridor) and a playroom for children with TV and a kitchen corner and a bathroom (wc and shower).
A private path surrounded by pine trees, leads to the private place behind the beach at 350 m. where you can relax, enjoy the beautiful sea and spend time in the picnic area, located in the dunes behind the beach, with a table, sun beds and a shower.
In 2013 a swimming pool (18 x 6) was also built a 100 meters from the villa. It's completely surrounded by a garden full of plants and flowers. There is also a solarium along with sun beds, parasols and changing rooms with showers, free wi-fi and a small bar.
Thanks to the natural surroundings and climate, the area has become one of the most important in the world for the production of wines, plains reclaimed today are full of vineyards that produce some of the most prestigious vintages in Italy.
Nearest airports: Pisa 69 km, Florence 130 Km, Rome 2 hours by car.
Daily maid service and breakfast service are included.
Features *
6 Double bedrooms with en-suite bathroom

1 Further bathroom

Staff

bedroom

with separate

bathroom

Private access to the beach and a picnic area with table, sun-beds and a shower

Swimming pool with sun-beds, changing room with showers and a small bar

Garden with BBQ

Large terraces with loungers and dining area

Fireplace

Air-

Conditioning

and

heating

Sat TV, HI-FI stereo

Equipped kitchen with dishwasher and microwave on the ground floor

Kitchenette on the first floor

Laundry room with washing machine and dryer

Hair drier

Internet WI-FI throughout the property (included pool area)

Parking for 8 cars

Daily maid service and breakfast are included
* Please note:
the included amenities may vary according to final agreement, make sure to check your contract for complete list.
This is the area where your selected property is located - the pin is indicative and not an exact address.
All the availabilities below are indicative. Please
Contact us
to verify your dates.
Mar 2020
Apr 2020
May 2020

| | | | | | | |
| --- | --- | --- | --- | --- | --- | --- |
| Su | Mon | Tu | We | Th | Fr | Sa |
| | | | | | | |
| | | | | | | |
| | | | | | | |
| | | | | | | |
| | | | | | | |

| | | | | | | |
| --- | --- | --- | --- | --- | --- | --- |
| Su | Mon | Tu | We | Th | Fr | Sa |
| | | | | | | |
| | | | | | | |
| | | | | | | |
| | | | | | | |
| | | | | | | |

| | | | | | | |
| --- | --- | --- | --- | --- | --- | --- |
| Su | Mon | Tu | We | Th | Fr | Sa |
| | | | | | | |
| | | | | | | |
| | | | | | | |
| | | | | | | |
| | | | | | | |
| | | | | | | |

Jun 2020
Jul 2020
Aug 2020

| | | | | | | |
| --- | --- | --- | --- | --- | --- | --- |
| Su | Mon | Tu | We | Th | Fr | Sa |
| | | | | | | |
| | | | | | | |
| | | | | | | |
| | | | | | | |
| | | | | | | |

| | | | | | | |
| --- | --- | --- | --- | --- | --- | --- |
| Su | Mon | Tu | We | Th | Fr | Sa |
| | | | | | | |
| | | | | | | |
| | | | | | | |
| | | | | | | |
| | | | | | | |

| | | | | | | |
| --- | --- | --- | --- | --- | --- | --- |
| Su | Mon | Tu | We | Th | Fr | Sa |
| | | | | | | |
| | | | | | | |
| | | | | | | |
| | | | | | | |
| | | | | | | |
| | | | | | | |

Sep 2020
Oct 2020
Nov 2020

| | | | | | | |
| --- | --- | --- | --- | --- | --- | --- |
| Su | Mon | Tu | We | Th | Fr | Sa |
| | | | | | | |
| | | | | | | |
| | | | | | | |
| | | | | | | |
| | | | | | | |

| | | | | | | |
| --- | --- | --- | --- | --- | --- | --- |
| Su | Mon | Tu | We | Th | Fr | Sa |
| | | | | | | |
| | | | | | | |
| | | | | | | |
| | | | | | | |
| | | | | | | |

| | | | | | | |
| --- | --- | --- | --- | --- | --- | --- |
| Su | Mon | Tu | We | Th | Fr | Sa |
| | | | | | | |
| | | | | | | |
| | | | | | | |
| | | | | | | |
| | | | | | | |