Villa Ronciglione
Rome and Latium - Ronciglione
Take a beautiful place, but really beautiful, countryside with rolling hills as far as the eye can see, fields of wheat, grazing animals, ancient villages, lost in time. All of this the way it was since the time of the Etruscans and the roman empire...this is the Roman countryside that is Lazio.
Number of beds: 50 + 6
Bedrooms: 25

Amenities *
:
ADSL Wi-Fi Internet
Barbecue
Concierge service
Country Views
Dishwasher
Hairdryer
Heating
Hot-tub
Open fireplace
Parking
Pool Table
SPA
Swimming Pool
Washing machine
* Please note:
the included amenities may vary according to final agreement, make sure to check your contract for complete list.
Nearbies:
Viterbo 22 km Bomarzo 32 km Bracciano 34 km Rome 59 km Rome Fiumicino International Airport 80,5 Capalbio 92 km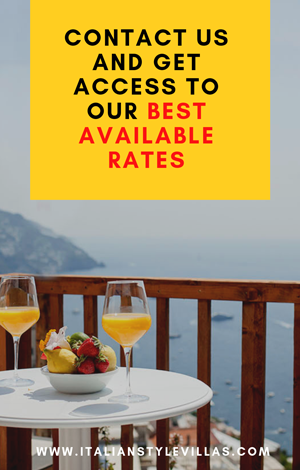 Search for your villa in Italy
Villa Ronciglione – Latium
25 Bedrooms - 4 Units - Pavilion honeymoon suite – Pool - SPA
Location and Surrounding Area. Villa Ronciglione is an estate tucked closely to the border of Tuscany and Lazio near the delightful medieval town of Viterbo. This property with four remodelled villas and pavilion combines historic and modern design with the bucolic scenery of fields of corn, and roads lined with trees. It is a place where one is stunned with simplicity and luxury, where sunsets seem to last for days and the privacy of extended relaxation extends as fare as the eye can see. The property is a place that lends itself to lounging by the pool with a perfectly poured glass of Brunello di Montalcino in the late afternoon breeze coming off of the sprawling trees.
The delightful vintage properties of Villa Ronciglione are a ten minute walk from the Etruscan, Medieval and Renaissance village of Ronciglione and Lake Vico, Monti Cimini and the Church of Sant'Eusebio. Situated on 80 acres immersed in archaeology and nature and near Roman thermal baths, these properties are incredible places for appreciating beauty and adventure. Viterbo, a pristinely preserved medieval city known for the Palazzo Dei Papi and unique festival of the Macchina di Santa Rosa, is less than a half hour away.
For those who enjoy combining history and seascapes, the villa is less than an hour to Tarquinia, a delightful town which hosts the UNESCO Etruscan necropolis dating from 9th century BC. After visiting the cathedral and the archeological museum, a visitor can grab delicious lunch at the trattoria in town and then hit the beaches which are less than fifteen minutes away. Not to miss is the charming towns nestled at the base of Monte Argentario of Porto Ercole and Porto Santo Stefano with their old harbours and charming historical districts. Found in close proximity to the 12 km of beaches of Capalbio, they are places to take a leisurely afternoon stroll around their narrow streets or a twilight aperitivo with friends and family around their old ports.
The property is about one hour from the cultural capital of Rome, with its history, art, architecture and unforgettable piazzas. Grab a gelato at the famous gelateria Giolitti and head to the Pantheon after throwing a coin in the powerfully stunning Trevi fountain. Another incredible historical site not to miss is the Colosseum which will leave anyone speechless by the significance of this immense this monument. Something not to miss is St. Peter's Basilica which is one of the most significant cathedrals in the world.
Villa Ronciglione is a 40 minute drive from Bracciano, the town famous for its volcanic lake and medieval castle. Have a go at sailing or visit the Roman baths. For something truly remarkable, a visit to Bomarzo-The Park of the Monsters will delight the curious traveller. Created in 1552, the park is a sculptural marvel with mythical pieces full of mystery and allure.
The villas are perfect for a large and small groups and it a perfect place for events. The Villa is less than a kilometre from Ronciglione. 22 km from Viterbo and about 80,5 km from Rome Fiumicino International Airport. Rome and its central train station and bus stations are 59 km from Villa Ronciglione. Capalbio is 92 km, Bracciano is 34 km and Bomarzo is 32 km from the villa.
The Property. This unique Relais found in the nature-filled Tuscia managed by the writer Paola Igliori is luxurious, charming and enchanting. With a style that is both sophisticated and charming, Villa Ronciglione is comprised of four villas, spa and a pavilion honeymoon suite surrounded by the countryside. Each element of the spaces has been thoughtfully decorated with intelligence and style.
A few of the most significant features of the property is the Olympic pool from 1929 and the Sunset pool with 360° views, glistening from the deep, golden sun of the surrounding fields. The 18th Century botanical garden featuring many rare species and sparkling fountains has been awarded the classification of being one of the "Great Italian Gardens". There is also a spa and sauna, organic farm and has been an inspiration for many well-known artists, writers and musicians over the years. Lake Vico is in close proximity to Villa Ronciglione so enchanting beaches and characteristic restaurants can be reached in a moment. The quaint Baroque and Renaissance town of Ronciglione is a quick walk from the property so services and shopping is easily accessed. This one-of-a-kind relais is a property which allows for intimacy mixed with freedom, the villas, gardens, pools and landscape lending itself to a vacation full of charm. The villas can be rented individually or all together for large events.
Casa Portale. This residence, renovated by the New York designer Ricky Clifton and Paola Igliori is a classic 19th century villa near the gate leading to the village of Ronciglione. The colourful villa is the largest of the properties and has an eclectic and ethnic feel with a blend of Afghan and Indian furniture throughout the spaces and seven bedrooms. The first floor boasts a 16th century fireplace in the grand dining room with four bedrooms which can be rented separately. The Pompeina suite can host four adults in two adjoining rooms, one with a queen bed and the other with two single beds as well as a dressing room and bathroom. The Persiana room has a queen size bed and single bed with an en suite bathroom. The Marigold bedroom is a double and shares a bathroom with the Arancio room with two single beds. The two upstairs suites offer three double bedrooms, all with en suite bathrooms, two featuring Jacuzzis for extra relaxation. Maria Eugenia will welcome the guests and take care of their every need including providing authentic meals in the beautiful kitchen which can also be eaten al fresco by the fountain. Wander throughout the outside spaces underneath the grapevine, surrounded by hydrangeas and chestnut trees or take a dip in the large, circular pool for total relaxation and peace. The villa can host up to sixteen people.
Casa Vostra. The 19th century Casa Vostra sits on four acres of historical gardens and Baroque fountains. The dining room on the ground floor with a spacious drawing room and fireplace, arched doors opening to the veranda with vintage tables and swings looking on to the property's lush gardens leaves the guests feeling like they are in a 1930s setting. The drawing room and dining room can be adjoined to host up to 40 people. Sleeping up to eleven people, the five bedrooms are all unique in style and elegance. The Papal Fountain suite features and double and single accommodation with en suite bathroom. The Flower room is a double room with a queen bed and en suite bathroom and the Flower Garden room has two beds, one queen sized and the other with a bathroom. The Boulle room with a queen bed and single bed and the Arlequin room with a single bed share a bathroom. The botanic gardens and fountains lead to the Olympic swimming pool built in 1929 which brings the guests back in time to a moment of decadence and elegance.
Casa Vostra Cottage. This quaint and spacious home seems to be right out of a Donghi paining, where each window has an exquisite view. The property features a lounge, fully functional kitchen and the shared billiard room and massage room, each with their own separate entrance from the garden which is separate to the private entrance to the house. The cottage sleeps up to ten people in its four bedrooms with each their own bathroom, two with a queen bed and two with a queen and single bed. The cottage can also be rented as a guest house to Casa Vostra with exclusive use of the entire grounds, billiard room, pool and gardens.
Torre del Falco. Arrive at this gem of a property with a driveway framed with lavender. It has been recently renovated with a large living room featuring three arched doors leading to the terrace, an exquisitely tiled fireplace, a frescoed library and glass-walled winter garden. The villa can sleep eleven in its six distinctive bedrooms. The Winter Garden Suite. Patio and Saffron Tower rooms have each a queen sized bed and external private bathroom. The Aquamarine Suite has a king sized bed and en suite bathroom. The Emerald Suite has a king bed, terrace, en suite bathroom with Jacuzzi. The Stargazer Suite has one full size and one single bed as well as a large, sprawling terrace. The bathroom allows guests to gaze upon the stars in the glass dome over the round, 18th century Neapolitan tile Jacuzzi bathtub.
The professional eat-in kitchen with fireplace is adorned with jade glass antique Indian tiles which frame the French doors. The glass-walled dining room which connects with the kitchen opens onto a stone patio perfect for elegant outdoor eating. The pool with its breathtaking 360° views of the austere rolling hills is designed for wonderful moments of relaxation while you take in rays, conversation and calm.
Torre del Falco Pavilion. The Torre del Falco Pavilion is Villa Ronciglione's grandest suite with a large 14 foot high honeymoon getaway with 5 arched French doors which open onto an intimate terrace with a 360°view of pristine nature. The large bedroom features portal windows with a king-size bed and two day beds. The cast iron staircase leads to an enormous luxurious bathroom with marble floor, sinks & benches with 17th century marble inlay. The bathroom also has Murano glass mirrors and a Finnish sauna, shower, fridge, and round Jacuzzi bathtub which look out onto the beautiful grounds through three iron French doors.
Spa. The spa space sleeps three and features two bedrooms. The Spa Blu room has a queen bed and en suite bathroom and the Spa Gialla massage room has a single bed and private bathroom.
Interested parties may rent the entire estate for weddings and events (hosting 250 people and sleeping up to 60 guests). The multimedia room (original studio of the painter Sandro Chia) is perfectly designed to host Wellness Retreats and small conferences. The family's Cantina which won at the "London International Wine Challenge" "Best Red Wine In the World" with their Brunello di Montalcino also offers a selection of Castello Romitorio wines and wine tastings. For those who prefer not to drive, there is a bus stop at the gate for the city. The breathtakingly suave property with its gardens and fields glows with tones of glittering greens and marigold, inviting the guest to enter into another dimension during their delectably pampered stay.
Features
Casa Portale (15/16 pax)
1 suite with two bedrooms (queen bed and two single beds), dressing room and bathroom
2 bedrooms (queen bed and two single beds) and shared bath
1 double bedroom with en suite bathroom
3 attic bedrooms and 2 bathrooms
Dining Room
Living Room
Kitchen
Fireplace
Swimming pool
Barbeque
Garden
Porch
Landscaped lawn
Outdoor dining table and lounge area
Housekeeper and personal chef
Casa Vostra (9/11 pax)
1 suite with queen bed and single bed and bathroom
1 bedroom with en suite bathroom
1 bedroom with queen bed and single bed and private bathroom
1 bedroom with queen bed and single bed and shared bathroom
1 bedroom with single bed and shared bathroom
Dining Room
Kitchen
Fireplace
Drawing Room
Living Room
Veranda
Swings
Olympic Swimming pool
4 acre Garden
Porch
Landscaped lawn
Outdoor dining table and lounge area
Casa Vostra Cottage (8/9 bedrooms)
2 bedrooms with queen bed and single bed and each with private bathroom
2 double bedrooms with en suite bathroom
Kitchen
Living Room
Access to Olympic swimming pool
4 acre Garden
Porch
Landscaped lawn
Outdoor dining table and lounge area
Billiard Room
Massage Room
Torre del Falco (11 pax)
3 bedrooms with queen bed and single bed and each with private bathroom
1 double bedroom with king sized bed and en suite bathroom
2 double bedrooms with king sized bed and en suite bathroom, terrace and Jacuzzi
Kitchen
Living Room
Fireplace
Pool
Library
Glass-walled winter garden
Terrace
Torre del Falco Pavilion (2 pax + 4)
1 bedroom with queen bed and 2 daybeds
Bathroom
Finnish sauna
Jacuzzi
Fridge
Amenities *
ADSL Wi-Fi Internet
Barbecue
Concierge service
Country Views
Dishwasher
Hairdryer
Heating
Hot-tub
Open fireplace
Parking
Pool Table
SPA
Swimming Pool
Washing machine
* Please note:
the included amenities may vary according to final agreement, make sure to check your contract for complete list.
This is the area where your selected property is located - the pin is indicative and not an exact address.