Villa Domus
Rome and Latium - Bracciano Lake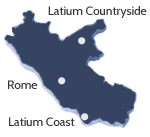 Take a beautiful place, but really beautiful, countryside with rolling hills as far as the eye can see, fields of wheat, grazing animals, ancient villages, lost in time. All of this the way it was since the time of the Etruscans and the roman empire...this is the Roman countryside that is Lazio.
Number of beds: 12
Bedrooms: 6

Amenities *
:
ADSL Wi-Fi Internet
Air Conditioning
Babysitter
Barbecue
Breakfast Service
Country Views
Daily cleaning
DVD Player
Hi-FI System
Laundry service
Open fireplace
Satellite TV
Swimming Pool
* Please note:
the included amenities may vary according to final agreement, make sure to check your contract for complete list.
Nearbies:
Roma 66,0 km Airport 52,2 km Civitavecchia 49,1 km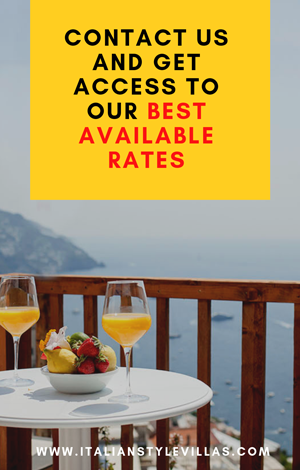 Search for your villa in Italy
Villa Domus – Bracciano – Latium
6 Bedrooms - Swimming Pool
Location
Set on a picturesque panoramic knoll, the arches of the patio of the Villa Domus open onto the luxuriant and breathtaking Lazio countryside, with the Mount Cimino peaks against the horizon. Nicknamed the Hollywood at the gates of Rome, this luxury villa is halfway between Lake Bracciano and Lake Vico, about 50 km from the eternal city and 30 km from Viterbo.
The Cimini Hills are a range of densely wooded volcanic hills that form part of the Ant Apennine range. The highest point is at Mount Cimino, 1,053 m above sea level. Lakes Bracciano and Vico are situated within the range in volcanic craters – the former being one of Italy's great lakes and surely one of the most beautiful and romantic places in the world. Used as a location for many films, the villa is also an ideal setting for wedding or incentives: just outside Rome in the verdant province of northern Lazio it provides the perfect setting for a wedding ceremony or a reception following a wedding in Rome, as well as other special events or group bookings. The area is renowned for its hot springs, Etruscan ruins and renaissance villas, as well as medieval hamlets such as Bassano Romano which the villa overlooks from its verdant hilltop. This luxury Lazio villa is also located just 8km from Le Querce Golf Club, making this fabulous property also ideal for golfing holidays.
Accommodation
The stunning Villa Domus is a luxury estate just outside Rome. This magnificent villa, located between Lakes Bracciano and Vico, sleeps up to 12 and provides facilities for a relaxing and comfortable stay. The lower floor, because of the slope of the land, lies mostly above ground and boasts two huge living rooms with fireplaces, three bedrooms with private bathrooms, a fully equipped gourmet kitchen for large receptions, and a staff apartment composed of a sitting room, bedroom, bath and kitchen, as well as rooms for heating and electricity units and a pantry. The ground floor houses two large formal drawing rooms, a dining room, one bedroom with private bathroom, two large kitchens with Dryad and Arc Linea appliances and a chapel, plus a charming veranda-dining area that opens onto the patio. On the first floor is the master suite with private bathroom and dressing room as well as five bedrooms, each with private bathroom. All the bathrooms are lined in fine quality marble and complete with showers or hydro massage tubs. The fine finishing touches include Sienna yellow and Verona red inlaid marble floors in the communal areas and oak parquet and fine carpeting in the bedrooms. The Venetian style walls, decorated doors and delicately nuanced plaster mouldings all lend a pleasant, refined aura of elegance to these diverse luxury accommodations.
Features *
6 Bedrooms with en-suite bathrooms

Air conditioning in bedrooms and living room (200euro per day)

Internet wi-fi connection

Linen change on Saturday and Wednesday

Maid service 4 hours per 6 days

ADDITIONAL SERVICES (available on request): Chef service; Extra maid service; Baby sitting Breakfast service (on request); Beauty treatments (on request); Taxi service; Laundry service
* Please note:
the included amenities may vary according to final agreement, make sure to check your contract for complete list.
This is the area where your selected property is located - the pin is indicative and not an exact address.