Villa Cassia
Rome and Latium - Bracciano
Take a beautiful place, but really beautiful, countryside with rolling hills as far as the eye can see, fields of wheat, grazing animals, ancient villages, lost in time. All of this the way it was since the time of the Etruscans and the roman empire...this is the Roman countryside that is Lazio.
Number of beds: 11
Bedrooms: 6

Amenities *
:
ADSL Wi-Fi Internet
Air Conditioning
Babysitter
Barbecue
Breakfast Service
Country Views
Daily cleaning
Dishwasher
DVD Player
Heating
Hi-FI System
Hot-tub
Laundry service
Satellite TV
Swimming Pool
Tennis Court
Washing machine
* Please note:
the included amenities may vary according to final agreement, make sure to check your contract for complete list.
Nearbies:
Roma 66,0 km Airport 52,2 km Civitavecchia 49,1 km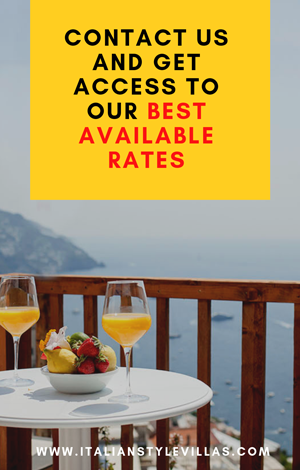 Search for your villa in Italy
Villa Cassia – Lago Bracciano – Latium
6 Bedrooms - Pool
Villa Cassia is a fascinating place, located in Manziana, close to Lago di Bracciano, only 30 minutes drive from Rome. The property, built at the beginning of 1900 and placed in a 12 hectares charming park, has 3 main houses and other buildings that in the past years have been accurately and elegantly restructured by famous architects. A vast park with precious plants and spectacular trees is the right frame for swimming pools, fountains and amazing corners where exclusive vacations, meetings, events and weddings can be arranged.Within the property's park, at the end of a wide and beautiful valley, there is a small ancient Church "Chiesa della Madonna delle Grazie". It was built on 1400 from the family Baronale dei Prefetti, Signori di Vico, as a chapel, along the way that from Pisciarelli took to Manziana. The Church has been a place of cult for the community in Manziana, up to the beginning of 1600. In 1724 it has been enlarged in order to host the growing number of faithful people that were going there for religious ceremonies and today, every year, on September 8th, "Madonna Delle Grazie" is celebrated with a dedicated worship and an enjoyable cross-country day with games for children.
The enchanting winter gardens and the lovely porch, comfortably furnished, are the right frame for a charming swimming pool surrounded by a rich set of exceptional flowering plants. Superb and stylish are the villa's interiors which have been accurately restructured and designed by famous architects. The main house has 2 living rooms, 3 dining rooms, 1 guest bath, 1 kitchen, 3 suites and a single bedroom. The smaller house, with an amazing view on both pools and on the pine tree promenade has 2 suites, 1 fitness center, 2 guest baths and 1 winter garden furnished with elegant sofas. Villa Cassia can host up to 12 guests plus the service area (roof apartment with 2 double rooms each one with a bathroom).
MAIN FEATURES OF THE VILLA. Ground Floor - Fully equipped kitchen - Entrance hall with - Large living room whit white sofas, satellite TV and stone fireplace opening into an outdoor glass Veranda for "al fresco dining" (for up to 12 people) - Formal dining area for up to 12 people Second floor - 4 individually styled double bedrooms with 4 bathroomsSecond Floor (Tower): Third Floor - 2 individually double bedrooms for own staff sharing a bathroom.
Guest house (dépendance) - Spacious glass Veranda with large windows overlooking the pool area - 2 individually styled double bedrooms with 2 bathrooms.
Outdoor areas. - Large swimming pool with chaises lounge, umbrellas and shower facilities - Dining area fully equipped with tables and chairs for up to 12 people - Wood burning oven and barbecue - Tennis court-Outdoor Jacuzzi 2 mt x 2 mt.
INCLUDED IN THE RENTAL. - Heating, electricity, water, gas, - Linen change twice per week - Maid service 4 hours per 6 days- Breakfast service (on request) - Internet wifi connection- A Night watchman.
Features
6 Bedrooms with en-suite bathrooms

Air conditioning in bedrooms and living-room

Linen change on Saturday and Wednesday

Maid service 4 hours per 6 days

ADDITIONAL SERVICES:

(available on request): Chef service; Extra maid service; Baby sitting Breakfast service (on request); Beauty treatments (on request); Taxi service; Laundry service
Amenities *
ADSL Wi-Fi Internet
Air Conditioning
Babysitter
Barbecue
Breakfast Service
Country Views
Daily cleaning
Dishwasher
DVD Player
Heating
Hi-FI System
Hot-tub
Laundry service
Satellite TV
Swimming Pool
Tennis Court
Washing machine
* Please note:
the included amenities may vary according to final agreement, make sure to check your contract for complete list.
This is the area where your selected property is located - the pin is indicative and not an exact address.