Tenuta Sabina - Villa Marcella
Rome and Latium - Magliano Sabina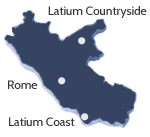 Take a beautiful place, but really beautiful, countryside with rolling hills as far as the eye can see, fields of wheat, grazing animals, ancient villages, lost in time. All of this the way it was since the time of the Etruscans and the roman empire...this is the Roman countryside that is Lazio.
Number of beds: 8
Bedrooms: 4

Amenities *
:
ADSL Wi-Fi Internet
Barbecue
Country Views
Dishwasher
DVD Player
Heating
Hi-FI System
Open fireplace
Satellite TV
Swimming Pool
Tennis Court
Washing machine
* Please note:
the included amenities may vary according to final agreement, make sure to check your contract for complete list.
Nearbies:
Fiumicino International Airport 90 km (50 miles); Ciampino International Airport 95 km (53 miles)Rome 65 km (37 miles); Siena 70 km (45 miles); Orvieto 30 km (18 miles); Perugia 120 km (75 miles).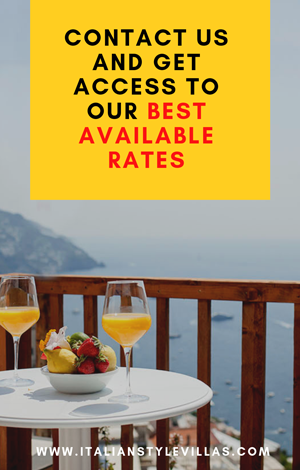 Search for your villa in Italy
Tenuta Sabina – Villa Marcella – Magliano Sabina – Lazio
4 Bedrooms – Pool - Tennis Court
The Tenuta Sabina is nestled amongst the undulating hills of the Sabina region of the Lathium and is surrounded by gentle olive groves and wide sloping fields of vines. These noble surroundings, where small-hold farming still prevails, offer the prefect backdrop for relaxing in the large swimming pools or on the English lawn at this well-appointed estate. Sport lovers may also play five – a side – football or tennis in a new synthetic grass ground at exclusive use of Tenuta Sabina clients.
Offering a panorama vista that leads over and beyond the lower Tiber Valley, the estate is situated in a very convenient position perfect for sightseeing in the Latium, Umbria and Tuscany. The main A1 motorway is a few kilometres away offering easy access to the principal sites of interest in central Italy. Glorious hilltop towns like Orvieto with its renowned gothic cathedral, renaissance Siena and Florence are within easy reach for a pleasant day out. Rome itself is less than an hour away. Closer to home, the little-known Sabina region features medieval hilltop castles, towns and villages, natural parks, medieval pilgrim routes and notable archaeological sites.
THE AREA
The property enjoys a fine position overlooking its very own vineyard and the surrounding countryside but it is also perfect for exploring the many places of interest in central Italy. Tenuta Sabina is situated at 5 km from the village of Magliano Sabina, in the heart of Sabina Region, fifty kilometres north-east of Rome. Untouched by mass tourism, undisturbed by the historical events of recent centuries, this territory is still authentic and unspoilt. Its landscape of gentle hills where agriculture is in perfect harmony with the surrounding nature, is scattered with Roman villas, medieval castles, churches and abbeys. From early spring, to late autumn, medieval villages are filled with a festive atmosphere, culminating with beautiful fireworks. You can't miss these events if you want to taste the local gastronomic specialities. These are country style dishes, made with the area's first class agricultural products. Extra virgin olive oil from Sabina, with its DOP recognition, is the absolute ingredient in this cuisine; the olive tree has been a constant element of the Sabine landscape since the times of ancient Rome. Riding schools, golf courses, natural bolted cliffs for free climbing, along with Mount Terminillo, ski resorts and several naturalistic itineraries, are some of the possibilities for sports lovers in an uncontaminated natural environment.One may also embark on a pilgrimage tracing the footsteps of St. Francis of Assisi which starts at Rieti (51kms-31M) and winds its way north through some delightful countryside visiting the many holy sites connected with the Patron Saint of Italy. The Reatine Valley, with its ancient castles, the world famous Farfa Abbey, for centuries a witness to the power of the Roman Church, the Romanesque churches of Vescovio and Santa Vittoria, the archaeological sites and ancient Roman town of Trebula Mutuesca and Forum Novum as well as, the national parks, and the capital city Rieti, are among the many attractions in Sabina. From here, along pleasant country roads, you can easily reach the lakes of Bracciano and Bolsena, and within one hour's drive, some of the most important artistic sights of Tuscany and Umbria. Rome itself is just a stones throw away, and very easy accessible by train or car.
THE ESTATE. The estate's accommodation is divided into four private villas: Villa Domitia, Villa Severa, Villa Lorena and Villa Marcella. All are situated on the cusp of a hill immersed in 100 hectares of private, family-owned land. Each villa features a private garden with lawn and a panoramic pergola dining terrace perfect for those all-important meals outside. Villa Domitia and Villa Severa are semi-detached properties and both share a large swimming pool with private changing cabins. Villa Lorena and Villa Marcella has each a private swimming pool. Large pool umbrellas, loungers, tables and chairs and mobile barbeque in each completes the outside facilities.Inside, each villa is pleasantly furnished in soft rural colours and antique country furnishings. Soft furnishings and drapes are matching throughout. Tuscan terracotta floors are a particular interior feature as is the fireplace in the large dining/living room with large sun window and satellite television. All the ground floor rooms have access to the garden, swimming pool and dining terrace. The Tenuta Sabina is a part of a large farming estate belonging to one of the oldest aristocratic family in the Sabina. Some 100 hectares are farmed in 3 distinct crop areas: wheat, olive trees and wine. Indeed, a notable red and white wine is produced as well as a formidable extra virgin olive oil.Etruscan and Roman antiquities have been discovered all over the estate and even the German army used the main family home as a hospital during World War 2. Moreover, the 4 villas were also rebuilt from an original 1930s style copied from similar properties designed by the owner's father, Count Valentino Orsolini Cencelli, in the Pontine Marshes area south of Rome. In fact, he is well known in Italy recent history for having been the one who 'drained' the marshes area which Julius Caesar and many Popes had wanted to complete.
ACCOMODATION. Villa Marcella. This villa is surrounded by undulating hills, overlooking a wonderful view of vineyard. The villa has a big private garden with a pergola. The patio and the internal floor area is paved in Tuscan terracotta. The patio is also perfect for BBQ and al fresco dining.
Ground floor: Very large living room with satellite TV, DVD and CD player, telephone with dialup internet access, dining area, fireplace, large south-facing sun window; fully-fitted kitchen with dishwasher, freezer, fridge, grill, oven and washing machine; breakfast room; twin bedroom with private bathroom with bath.
First floor: 1 double bedroom with private bathroom with bath; 2 twin bedrooms; 1 bathroom with shower.
Pool area: The pool area is completely private and is situated at 15 meters from the villa. The pool (12 x 5 mt/deep; 1,20-1,40 mt/depth) is immersed in its own garden with views of the estate. The surround is paved in terracotta where the umbrellas, deckchairs and armchairs are situated.
Garden: The villa has a huge private garden with a pergola and a barbeque area. The patio, with wooden table and chairs seating 8 people, is perfect for al fresco dining. There is full central heating and all the matching soft furnishing are antiflammatory. In addition the villa is provided with one highchair and one cot.
DISTANCES: Fiumicino International Airport 90 km (50 miles); Ciampino International Airport 95 km (53 miles)Rome 65 km (37 miles); Siena 70 km (45 miles); Orvieto 30 km (18 miles); Perugia 120 km (75 miles).
Features *
Garden with pergola and BBQ

Fully equipped kitchen with dishwasher, freezer, fridge, grill, oven and washing machine

Internet connection and telephone

Bed linens, bath towels, swimming pool towels
* Please note:
the included amenities may vary according to final agreement, make sure to check your contract for complete list.
This is the area where your selected property is located - the pin is indicative and not an exact address.