Podere di Stefano
Tuscany - Camaiore
Chic shopping, fine dining, hot nightlife. But wait there is more, Marble caves where Leonardo chose his block for The David down to the home of SuperTuscan wines through Bolgheri an endless succession of experiences and emotions! linked by a single common denominator: the bright blue of the waters.
Number of beds: 8
Bedrooms: 4

Amenities *
:
ADSL Wi-Fi Internet
Breakfast Service
Country Views
Daily cleaning
Hairdryer
Heating
Hot-tub
Open fireplace
Parking
Swimming Pool
* Please note:
the included amenities may vary according to final agreement, make sure to check your contract for complete list.
Nearbies:
Pietrasanta 15 km, Forte dei Marmi and Viareggio 20 km, Pisa and Lucca 40 km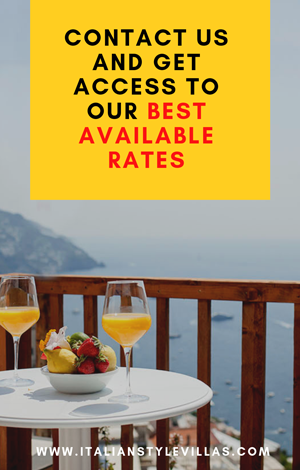 Search for your villa in Italy
Podere di Stefano – Camaiore - Tuscany
4 Bedrooms – Pool and Jacuzzi
Location and Surrounding Area. Nestled in a little corner of paradise 400 m high in the hills, Il Podere is a delightful Tuscan farmhouse with breathtaking views across the hillsides and over to the islands in the Tuscan archipelago beyond. The property is in an ideal position for exploring the wonders of this coastal area of Tuscany.
Nearby Lucca has often been voted one of the world's most desirable cities to live in or visit. It is perhaps most famous for its thick, 16th century ramparts which encircle the city and were restored in the 19th century to create a wide, tree-lined walkway. You can walk or cycle on top of the whole length of the walls and discover the wonders of the town within. There are pretty cobbled streets, ancient piazzas, gorgeous churches, glorious renaissance buildings, markets and countless local restaurants, bars and trattorias. Lucca was the birthplace of the Italian opera maestro, Giacomo Puccini and the town often hosts international opera as well as classical music events and rock concerts.
Pisa is best-known for its leaning tower in Piazza dei Miracoli but the city is also home to a multitude of beautiful churches, historical buildings, bridges and medieval palaces. Once you have photographed yourself in various amusing poses by the famous bell tower, take a wander around the 11th century Romanesque-Pisan cathedral, along the banks of the River Arno and then stop for a traditional "cecina", a flat bread made from chick pea flour and stuffed all sorts of wonderful delicacies.
Viareggio is a popular seaside town, home to the famous carnival parade and a whole host of summer events such as the Puccini Festival, the Jazz Festival as well as various theatre productions. The area is famous not only for its fine food and wine but also the Versilia coastline and its fashionable resorts and celebrity beach clubs. The gently-sloping, sandy shelf makes the beaches safe for small children.
The coastline is only a couple of kilometres away and Pietrasanta is another gorgeous medieval town packed with art galleries, restaurants and little coffee shops for people-watching in the fabulous Piazza Duomo. Nearby Forte dei Marmi is a shopper's fantasyland packed full of avant-garde boutiques.
Il Podere is about 45 minutes from Pisa international airport and an hour and a quarter from Florence international airport. It is 15 km from Pietrasanta, less than 20 km from Viareggio and Forte dei Marmi and about 40 km from the centre of both Pisa and Lucca.
The Property. The owner is a well-known Italian architect and interior designer and he has lovingly created this magnificent Borgo (hamlet), where he also has his home. Guests are warmly welcomed by the owner, who is delighted to dedicate himself entirely to your comfort and wellbeing during your stay and to making you feel completely at home. The property sleeps up to eight guests in four double bedrooms. Three of the gorgeous, country-style bedrooms have en suite bathrooms and the fourth has a washbasin in the room and its own private bathroom nearby. One of the bedrooms also has a private terrace.
The ground floor features stunning wood beamed ceilings and original terracotta floors throughout, which create a lovely sense of warmth and homeliness. There is a large sitting room with an open fireplace and plenty of cozy seating for fireside conversation on a winter evening. The dining room has a rustic round table and you can choose to eat here or al fresco under the romantic pergola with the stars above and the magnificent views in front of you. The kitchen is fully equipped with everything you might need for rustling up delicious Tuscan meals or you could even get the house cook to prepare your meals while you treat yourself to an aperitif or two as you wait for an authentic dinner to be served. There is a large pantry adjacent to the kitchen with a fridge and a freezer. And let's not forget a trip to the well-stocked wine cellar with its selection of both local and prestigious wines for your perusal.
The ample grounds cover 4 hectares and guests are spoilt for choice between the terraced gardens, shady woodland walks, a relaxing soak in the panoramic hot jacuzzi or an invigorating dip in the swimming pool, which has been created ingeniously from an enormous wash tub. You'll find lots of sun loungers and tables and chairs dotted around so bring a good book and kick back in the glorious Tuscan sunshine.
The track from the parking area in the village up to the property is fairly steep and rocky but there is a driver on hand to either drive you up to the house Monday – Saturday from 9 am to 6 pm or otherwise you are welcome to use the 4x4 vehicle to get to and from your car.
Features *
3 Double bedrooms with en suite bathroom
1 Double bedroom with a washbasin in the room and private bathroom
Living room with open fireplace
Dining room
Fully equipped kitchen
Pantry
Fireplace
Internet
Outdoor dining area
Swimming pool
Outdoor jacuzzi
Extensive gardens
Private parking in the village
Daily breakfast and simple lunch preparation (3 hours)
Daily cleaning (3 hours)
Driver
Gardener and pool maintenance
Extra services on request: sampling of the wines in the wine cellar, cook to prepare dinner, use of the foodstuffs in the pantry but please restock the pantry again afterwards
* Please note:
the included amenities may vary according to final agreement, make sure to check your contract for complete list.
This is the area where your selected property is located - the pin is indicative and not an exact address.