Villa delle Forbici
Tuscany - Florence
Florence never ceases to amaze. As Stendhal once said, it is the town of subtle allure, where the importance of its most famous masterpieces never decreases. It has provided inspiration for poets and artists and continues to amaze for the gentle beauty of its views.
Number of beds: 10
Bedrooms: 5

Amenities *
:
Air Conditioning
City Views
Country Views
Dishwasher
Heating
Hi-FI System
Hot-tub
Open fireplace
Parking
Satellite TV
Washing machine
* Please note:
the included amenities may vary according to final agreement, make sure to check your contract for complete list.
Nearbies:
Center of Florence is 10 minutes (drive distance)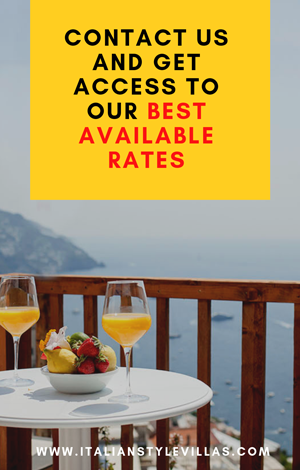 Search for your villa in Italy
Villa delle Forbici – Florence
5 Bedrooms – private Jacuzzi in the garden
Some of Florence's most spectacular villas are set up in the hills around the city and Villa delle Forbici is no exception. It offers gorgeous gardens and breathtaking views over the surrounding countryside. In the humid summer months, Villa delle Forbici is cooler and fresher than the properties in the city centre.
The Villa was once home to the family of Dante's Beatrice Portinari and was an inspiration for his Divine Comedy.
Villa delle Forbici is on a pretty lane leading up towards Fiesole and is a mere ten minute drive from Florence. It is snuggled behind privacy-ensuring high stone walls and has it's own remote controlled gate.
The villa was sadly left in smithereens after World War II but Count Pier Francesco Rimbatti oversaw its total restoration and it has remained in the Rimbatti family ever since. The last restoration was completed in the spring of 2016 and the Villa has only recently become open to guests.
The Villa and its 5 bedrooms are spread over three floors with four spacious double bedrooms plus ensuite bathrooms on the first floor and a further large double suite with bathroom and private sitting room on the second floor. Each bedroom has autonomous air-conditioning. There is also a small but pretty office on the first floor which opens out onto a fully furnished terrace with sun loungers.
A stunning, curved stone staircase leads down to the ground floor with comfortably elegant sitting rooms furnished in traditional period style. Stylish antiques decorate the rooms and there are hand painted murals lining the front hall. The large dining room can easily seat from between six and fourteen guests and features a magnificent set of wooden double doors. Fine dining can also be enjoyed either out on the covered veranda or at a long table in the courtyard; perfect for al fresco dinners under a starlit sky.
The country-style kitchen is modern and fully equipped with everything a budding chef might need to prepare exquisite Italian cuisine. There is also a roomy breakfast bar for less formal meals. A laundry room and staff quarters (with separate entrance) complete the ground floor.
The divine Italian style gardens range over half a hectare and are laid out with meandering paths, immaculate hedges, pink-flowered hydrangeas, shady pines and interspersed with traditional Tuscan cypress trees. The garden gazebo features comfortable sofas and there is a covered jacuzzi for 6 people near the first courtyard.
Features
5 double bedrooms
5 en-suite bathrooms
Elegant, period sitting rooms
Fireplace
Dining room for up to 14 guests
Modern kitchen with top-of- the-line appliances
Dishwasher
Office area with furnished terrace
Laundry room
Covered veranda dining area
Courtyard dining area
Air-conditioning
Heating
Sat TV and hi-fi system
Large garden with gazebo
Hydromassage tub for 6 in the garden
Amenities *
Air Conditioning
City Views
Country Views
Dishwasher
Heating
Hi-FI System
Hot-tub
Open fireplace
Parking
Satellite TV
Washing machine
* Please note:
the included amenities may vary according to final agreement, make sure to check your contract for complete list.
This is the area where your selected property is located - the pin is indicative and not an exact address.