Leonardo Apartment
Tuscany - Florence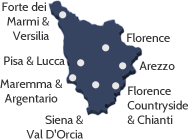 Florence never ceases to amaze. As Stendhal once said, it is the town of subtle allure, where the importance of its most famous masterpieces never decreases. It has provided inspiration for poets and artists and continues to amaze for the gentle beauty of its views.
Number of beds: 4
Bedrooms: 2

Amenities *
:
ADSL Wi-Fi Internet
Air Conditioning
City Views
Daily cleaning
Dishwasher
DVD Player
Hairdryer
Hi-FI System
Satellite TV
Washing machine
* Please note:
the included amenities may vary according to final agreement, make sure to check your contract for complete list.
Nearbies:
Florence Airport 6,7 km San Gimignano 52,7 km Lucca 74,0 km Siena 75,6 km Arezzo 78,2 km Pisa 85,7 km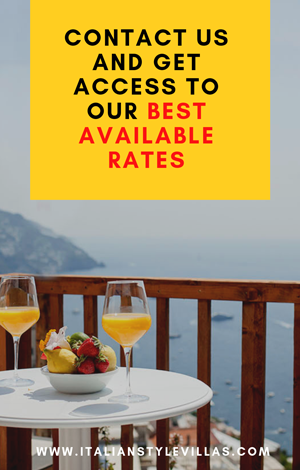 Search for your villa in Italy
Leonardo Apartment - Florence
2 Double bedrooms
Palazzo Tornabuoni dates back to the 14th century, at a time when Florence was beginning to expand beyond its original Roman centre. Compared to the Via delle Belle Donne, Via Tornabuoni and Piazza Antinori were then parallel side streets leading out towards the city's exits. It was only later, towards the mid 15th century, that Via Tornabuoni and Piazza Antinori were expanded and became the place where rich Florentines bought and refurbished large buildings to turn them into stately homes. Throughout the centuries, Palazzo Tornabuoni was extensively remodelled, acquiring its present day aspect around the mid 18th century.

The apartment, situated at the second floor of Palazzo Tornabuoni, has an enormous sitting room overlooking the façade of the church of San Gaetano. At night the church is beautifully floodlit, and the white marble Medici crest, visible directly opposite the sitting room, stands out creating a very suggestive effect.
Leonardo apartment description (175 sq. m. - 4 sleeps)
Facing the church of San Gaetano, level with the great marble statues that adorn its façade, lies the apartment called Leonardo.
This apartment rates at the top of the range of those we offer; it is more than a holiday apartment, it is a true home, aimed at those people who wish to spend time in Florence, or at those who desire to stay in style and great comfort with plenty of space and luxury amenities around them; a real second home, in which to entertain friends or simply relax and observe the city from a privileged viewpoint.
Upon stepping into the flat, on the second floor of the Palazzo Tornabuoni on Piazza Antinori, one immediately gets a feeling of space and elegance from the entrance hall, with its antique furniture and Persian carpets. The designer lamps give a touch of contemporary to the otherwise classical style. A large oval table (8 seats) can be used as extra dining space when necessary. From here, through an arch one accesses the large, luminous sitting room with its balconied windows overlooking the massive façade of San Gaetano and the bustling, elegant Via Tornabuoni. The cathedral of Santa Maria del Fiore and Giotto's bell-tower stand just beyond, creating a spectacular view of architectural perspectives.
This room has walls in a soft tone of yellow and a striking mixture of contemporary and period furniture combined to give a sense of relaxed warmth and style. Colour is a prominent feature with the two large sofas covered by a fabric of crimson flowers and green foliage to match the decorative art déco panel, part of the collection of antiques. A flurry of Venetian-velvet cushions in tones of rust, gold and pewter grey, add cosiness to the room.
A large plasma screen, Sky TV device, DVD and CD player provide the entertainment facilities.
From the sitting room one accesses the first of the two double bedrooms, again in tones of pale yellow and greens, with a view overlooking the terracotta tiled roofs and the Florence Cathedral, the Duomo.
The large en suite bathroom in green and yellow, is luminous and kitted out with luxury accessories. A spacious walk-in closet provides space for clothing, shoes and luggage. Tracing our footsteps back through the sitting room, we turn right down a corridor. A door half way down leads into the kitchen and dining room. Here the mix of ultra-contemporary and antique gives a sense of clean, essential and practical elegance. The kitchen with its modern fixtures is raised two steps above the dining area and has terracotta flooring whilst parquet flooring distinguishes the dining room. Philip Stark chairs and modern furniture contrast with the frescoed ceiling and antique dining table.
Going back to the corridor a small door opposite the kitchen leads into the guest bathroom which also contains the washing machine and tumble drier concealed behind a curtain.
The corridor ends in the second bedroom on the rear of the building. This second room is also spacious and luminous and is decorated in soft tones of pale green and cream. Two large wardrobes provide ample clothing space. A small corridor leads out of the bedroom with a side door opening into a small toilet, for added practicality. The bathroom just beyond with its separate bathtub and shower is decorated in tones of apricot and orange. The apartment is served by a lift and has a day-time porter service.
Features *
2 Double bedrooms with bathroom en-suite

Fully equipped kitchen with 4 ring cooker and oven (electric), fridge and refrigerator, American coffee maker, toaster, microwave, dishwasher

Guest bathroom with washing machine and dryer

Telephone and hi speed Internet connection

LCD Satellite TV, DVD player, CD player

On request: answering machine, baby crib, high chair, weekly / daily cleaning
* Please note:
the included amenities may vary according to final agreement, make sure to check your contract for complete list.
This is the area where your selected property is located - the pin is indicative and not an exact address.