Villa Vigna del Chianti
Tuscany - Greve In Chianti
See what inspired the great DaVinci, stroll through vineyards, endless fields of poppies, sunflowers and spot a trail of cypress trees leading to a noble villa producing a Super Tuscan wine. Whether it is your first or your fifteenth time - the cradle of the Renaissance - is one of the most amazing places on earth!
Number of beds: 16
Bedrooms: 8

Amenities *
:
ADSL Wi-Fi Internet
Air Conditioning
Barbecue
Country Views
Daily cleaning
Dishwasher
DVD Player
Hairdryer
Heating
iPod docking station
Open fireplace
Parking
Satellite TV
SPA
Swimming Pool
Table tennis
Tennis Court
Washing machine
* Please note:
the included amenities may vary according to final agreement, make sure to check your contract for complete list.
Nearbies:
Florence 35 km, Siena and San Gimignano 45 km, Florence international airport 50 km, tennis courts 5 km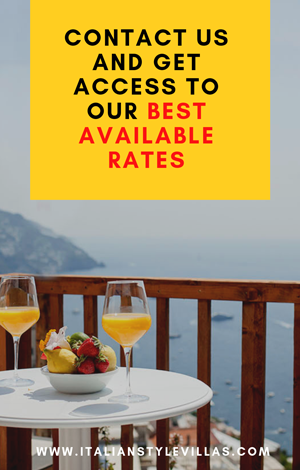 Search for your villa in Italy
Villa Vigna del Chianti - Greve in Chianti - Tuscany
8 Bedrooms – Pool - Gym
Location and Surrounding Area. Villa Vigna del Chianti is a spectacular Tuscan estate and, quite literally, an oasis of stylish peace. The Vigna del Chianti estate featured in the 1993 film "Much ado about nothing" and you can easily see why. This fabled area of Tuscany offers rolling hills with vineyards, olive groves and picturesque fields full of poppies and sunflowers. Cypress trees line the sun-dappled lanes and there are a wealth of other stately homes and castles dotted around. Some of the most popular day trips include a trip around the wine-producing Chianti hillsides, the UNESCO World Heritage Site of Siena, the medieval hilltop towns of Montalcino, Montepulciano and the more famous Florence, Lucca and Pisa. The nearest towns with all the necessary local amenities are only a ten minute drive away.
The whole area is steeped in history with unchanged, medieval towns perched on hillsides, the unforgettable San Gimignano with its high medieval towers and Suvereto, arguably one of Italy's most beautiful villages. Siena is medieval gem, famous for its architecture, the Campo central piazza and the Palio horse race, which is held twice every summer. The Palio and the Campo piazza both featured in the James Bond Quantum of Solace film and as you sip a cappuccino in the piazza, it's hard not to slip into film-star mode as you watch the world go by.
Florence is an art-lover's paradise; it was the centre of the Italian Renaissance movement and the museums, galleries, palaces and churches hold some of the world's greatest artistic treasures. The Cathedral of Santa Maria del Fiore in Piazza del Duomo is the largest building in Medieval Europe and Brunelleschi's Dome is not only a masterpiece of engineering but also the largest brick dome in the world. The octagonal St. John's Baptistry is one of the oldest buildings in Florence and is a marvellous example of the rich Florentine Romanesque style. The Bell Tower next to the cathedral was designed by Giotto and the climb up its 414 steps is well worth the effort for the astounding view from the top over Florence and the surrounding hills. The Uffizi, Bargello, Pitti Palace, Boboli Gardens and the Accademia have to been seen and once you tire of art and history, take a wander through the unforgettable streets and across the Ponte Vecchio bridge which spans the River Arno. Florence is also home to designer shopping and fine wine and dining experiences. Thick, juicy Florentine steaks are a local speciality and best accompanied by a delicious, local Chianti wine.
For gold aficionados, the international Royal Golf La Bagnaia features an 18-hole course designed by Robert Trent Jones Jr., which harmoniously blends with the local landscape. You can even gaze out over Siena as you ponder your next stroke.
The Vigna del Chianti estate is only 50 km from Florence international airport. Florence is 35 km away, Siena and San Gimignano are about 45 km away and Arezzo is about an hour's drive. There are tennis courts 5 km up the road.
The Property. This magnificent property sleeps up to 20 guests in three, luxurious, Tuscan homes; the main farmhouse, the cottage and the superbly converted barn. There are six double bedrooms with en suite bathrooms in the farmhouse, two in the cottage and two in the converted barn. All of the bedrooms have air conditioning and either en suite or private bathrooms.
All three buildings have been renovated to the highest standard, including the more traditional Tuscan features such as stone walls, beamed ceilings and terracotta floors. The interior décor is superb with top quality furnishings. There are various spacious living areas on the estate with comfortable sofas and open fireplaces for cozy conversations or tucking yourself up with a favourite book. The dining room in the main farmhouse can seat up to 20 guests so you can enjoy splendid meals together. You could even call in a private chef to do all the hard work and you'll find a hearty, authentic Tuscan meal ready and waiting on your return from sightseeing. There are two fully equipped kitchens available plus plenty of French doors opening out onto the gardens and al fresco dining areas. Or as an alternative, there is an excellent restaurant nearby.
The grounds are awe-inspiring with immaculate lawns leading across to the panoramic swimming pool and furnished poolside area. There is even an air conditioned fitness room and Turkish steam bath to complete your relaxing experience here. Guests are free to wander or cycle through the surrounding vineyards and woodlands.
Features
6 Double / Twin bedrooms with en suite bathrooms
1 Double bedroom with child-sized bed and en suite bathroom and 1 twin bedroom with private bathroom in a converted barn
Various sitting rooms
1 Dining room, seats up to 20 guests
2 Fully-equipped kitchens
Wi-Fi
TV, DVD player and iPod docking station
Dishwasher
Washing machine and dryer
Wine fridge
Air conditioning in all bedrooms and gym
Heating
Extensive gardens
Outdoor dining and barbecue
Swimming pool (15m x 6m)
Hammam
Table tennis
Air conditioned fitness room
Welcome basket and guided tour of the estate
Bicycles
Parking
Daily maid service (3 hours per day)
Final cleaning
Extra services on request: pre-arrival fridge filling, airport transfers, wine tours, massages, tennis, golf, babysitting, laundry service, chauffeur, cooking classes, chef services
Amenities *
ADSL Wi-Fi Internet
Air Conditioning
Barbecue
Country Views
Daily cleaning
Dishwasher
DVD Player
Hairdryer
Heating
iPod docking station
Open fireplace
Parking
Satellite TV
SPA
Swimming Pool
Table tennis
Tennis Court
Washing machine
* Please note:
the included amenities may vary according to final agreement, make sure to check your contract for complete list.
This is the area where your selected property is located - the pin is indicative and not an exact address.
All the availabilities below are indicative. Please
Contact us
to verify your dates.
Sep 2020
Oct 2020
Nov 2020

| | | | | | | |
| --- | --- | --- | --- | --- | --- | --- |
| Su | Mon | Tu | We | Th | Fr | Sa |
| | | | | | | |
| | | | | | | |
| | | | | | | |
| | | | | | | |
| | | | | | | |

| | | | | | | |
| --- | --- | --- | --- | --- | --- | --- |
| Su | Mon | Tu | We | Th | Fr | Sa |
| | | | | | | |
| | | | | | | |
| | | | | | | |
| | | | | | | |
| | | | | | | |

| | | | | | | |
| --- | --- | --- | --- | --- | --- | --- |
| Su | Mon | Tu | We | Th | Fr | Sa |
| | | | | | | |
| | | | | | | |
| | | | | | | |
| | | | | | | |
| | | | | | | |

Dec 2020
Jan 2021
Feb 2021

| | | | | | | |
| --- | --- | --- | --- | --- | --- | --- |
| Su | Mon | Tu | We | Th | Fr | Sa |
| | | | | | | |
| | | | | | | |
| | | | | | | |
| | | | | | | |
| | | | | | | |

| | | | | | | |
| --- | --- | --- | --- | --- | --- | --- |
| Su | Mon | Tu | We | Th | Fr | Sa |
| | | | | | | |
| | | | | | | |
| | | | | | | |
| | | | | | | |
| | | | | | | |
| | | | | | | |

| | | | | | | |
| --- | --- | --- | --- | --- | --- | --- |
| Su | Mon | Tu | We | Th | Fr | Sa |
| | | | | | | |
| | | | | | | |
| | | | | | | |
| | | | | | | |
| | | | | | | |

Mar 2021
Apr 2021
May 2021

| | | | | | | |
| --- | --- | --- | --- | --- | --- | --- |
| Su | Mon | Tu | We | Th | Fr | Sa |
| | | | | | | |
| | | | | | | |
| | | | | | | |
| | | | | | | |
| | | | | | | |

| | | | | | | |
| --- | --- | --- | --- | --- | --- | --- |
| Su | Mon | Tu | We | Th | Fr | Sa |
| | | | | | | |
| | | | | | | |
| | | | | | | |
| | | | | | | |
| | | | | | | |

| | | | | | | |
| --- | --- | --- | --- | --- | --- | --- |
| Su | Mon | Tu | We | Th | Fr | Sa |
| | | | | | | |
| | | | | | | |
| | | | | | | |
| | | | | | | |
| | | | | | | |
| | | | | | | |