Villa Tavarnelle
Tuscany - Tavarnelle
See what inspired the great DaVinci, stroll through vineyards, endless fields of poppies, sunflowers and spot a trail of cypress trees leading to a noble villa producing a Super Tuscan wine. Whether it is your first or your fifteenth time - the cradle of the Renaissance - is one of the most amazing places on earth!
Number of beds: 22
Bedrooms: 11

Amenities *
:
ADSL Wi-Fi Internet
Air Conditioning
Babysitter
Barbecue
Breakfast Service
Caretaker in the grounds
Concierge service
Cooking Class
Cooking Service
Country Views
Dishwasher
DVD Player
Gym
Hairdryer
Heating
Hot-tub
iPod docking station
Laundry service
Open fireplace
Parking
Satellite TV
SPA
Swimming Pool
Washing machine
* Please note:
the included amenities may vary according to final agreement, make sure to check your contract for complete list.
Nearbies:
Florence 25 Km Siena 40 Km Pisa 80 Km Lucca 80 Km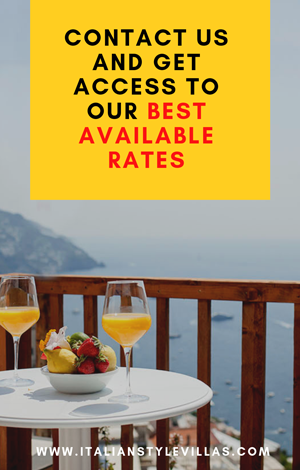 Search for your villa in Italy
Villa Tavarnelle - Tuscany
9 Bedrooms (8 double, 1 twin) – 2 Bedrooms in a separate apt - Pool
Villa Tavarnelle, a hundred year old farmhouse which has been owned by the Fusi family for many years, is situated in an oasis of green amidst centuries-old olive trees, where the air is filled with the fragrance of cypress trees and wild herbs. The Farmhouse has recently been elegantly renovated to reflect the taste and style of the owners who, whilst providing the building with every comfort, have chosen to preserve its original structure with open beam ceilings, brick arches and terracotta floors, in accordance with the architectural tradition of the Chianti district. The farmhouse is set in open countryside just a few kilometers from the town of Tavarnelle Val di Pesa, and is an ideal place for a quiet and relaxing stay. Guests can also enjoy the splendid swimming pool with Jacuzzi and the delightful Wellbeing Center.
The Villa has four floors. Lower floor: this is where the "Calidarium" Wellbeing Center is located. It has a heated Jacuzzi pool, sauna, automatic Shiatsu massage bed, gym, 2 showers and a changing room. The wellbeing center is available exclusively to our guests. Massages and beauty treatments are available on request. These are undoubtedly a source of peace and relaxation for all our guests, as well as an ideal opportunity to reduce everyday stress and allow yourself to be pampered inside the "Calidarium" wellbeing center. Ground floor: a large paved area, once the farmyard, leads into a big, characteristic terracotta room with stone walls, open beams and arches that offers a truly unique atmosphere thanks to the cheerful crackling of the fire in the typical Tuscan fireplace. This floor also contains three fully equipped kitchens where it is possible to prepare delicious Tuscan meals, a room with a fireplace and a large living room - also with a typical Tuscan fireplace - that can be used by all the Villa's guests. There is also a large bedroom with double bed, private bathroom with shower and bathtub, air conditioning, telephone and Internet access, satellite TV and mosquito nets. From each of the kitchens and rooms it is possible to access the outdoor areas provided with all the necessary equipment for enjoying open-air lunches and suppers, as well as comfortable sunbeds and hammocks. First floor: there are 6 bedrooms with double beds and 1 bedroom with twin beds. The double bedroom named Il Contadino also has a mezzanine floor with a comfortable double sofa bed. The characteristic feature of Il Garzone bedroom is the large terrace with its splendid view of the Florentine countryside. Il Guardia has a private bathroom with a Jacuzzi bathtub.Il Treccone is a double room with twin beds that can be joined together as required. The other three double bedrooms are: Il fattore which is all in yellow, the pink La Massaia and the blue Il Sensale. All the bedrooms have a private bathroom, air conditioning, telephone, safe, Internet access, satellite TV and mosquito nets. This floor also has a large lounge room with a fireplace and small kitchen, and a games room with an Internet Point which is available to all the Villa's guests.
Second floor: the "Il Capoccio" bedroom is located on the this floor. Situated above the roof, this was a type of tower that offered shelter to the farm's doves and pigeons. The high position makes it possible to get a 360° view of the Tuscan countryside. Due to the particular characteristics of this floor, the private bathroom for this bedroom has had to be situated in a reserved, private area on the first floor of the Villa. The room is elegantly furnished. It has air conditioning, mini-bar, safe, Satellite T.V., telephone, internet access and private outdoor bathroom with shower.
Each room has its name dedicated to characters from farming life.
Cottage Poggiarello: (100 sq. Metres) 4 people. It is an independent apartment , adjacent to the main Villa. This was built out of the interior of the ex-barn. It takes up the entire first floor of the Complex. It consists of: a kitchen equipped with oven, fridge, dishwasher and washing machine; living room with fireplace; double bedroom; twin bedded room; bathroom with shower and bathtub; telephone and Satellite T.V. What is unique to the cottage is the large loggia, the private garden and direct access to the swimming pool.
Swimming pool: Our large outdoor pool with its dedicated entrance and waterfall onto the valley below is particularly beautiful. The pool features a big, mosaic clad whirlpool, and gentle cascades. The entire complex harmonizes perfectly with one of the most scenic landscapes in the valley, offering the double pleasure of a refreshing dip and a breathtaking view.
Weddings: Tavarnelle is the perfect place for a wedding in Tuscany. The Villa can accommodate up to 40 guests inside, while the beautiful, flowering gardens with magnificent views of the Florentine hills can host up to 150.Tavarnelle does everything to make sure this very special day is exactly the way you want it to be: cocktails can be served in the former barn, near the wine cellars, the wedding lunch or dinner can be served poolside, and the gardens, adjacent to the spa, are perfect for celebrating with music and dancing.
Dining: The Tavarnelle restaurant was created and exists exclusively for our guests. Service is available daily, on request. The cosy atmosphere, along with our cordial service make for pleasurable, relaxing dining. During summer, breakfast, lunch and dinner are served outdoors, near the former barn.
Cuisine: We offer a large selection of high quality dishes, from appetizers to desserts. All the ingredients are carefully selected: fresh meats and fish, and only seasonal vegetables.
Wine: We are proud to be able to offer guests our own wine, made from the grapes that grow in the vineyards surrounding the villa.
Cooking Classes: Our chef teaches Tuscan gastronomy, presenting traditional recipes along with recent culinary innovations. The cooking classes alternate with wine and olive oil tasting sessions. On the whole, it is a delightful way to learn about the best of Tuscan living.
Distances: Tavarnelle Val di Pesa exit, Florence / Siena highway: 10 minutes; Tavarnelle Val di Pesa: 5; San Donato in Poggio or Barberino Val d'Elsa: 10; Poggibonsi with train station: 20; San Casciano Val di Pesa or Colle Val d'Elsa 20; Florence, San Gimignano, Castellina in Chianti, Greve in Chianti or Monteriggioni: 30; Siena or Radda in Chianti: 40; Arezzo, Lucca or Pisa: 60; Bologna, Montalcino, Pienza or Cortona: 80; Perugia or Montepulciano: 90; Rome or Milan: 3 hours. International airport Rome Leonardo da Vinci - Fiumicino 3 hours; Florence Peretola 35 minutes; National and Inter - European: Pisa Galileo Galilei 90 minutes.
Features
9 Bedrooms (8 double, 1 twin)

2 Bedrooms with a bathroom in a separate apt

Calidarium wellbeing center

4 equipped kitchens each with dishwasher

Washing machine and laundry services

Air conditioning in all the property

Booking service for restaurants, air and rail tickets, museums and events, airport taxi transfers, individual and group tours of art cities
Amenities *
ADSL Wi-Fi Internet
Air Conditioning
Babysitter
Barbecue
Breakfast Service
Caretaker in the grounds
Concierge service
Cooking Class
Cooking Service
Country Views
Dishwasher
DVD Player
Gym
Hairdryer
Heating
Hot-tub
iPod docking station
Laundry service
Open fireplace
Parking
Satellite TV
SPA
Swimming Pool
Washing machine
* Please note:
the included amenities may vary according to final agreement, make sure to check your contract for complete list.
This is the area where your selected property is located - the pin is indicative and not an exact address.