Villa Montaione
Tuscany - Chianti Area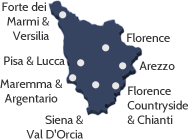 See what inspired the great DaVinci, stroll through vineyards, endless fields of poppies, sunflowers and spot a trail of cypress trees leading to a noble villa producing a Super Tuscan wine. Whether it is your first or your fifteenth time - the cradle of the Renaissance - is one of the most amazing places on earth!
Number of beds: 12
Bedrooms: 6

Amenities *
:
ADSL Wi-Fi Internet
Air Conditioning
Barbecue
Concierge service
Country Views
Daily cleaning
Dishwasher
DVD Player
Hairdryer
Heating
iPod docking station
Open fireplace
Parking
Satellite TV
Swimming Pool
Washing machine
* Please note:
the included amenities may vary according to final agreement, make sure to check your contract for complete list.
Nearbies:
Siena 25 km, Montalcino 50 km, Florence 60 km, Montepulciano 65 km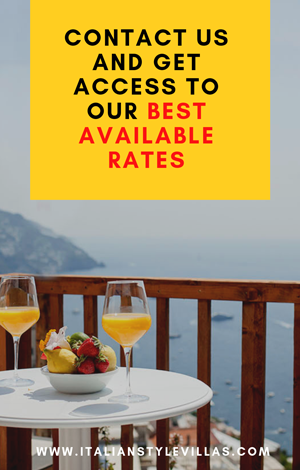 Search for your villa in Italy
Villa Montaione - Chianti Area - Tuscany
6 Bedrooms – Pool
Location and Surrounding Area. Villa Montaione is a marvellous barn conversion in the heart of Tuscany's idyllic Chianti region. The building was once upon a time Cerreto Castle's hay barn and has retained many of its original features. Cerreto Castle dates back to 1097 and its rustic remains can still be seen hidden in the magnificent walking country that surrounds it. This fabled area of Tuscany offers rolling hills with vineyards, olive groves and picturesque fields full of poppies and sunflowers. Cypress trees line the sun-dappled lanes and there are a wealth of other stately homes and castles dotted around. Some of the most popular day trips include a trip around the wine-producing Chianti hillsides, the UNESCO World Heritage Site of Siena, the medieval hilltop towns of Montalcino, Montepulciano and the more famous Florence, Lucca and Pisa.
Siena is medieval gem, famous for its architecture, the Campo central piazza and the Palio horse race, which is held twice every summer. The Palio and the Campo piazza both featured in the James Bond Quantum of Solace film and as you sip a cappuccino in the piazza, it's hard not to slip into film-star mode as you watch the world go by.
The rare and wonderful red wine known as Chianti Classico Castello di Cerreto is one of the many DOCG specialities of the local area. Another sought-after red wine, the Brunello di Montalcino, has been produced in the hills around Montalcino since the early 14th century, partly due to the fact that Montalcino has the warmest and driest climate in Tuscany. And let's not forget Montepulciano, a stunning hilltop Renaissance town, famed not only for its beauty and car-free centre but also for the quality of its fine wines. The Cantucci family, for example, has been creating exclusive wines since the 1700s and is considered one of the founding fathers of the exceptional red wine, Vino Nobile di Montepulciano.
For gold aficionados, the international Royal Golf La Bagnaia features an 18-hole course designed by Robert Trent Jones Jr., which harmoniously blends with the local landscape. You can even gaze out over Siena as you ponder your next stroke.
Villa Montaione is well off the beaten track and becomes an authentic retreat from the cares of the modern world. It is however only a 6 minute drive to the nearest town, which offers all of the necessary services such as restaurants, banks, chemist's, bars and shops. Florence international airport is an hour and twenty minutes from the property. The city of Florence is about 60 km away, Siena 25 km, Montalcino about 50 km, Montepulciano 65 km and the Royal La Bagnaia golf course is about a half hour drive.
The Property. Villa Montaione sleeps up to 12 guests in six sumptuous double bedrooms. The house has large, elegant windows which let the sunshine in and give the rooms a marvellously light and airy feel. The bedrooms enjoy far-reaching views across the Tuscan countryside and you're guaranteed to wake feeling refreshed and revitalized after a good night's sleep. There are four double bedrooms and two twin rooms in total. The two doubles and the twin on the first floor have en suite bathrooms and air conditioning. The remaining two doubles and twin bedroom are set on the spacious lower ground floor. The first double has its own en suite bathroom and the second double and twin share a large bathroom.
The villa offers various living rooms; the main sitting room is on the ground floor and features a lovely open fireplace. There is a second living room on the first floor but perhaps the best place to while away the hours is out on the south-facing veranda, which runs along the length of the house and the sweet perfume of the climbing wisteria will add a poetic touch to your relaxing meals. The ground floor dining room and fully-equipped modern kitchen both open out onto this charming veranda area.
The salt-water swimming pool is just down from the veranda and set in immaculate, landscaped gardens. The poolside area is furnished with luxurious sun loungers and there is a handy barbecue area for preparing, grilled food to be eaten al fresco under a starlit sky.
Features *
4 Double bedrooms (3 with en suite bathrooms)
2 Twin bedrooms (1 with an en suite bathroom)
Extra shared bathroom
Fully equipped kitchen

with dishwasher, microwave, toaster, toaster oven, coffee maker, espresso machine

2 Living rooms
Dining room
Fireplace
Veranda
Wi

-Fi

Air conditioning in 3 bedrooms
Satellite TV

, DVD and CD player

iPod docking station
Washing machine

and tumble dryer

High chair
Baby crib
Salt water swimming pool (from 26th March – 22nd October)
Gas barbecue
Outdoor dining table and chairs
Parking
Daily maid service (3 hours/day except Sunday)
Welcome basket
Services on request: fridge filling, tours and excursions, heating, chef, mid-week change of bed and bath linen
* Please note:
the included amenities may vary according to final agreement, make sure to check your contract for complete list.
All the availabilities below are indicative. Please
Contact us
to verify your dates.
Nov 2019
Dec 2019
Jan 2020

| | | | | | | |
| --- | --- | --- | --- | --- | --- | --- |
| Su | Mon | Tu | We | Th | Fr | Sa |
| | | | | | | |
| | | | | | | |
| | | | | | | |
| | | | | | | |
| | | | | | | |

| | | | | | | |
| --- | --- | --- | --- | --- | --- | --- |
| Su | Mon | Tu | We | Th | Fr | Sa |
| | | | | | | |
| | | | | | | |
| | | | | | | |
| | | | | | | |
| | | | | | | |

| | | | | | | |
| --- | --- | --- | --- | --- | --- | --- |
| Su | Mon | Tu | We | Th | Fr | Sa |
| | | | | | | |
| | | | | | | |
| | | | | | | |
| | | | | | | |
| | | | | | | |

Feb 2020
Mar 2020
Apr 2020

| | | | | | | |
| --- | --- | --- | --- | --- | --- | --- |
| Su | Mon | Tu | We | Th | Fr | Sa |
| | | | | | | |
| | | | | | | |
| | | | | | | |
| | | | | | | |
| | | | | | | |

| | | | | | | |
| --- | --- | --- | --- | --- | --- | --- |
| Su | Mon | Tu | We | Th | Fr | Sa |
| | | | | | | |
| | | | | | | |
| | | | | | | |
| | | | | | | |
| | | | | | | |

| | | | | | | |
| --- | --- | --- | --- | --- | --- | --- |
| Su | Mon | Tu | We | Th | Fr | Sa |
| | | | | | | |
| | | | | | | |
| | | | | | | |
| | | | | | | |
| | | | | | | |

May 2020
Jun 2020
Jul 2020

| | | | | | | |
| --- | --- | --- | --- | --- | --- | --- |
| Su | Mon | Tu | We | Th | Fr | Sa |
| | | | | | | |
| | | | | | | |
| | | | | | | |
| | | | | | | |
| | | | | | | |
| | | | | | | |

| | | | | | | |
| --- | --- | --- | --- | --- | --- | --- |
| Su | Mon | Tu | We | Th | Fr | Sa |
| | | | | | | |
| | | | | | | |
| | | | | | | |
| | | | | | | |
| | | | | | | |

| | | | | | | |
| --- | --- | --- | --- | --- | --- | --- |
| Su | Mon | Tu | We | Th | Fr | Sa |
| | | | | | | |
| | | | | | | |
| | | | | | | |
| | | | | | | |
| | | | | | | |