Valdarno Estate - Villa Le Bacche
Tuscany - Valdarno
See what inspired the great DaVinci, stroll through vineyards, endless fields of poppies, sunflowers and spot a trail of cypress trees leading to a noble villa producing a Super Tuscan wine. Whether it is your first or your fifteenth time - the cradle of the Renaissance - is one of the most amazing places on earth!
Number of beds: 10+4
Bedrooms: 5+2

Amenities *
:
ADSL Wi-Fi Internet
Air Conditioning
Barbecue
Butler
Country Views
Daily cleaning
Dishwasher
Hi-FI System
Open fireplace
Parking
Satellite TV
Swimming Pool
Washing machine
* Please note:
the included amenities may vary according to final agreement, make sure to check your contract for complete list.
Nearbies:
Matassino 4 km away, Florence 20 minutes drive, Arezzo about 40 minutes, tennis courts 3 km, horse riding 10 km and golf at 35 km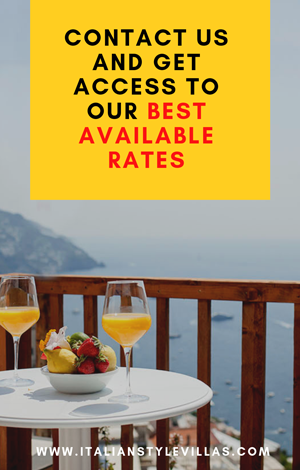 Search for your villa in Italy
Valdarno Estate - Villa Le Bacche

– Valdarno- Tuscany
7 (5 double room, 2 twin room)

– Pool
Spacious Tuscan country house with private swimming pool.
Location and Surrounding Area. Valdarno Estate - Villa Le Bacche is set in a magnificent private estate situated in the Valdarno, halfway between Florence, Arezzo and Siena. The Valdarno is one of Tuscany's most beautiful regions and is as famous for its scenery as for its wine and gastronomic delights.
If you can manage to tear yourself away from the luxurious estate and private swimming pool, there is a lot to see and do in the area. The valley of the river Arno contains some of the most romantic medieval borghi (hamlets) in the whole of Italy. Within a radius of 1.2 km of Villa Le Torrette, you'll find some of Tuscany's best kept secrets. Il Borro is perched up high on a rocky outcrop and the houses and cobbled walkways have remained unchanged for centuries. It is rather an exclusive borgo and an addition to its picturesque buildings and boutique shopping, it features elegant restaurants and spa centres. Other nearby villages noted for their historical prestige and unsurpassed natural beauty include San Giovanni Valdarno, Figline Valdarno, Loro Ciuffenna, Castelfranco di Sopra, Rocca Ricciarda and Moncioni.
Florence is the capital city of Tuscany and an art-lovers paradise. It was the centre of the Italian Renaissance movement and the museums, galleries, palaces and churches house some of the world's greatest treasures. The cathedral, baptistery, Uffizi, Bargello, Pitti Palace, Boboli Gardens and the Accademia all have to been seen and once you tire of art and history, take a relaxing wander through the pretty streets and across the Ponte Vecchio bridge. Florence is also home to designer shopping, fine wine and authentic dining experiences. Mouthwatering, thick, juicy Florentine steaks are a local speciality and best accompanied by an unforgettable Chianti wine.
For golf aficionados, the prestigious 18-hole Golf dell'Ugolino is the oldest Golf club in Italy. It even features in Chris Santella's best-selling book, "Fifty places to play golf before you die".
Florence and Pisa international airports are respectively 50 km and 115 km from the property.
The nearest local shops and supermarkets are in Matassino, 4 km away. Florence is only a 20 minute drive and Arezzo takes about 40 minutes. The drive to Siena takes about an hour and passes through some absolutely stunning scenery. There are tennis courts 3 km from the villa, horse riding at 10 km and golf at 35 km.
The Property. Valdarno Estate - Villa Le Bacche comfortably accommodates up to ten guests in five large double bedrooms; four with double beds and one twin room. All have private or en suite bathrooms and enjoy far-reaching views out across the Tuscan countryside. The master bedroom also has its own sitting room. The bedrooms are on the first floor and it goes without saying that they are all stylish decorated with quality furniture, fittings and bed linen. There is also a study and a library on the first floor.
The ground floor is comprised of a roomy entrance hall which leads into the lovely open plan sitting room and dining area. There are various cozy corners to choose from and the wood-beamed ceilings add a lovely, country feel to the home. The fully equipped kitchen has a marvellous open fire and comes complete with a pizza oven so why not try your hand at making some real Italian focaccia bread? It isn't as easy as the professionals make it look though.
Annex:
Ground floor: living room, kitchen / dining room with oven, freezer and dishwasher.
First floor: 1 double bedroom with bathroom with bathtub, 1 twin bedroom with bathroom with bathtub.
Valdarno Estate - Villa Le Bacche is surrounded by immaculate lawns and gardens with a profusion of flower beds and unparalleled views over the Tuscan hills. There is an enormous, furnished terrace, which is ideal for al fresco dining and there is even a handy barbecue for poolside snacks. The swimming pool features a wide paved area with plenty of sun loungers for lazing your days away with a good book and a pretty gazebo if you prefer the shade.
Features
7 (5 double room, 2 twin room)
7 Bathrooms in total
Large, open-plan sitting area
Formal dining room
Kitchen (fully equipped with oven, freezer, microwave, dishwasher, pizza oven)
Air conditioning in all bedrooms
Wi-Fi
Washing machine
Satellite TV
Stereo
Mosquito netting on the windows
Swimming pool (12 x 6m)
Barbecue
Terrace
Outdoor dining area
Gazebo
Private parking
Twice weekly change of bed linen
Daily change of bath towels
Baby cot
Butler, maid and chef for 6 days per week (Sundays at an extra cost)
Services on request: heating, Laundry, shopping, babysitting
Amenities *
ADSL Wi-Fi Internet
Air Conditioning
Barbecue
Butler
Country Views
Daily cleaning
Dishwasher
Hi-FI System
Open fireplace
Parking
Satellite TV
Swimming Pool
Washing machine
* Please note:
the included amenities may vary according to final agreement, make sure to check your contract for complete list.
This is the area where your selected property is located - the pin is indicative and not an exact address.
All the availabilities below are indicative. Please
Contact us
to verify your dates.
Sep 2020
Oct 2020
Nov 2020

| | | | | | | |
| --- | --- | --- | --- | --- | --- | --- |
| Su | Mon | Tu | We | Th | Fr | Sa |
| | | | | | | |
| | | | | | | |
| | | | | | | |
| | | | | | | |
| | | | | | | |

| | | | | | | |
| --- | --- | --- | --- | --- | --- | --- |
| Su | Mon | Tu | We | Th | Fr | Sa |
| | | | | | | |
| | | | | | | |
| | | | | | | |
| | | | | | | |
| | | | | | | |

| | | | | | | |
| --- | --- | --- | --- | --- | --- | --- |
| Su | Mon | Tu | We | Th | Fr | Sa |
| | | | | | | |
| | | | | | | |
| | | | | | | |
| | | | | | | |
| | | | | | | |

Dec 2020
Jan 2021
Feb 2021

| | | | | | | |
| --- | --- | --- | --- | --- | --- | --- |
| Su | Mon | Tu | We | Th | Fr | Sa |
| | | | | | | |
| | | | | | | |
| | | | | | | |
| | | | | | | |
| | | | | | | |

| | | | | | | |
| --- | --- | --- | --- | --- | --- | --- |
| Su | Mon | Tu | We | Th | Fr | Sa |
| | | | | | | |
| | | | | | | |
| | | | | | | |
| | | | | | | |
| | | | | | | |
| | | | | | | |

| | | | | | | |
| --- | --- | --- | --- | --- | --- | --- |
| Su | Mon | Tu | We | Th | Fr | Sa |
| | | | | | | |
| | | | | | | |
| | | | | | | |
| | | | | | | |
| | | | | | | |

Mar 2021
Apr 2021
May 2021

| | | | | | | |
| --- | --- | --- | --- | --- | --- | --- |
| Su | Mon | Tu | We | Th | Fr | Sa |
| | | | | | | |
| | | | | | | |
| | | | | | | |
| | | | | | | |
| | | | | | | |

| | | | | | | |
| --- | --- | --- | --- | --- | --- | --- |
| Su | Mon | Tu | We | Th | Fr | Sa |
| | | | | | | |
| | | | | | | |
| | | | | | | |
| | | | | | | |
| | | | | | | |

| | | | | | | |
| --- | --- | --- | --- | --- | --- | --- |
| Su | Mon | Tu | We | Th | Fr | Sa |
| | | | | | | |
| | | | | | | |
| | | | | | | |
| | | | | | | |
| | | | | | | |
| | | | | | | |