Villa Positano Bay
Amalfi, Sorrento and Islands - Positano
A sheer drop to the crystal sea, elegant villas set in greenery, abundant terraces of lemon trees. This is Amalfi Coast! The origins of its name go back to Hercules who found the most seductive place on earth in which to bury the nymph Amalfi with whom he had fallen in love.
Number of beds: 8
Bedrooms: 4

Amenities *
:
Access to the beach
ADSL Wi-Fi Internet
Air Conditioning
City Views
Cooking Service
Daily cleaning
Dishwasher
DVD Player
Heating
Hi-FI System
Ocean Views
Parking
Satellite TV
Swimming Pool
Washing machine
* Please note:
the included amenities may vary according to final agreement, make sure to check your contract for complete list.
Nearbies:
Amalfi 16,2 km Pompei 37,5 km Naples 59,7 km Naples Airport Capodichino 63,1 km Naples Central Train Station 59,7 km Rome 277 km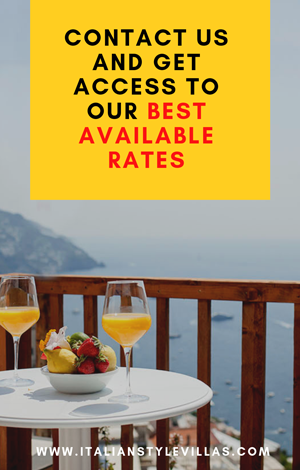 Search for your villa in Italy
Positano Bay - Positano - Amalfi Coast
4 Bedrooms - Pool
The Villa seems as suspended among the sky, the sea and the private beach, which can be reached by lifts, in the enchanted quietness of Positano. It is a place of complex relax, where the pleasure is joined with the chance of living intensely the extraordinary scenario offered by the Coast without being involved in what other people do. It also represents a way to be acquainted with the best that can be offered by one of the most renowned resort in the world.
The Villa of 180 square metres offers breathtaking panoramas. Four luxury double rooms with private bathrooms for maximum eight persons, with terraces and balconies on the sea, a roomy living room and a dinette kitchen. Jacuzzi bath tube/shower, air conditioning, heating, mini-bar and LCD TV in the rooms with satellite TV, hi-fi, video recorder, DVD, DVX, satellite TV, terraces of 280 square metres reachable from every room and equipped with awnings, chairs, tables, deckchairs, solarium (100 square metres) with private pool (45 square metres). Antique furniture in every space. Pet not allowed. Private beach reachable by lifts.

THE SUITE AND THE APARTMENTS
The suite and the apartments (75 square metres ) offer an extraordinary hospitality. They are equipped with roomy living room with kitchen, terrace on the sea, garden, two double rooms for maximum four persons, bathroom with Jacuzzi tube/shower, air conditioning and heating, plasma TV in the rooms, hi-fi, DVD, video recorder, DVX, satellite TV. Private beach reachable by lifts. The villa is a parte of a larger compound, then 6 further bedrooms can be added on request (Positano Bay Piccola + IL Terrazzino).
Features *
6 Extra bedrooms renting Positano Bay Piccola and Terrazzino

Sat TV in the living and in the bedrooms

Beach reachable by lifts equipped with sunshades and deckchairs

Swimming pool (April - October)

Change of the linen twice a week
SERVICES ON REQUEST
Car, bike and motorcycle rental

Cooking lessons

Rent Boat

Parking
* Please note:
the included amenities may vary according to final agreement, make sure to check your contract for complete list.
This is the area where your selected property is located - the pin is indicative and not an exact address.
All the availabilities below are indicative. Please
Contact us
to verify your dates.
Jun 2020
Jul 2020
Aug 2020

| | | | | | | |
| --- | --- | --- | --- | --- | --- | --- |
| Su | Mon | Tu | We | Th | Fr | Sa |
| | | | | | | |
| | | | | | | |
| | | | | | | |
| | | | | | | |
| | | | | | | |

| | | | | | | |
| --- | --- | --- | --- | --- | --- | --- |
| Su | Mon | Tu | We | Th | Fr | Sa |
| | | | | | | |
| | | | | | | |
| | | | | | | |
| | | | | | | |
| | | | | | | |

| | | | | | | |
| --- | --- | --- | --- | --- | --- | --- |
| Su | Mon | Tu | We | Th | Fr | Sa |
| | | | | | | |
| | | | | | | |
| | | | | | | |
| | | | | | | |
| | | | | | | |
| | | | | | | |

Sep 2020
Oct 2020
Nov 2020

| | | | | | | |
| --- | --- | --- | --- | --- | --- | --- |
| Su | Mon | Tu | We | Th | Fr | Sa |
| | | | | | | |
| | | | | | | |
| | | | | | | |
| | | | | | | |
| | | | | | | |

| | | | | | | |
| --- | --- | --- | --- | --- | --- | --- |
| Su | Mon | Tu | We | Th | Fr | Sa |
| | | | | | | |
| | | | | | | |
| | | | | | | |
| | | | | | | |
| | | | | | | |

| | | | | | | |
| --- | --- | --- | --- | --- | --- | --- |
| Su | Mon | Tu | We | Th | Fr | Sa |
| | | | | | | |
| | | | | | | |
| | | | | | | |
| | | | | | | |
| | | | | | | |

Dec 2020
Jan 2021
Feb 2021

| | | | | | | |
| --- | --- | --- | --- | --- | --- | --- |
| Su | Mon | Tu | We | Th | Fr | Sa |
| | | | | | | |
| | | | | | | |
| | | | | | | |
| | | | | | | |
| | | | | | | |

| | | | | | | |
| --- | --- | --- | --- | --- | --- | --- |
| Su | Mon | Tu | We | Th | Fr | Sa |
| | | | | | | |
| | | | | | | |
| | | | | | | |
| | | | | | | |
| | | | | | | |
| | | | | | | |

| | | | | | | |
| --- | --- | --- | --- | --- | --- | --- |
| Su | Mon | Tu | We | Th | Fr | Sa |
| | | | | | | |
| | | | | | | |
| | | | | | | |
| | | | | | | |
| | | | | | | |