Villa Nino
Amalfi, Sorrento and Islands - Positano
A sheer drop to the crystal sea, elegant villas set in greenery, abundant terraces of lemon trees. This is Amalfi Coast! The origins of its name go back to Hercules who found the most seductive place on earth in which to bury the nymph Amalfi with whom he had fallen in love.
Number of beds: 9
Bedrooms: 5

Amenities *
:
ADSL Wi-Fi Internet
Air Conditioning
Barbecue
Breakfast Service
Daily cleaning
Dishwasher
Heated Pool
Heating
Hi-FI System
Hot-tub
Laundry service
Ocean Views
Open fireplace
Pool Table
Satellite TV
Swimming Pool
Washing machine
* Please note:
the included amenities may vary according to final agreement, make sure to check your contract for complete list.
Nearbies:
Closest beach is Fornillo, that you can reach in 5 minutes walking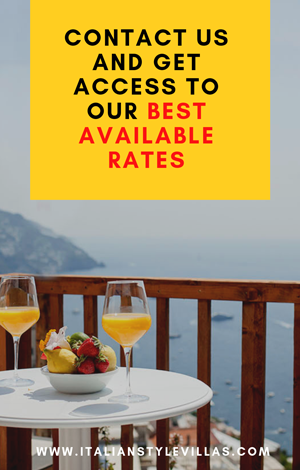 Search for your villa in Italy
Villa Nino - Positano - Amalfi Coast
4 Double Bedrooms and 1 Single – Heated Pool - Jacuzzi-tub
Villa Nino is one of the most ancient house in Positano dated to 700. This magnificent home come from a skillful renovation. It is now equipped with all modern comforts. The villa is right located in the center of Positano, the gem of Amalfi coast, at few steps from the main road that leads to the center of Positano.
In an amazing position the villa enjoys a breathtaking view that goes from the Li Galli islands to the coast of Praiano through Positano. The closest beach is Fornillo, that you can reach in 5 minutes walking down through a shortcut.
From the wide terraces overlooking the crystal sea of Fornillo beach you can enjoy a spectacular view in every hour of the day. In this corner of paradise every aspect is sought: the materials used, the furnishings, the style of the interior, the colors and the species of the plants that decorate outside. All gives to the villa a touch of special and Italian style!
Villa Nino spreads on multiple levels with spots harmoniously integrated with the surrounding nature full of intense colors and scents.
The access to the villa is from the main road through a short staircase of about 40 steps. Entering through the wooden doorway, you will have access into an elegant arched portico covered by a bougainvillea over 100 years old. On this level, the villa has 2 bedrooms each with its bathroom, a kitchen and four services, as well as a small pantry. On the back of the floor, coming down for 10 steps there is the third double bedroom with its bathroom and another access on the garden.
Coming up for a short staircase you'll lead the fourth double bedroom with its own en-suite bath. A part of the upper floor with its own access and completely separated from Villa Nino is occupied by another property, that is generally empty and faces only on the terrace with portico, partially covered by the bougainvillea.
From the kitchen, you'll enter in another large courtyard in stone, bordered by gardens. The garden spreads on several levels and every spot is really amazing. Coming down through another short staircase you'll reach the private pool, with a Jacuzzi corner.
The space around the pool allows you to spend time pleasantly for sunbathing, relaxing on loungers in the shade of trees of apricots and plums eating in company on a stone table, everything always enjoying the spectacular view of the sea. On another side you'll find a pergola with a dinner table perfect for your al fresco dinner. Crossing a small terrace you'll find the barbecue, located under a pergola with vines.
At the same level you'll have access to the huge and lower level of the villa, with a typical kitchen covered with handmade tiles from Vietri, a wood stove, a living room with a pool table and large window on a fragrant lemon grove.
Features
4 Double bedrooms with bathrooms

1 Single bedroom

Garden on several levels with terraces with breathtaking views

swimming pool with solarium

Hot tubs

Pergola with a dinner table for al fresco dining

Fireplace

Barbecue

Equipped kitchen with wood stove

Pool table

Laundry

Wi-Fi

Heating / Air Conditioning

Sat TV

Daily cleaning (5 hours per day)
Amenities *
ADSL Wi-Fi Internet
Air Conditioning
Barbecue
Breakfast Service
Daily cleaning
Dishwasher
Heated Pool
Heating
Hi-FI System
Hot-tub
Laundry service
Ocean Views
Open fireplace
Pool Table
Satellite TV
Swimming Pool
Washing machine
* Please note:
the included amenities may vary according to final agreement, make sure to check your contract for complete list.
This is the area where your selected property is located - the pin is indicative and not an exact address.
All the availabilities below are indicative. Please
Contact us
to verify your dates.
Nov 2020
Dec 2020
Jan 2021

| | | | | | | |
| --- | --- | --- | --- | --- | --- | --- |
| Su | Mon | Tu | We | Th | Fr | Sa |
| | | | | | | |
| | | | | | | |
| | | | | | | |
| | | | | | | |
| | | | | | | |

| | | | | | | |
| --- | --- | --- | --- | --- | --- | --- |
| Su | Mon | Tu | We | Th | Fr | Sa |
| | | | | | | |
| | | | | | | |
| | | | | | | |
| | | | | | | |
| | | | | | | |

| | | | | | | |
| --- | --- | --- | --- | --- | --- | --- |
| Su | Mon | Tu | We | Th | Fr | Sa |
| | | | | | | |
| | | | | | | |
| | | | | | | |
| | | | | | | |
| | | | | | | |
| | | | | | | |

Feb 2021
Mar 2021
Apr 2021

| | | | | | | |
| --- | --- | --- | --- | --- | --- | --- |
| Su | Mon | Tu | We | Th | Fr | Sa |
| | | | | | | |
| | | | | | | |
| | | | | | | |
| | | | | | | |
| | | | | | | |

| | | | | | | |
| --- | --- | --- | --- | --- | --- | --- |
| Su | Mon | Tu | We | Th | Fr | Sa |
| | | | | | | |
| | | | | | | |
| | | | | | | |
| | | | | | | |
| | | | | | | |

| | | | | | | |
| --- | --- | --- | --- | --- | --- | --- |
| Su | Mon | Tu | We | Th | Fr | Sa |
| | | | | | | |
| | | | | | | |
| | | | | | | |
| | | | | | | |
| | | | | | | |

May 2021
Jun 2021
Jul 2021

| | | | | | | |
| --- | --- | --- | --- | --- | --- | --- |
| Su | Mon | Tu | We | Th | Fr | Sa |
| | | | | | | |
| | | | | | | |
| | | | | | | |
| | | | | | | |
| | | | | | | |
| | | | | | | |

| | | | | | | |
| --- | --- | --- | --- | --- | --- | --- |
| Su | Mon | Tu | We | Th | Fr | Sa |
| | | | | | | |
| | | | | | | |
| | | | | | | |
| | | | | | | |
| | | | | | | |

| | | | | | | |
| --- | --- | --- | --- | --- | --- | --- |
| Su | Mon | Tu | We | Th | Fr | Sa |
| | | | | | | |
| | | | | | | |
| | | | | | | |
| | | | | | | |
| | | | | | | |