Villa Nereide
Amalfi, Sorrento and Islands - Marina del Cantone
A sheer drop to the crystal sea, elegant villas set in greenery, abundant terraces of lemon trees. This is Amalfi Coast! The origins of its name go back to Hercules who found the most seductive place on earth in which to bury the nymph Amalfi with whom he had fallen in love.
Number of beds: 12
Bedrooms: 6

Amenities *
:
Access to the beach
ADSL Wi-Fi Internet
Air Conditioning
Barbecue
Dishwasher
Hairdryer
Hi-FI System
Ocean Views
Parking
Satellite TV
Swimming Pool
Washing machine
* Please note:
the included amenities may vary according to final agreement, make sure to check your contract for complete list.
Nearbies:
Sorrento 20, Positano 30 km, Amalfi 40 km, Ravello 10 km, Naples international airport 65 km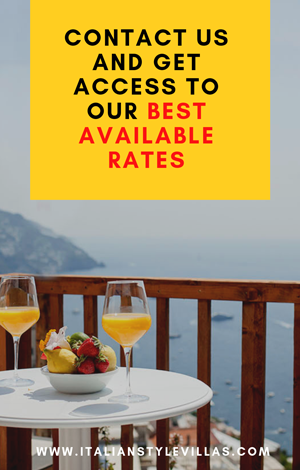 Search for your villa in Italy
Villa Nereide – Marina del Cantone – Amalfi Coast
6 Bedrooms – Pool – Direct Access to the Sea
Location and Surrounding Area. Villa Nereide is situated in arguably one of the most beautiful locations along the Sorrento peninsula. Ieranto is a fabled beauty spot nestled at the far end of the Sorrento peninsular, a hidden gem of a location only frequented by locals and the occasional savvy traveller.
The fishing hamlet of Marina del Cantone has a pebble beach and is like the village that time forgot; still steeped in tradition and old-fashioned techniques yet only a ten minute drive from Nerano and Sant'Agata sui Due Golfi and less than half an hour from the hustle and bustle of Sorrento and Positano. You can almost reach out and touch the islands of Capri and Ischia as you take in the magnificent views from the terraces. The peace and quiet of the stunning scenery, dotted with citrus and olive groves, is guaranteed to recharge your batteries with a long-lasting sense of well-being.
Among the countless enchanting places to visit in the area, perhaps Ravello, Positano and Amalfi stand out for the first time visitor. Ravello, at 350 metres above sea level, is a UNESCO World Heritage Site and offers both unforgettable architecture and scenic beauty. The 11th century Cathedral and Villa Cimbrone are magnificent and a summer music festival is held each in the year in the gardens of the 13th century Villa Rufolo. D.H. Lawrence wrote Lady Chatterley's Lover here and the town has been frequented over the years by the likes of Greta Garbo and Winston Churchill.
The delights of Positano, Sorrento and Amalfi have inspired artists, writers and lovers for centuries. The higgledy-piggledy, white-washed houses clustered up and down the winding steps and sophisticated shops and restaurants all combine to create an exceptionally chic atmosphere.
Naples international airport is only 65 km away, the island of Capri is half an hour by boat from Sorrento and the world famous archaeological site of Pompeii is 40 km away. Sorrento is 20 km from the villa and Positano less than 30 km away along the breathtaking drive of the celebrated Amalfi Coast road. Amalfi is situated a little further on at 40 km and Ravello is 10 km up the hill from Amalfi. The nearest railway station is in Sorrento.
The Property. Villa Nereide sleeps up to 12 guests in six double bedrooms, each with an en suite bathroom and air conditioning. There are lifts that connect all three floors of this amazing villa, from the lowest floor garage up through to the ground and first floors. One bedroom is on the ground floor, three are on the first floor and two twin bedrooms are in gorgeous little annexes next to the main villa. The ground floor bedroom has its own incredible panoramic terrace with far reaching views across the Mediterranean. One of the first floor bedrooms have a sofa bed in addition to the double bed and either a balcony or a terrace with spectacular views over to the Li Galli islands.
The main sitting room and dining area is enormous with plenty of space to kick back and relax and if you tire of the stunning views, there is 55 inch satellite TV! The sitting room extends out onto the terrace in front of the swimming pool. The kitchen is of a professional standard and offers all the modern conveniences for creating authentic local dishes. The little luxuries that set this villa apart include a wine cooler, an ice machine, American coffee maker and Italian coffee machine. The kitchen has access to the terrace. An extra guest bathroom and laundry room with iron and ironing board complete the ground floor accommodation.
The spacious terrace is filled with flowers and offers a furnished dining area, a relax area, a barbecue and a traditional wood-fired pizza/bread oven. The large, infinity swimming pool seems to become a part of the surrounding seascape and features hydromassage seats to pamper you. The gardens and pathway sweep right down to the sea and there is even a private funicular if you don't fancy the walk back up.
Features
6 double bedrooms each with en suite bathroom, complimentary toiletries and hair dryer
Panoramic sitting room
Fully equipped kitchen
Dining room
Laundry room
Extra downstairs bathroom
Top quality bed linen and beach towels
Air conditioning throughout
Wi-Fi
Dishwasher
Satellite TV, Stereo and CD player
2 cradles/cots and highchairs available
Outdoor dining area
Barbecue and wood-fired pizza oven
Infinity swimming pool (9 m x 3.9 m and between 1.2 and 1.7m deep)
Furnished poolside area
Heated outdoor shower
Private access to the beach
Private parking for 2 cars
Lift access to all floors
Services on request

: c

hef

, boat, pizza chef
Amenities *
Access to the beach
ADSL Wi-Fi Internet
Air Conditioning
Barbecue
Dishwasher
Hairdryer
Hi-FI System
Ocean Views
Parking
Satellite TV
Swimming Pool
Washing machine
* Please note:
the included amenities may vary according to final agreement, make sure to check your contract for complete list.
This is the area where your selected property is located - the pin is indicative and not an exact address.
All the availabilities below are indicative. Please
Contact us
to verify your dates.
Jan 2021
Feb 2021
Mar 2021

| | | | | | | |
| --- | --- | --- | --- | --- | --- | --- |
| Su | Mon | Tu | We | Th | Fr | Sa |
| | | | | | | |
| | | | | | | |
| | | | | | | |
| | | | | | | |
| | | | | | | |
| | | | | | | |

| | | | | | | |
| --- | --- | --- | --- | --- | --- | --- |
| Su | Mon | Tu | We | Th | Fr | Sa |
| | | | | | | |
| | | | | | | |
| | | | | | | |
| | | | | | | |
| | | | | | | |

| | | | | | | |
| --- | --- | --- | --- | --- | --- | --- |
| Su | Mon | Tu | We | Th | Fr | Sa |
| | | | | | | |
| | | | | | | |
| | | | | | | |
| | | | | | | |
| | | | | | | |

Apr 2021
May 2021
Jun 2021

| | | | | | | |
| --- | --- | --- | --- | --- | --- | --- |
| Su | Mon | Tu | We | Th | Fr | Sa |
| | | | | | | |
| | | | | | | |
| | | | | | | |
| | | | | | | |
| | | | | | | |

| | | | | | | |
| --- | --- | --- | --- | --- | --- | --- |
| Su | Mon | Tu | We | Th | Fr | Sa |
| | | | | | | |
| | | | | | | |
| | | | | | | |
| | | | | | | |
| | | | | | | |
| | | | | | | |

| | | | | | | |
| --- | --- | --- | --- | --- | --- | --- |
| Su | Mon | Tu | We | Th | Fr | Sa |
| | | | | | | |
| | | | | | | |
| | | | | | | |
| | | | | | | |
| | | | | | | |

Jul 2021
Aug 2021
Sep 2021

| | | | | | | |
| --- | --- | --- | --- | --- | --- | --- |
| Su | Mon | Tu | We | Th | Fr | Sa |
| | | | | | | |
| | | | | | | |
| | | | | | | |
| | | | | | | |
| | | | | | | |

| | | | | | | |
| --- | --- | --- | --- | --- | --- | --- |
| Su | Mon | Tu | We | Th | Fr | Sa |
| | | | | | | |
| | | | | | | |
| | | | | | | |
| | | | | | | |
| | | | | | | |

| | | | | | | |
| --- | --- | --- | --- | --- | --- | --- |
| Su | Mon | Tu | We | Th | Fr | Sa |
| | | | | | | |
| | | | | | | |
| | | | | | | |
| | | | | | | |
| | | | | | | |