Villa Il Pavone
Amalfi, Sorrento and Islands - Praiano
A sheer drop to the crystal sea, elegant villas set in greenery, abundant terraces of lemon trees. This is Amalfi Coast! The origins of its name go back to Hercules who found the most seductive place on earth in which to bury the nymph Amalfi with whom he had fallen in love.
Number of beds: 8 + 2
Bedrooms: 5

Amenities *
:
ADSL Wi-Fi Internet
Air Conditioning
Breakfast Service
Daily cleaning
Dishwasher
DVD Player
Hairdryer
Heating
Hot-tub
Indoor Pool
iPod docking station
Ocean Views
Satellite TV
SPA
Swimming Pool
Washing machine
* Please note:
the included amenities may vary according to final agreement, make sure to check your contract for complete list.
Nearbies:
Positano 9 km, Amalfi 10 km, Furore 12 km, Ravello 17 km, Pompeii 40 km, Naples international airport an hour by car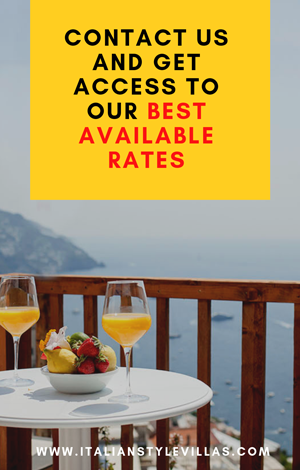 Search for your villa in Italy
Villa Il Pavone – Praiano – Amalfi Coast
5 Suites – Pool - SPA
Location and Surrounding Area. Villa Il Pavone is one of the most exclusive properties along the celebrated UNESCO heritage site of the Amalfi Coastline. It is located in a stunning setting in the oldest part of Praiano, a picturesque, former fishing village snuggled into the cliffs halfway between Positano and Amalfi. The views from the gardens and private terrace are breathtaking and you'll find all of the necessary local shops, bars and restaurants at a handy walk away. The beach is only a couple of minutes on foot from the villa and there you'll find a small bar and charming restaurant offering mouth-watering local delicacies.
Conca dei Marini is a just up the road and is perhaps most famous for its Emerald Cave, la Grotta dello Smeraldo. This 30 metre high, karst cave was discovered in 1932 by a local fisherman and is named after the shimmering green interior light as sunlight filters through the turquoise waters of the underwater entrance. The cave can be reached either by boat or via a set of steps.
Among the countless incredible places to visit in the area, perhaps Ravello, Positano and Amalfi stand out for the first time visitor. Ravello, at 350 metres above sea level, is a UNESCO World Heritage Site and offers both unforgettable architecture and scenic beauty. The 11th century Cathedral and Villa Cimbrone are magnificent and a summer music festival is held each in the year in the gardens of the 13th century Villa Rufolo. D.H. Lawrence wrote Lady Chatterley's Lover here and the town has been frequented over the years by the likes of Greta Garbo and Winston Churchill.
The delights of Positano and Amalfi have inspired artists, writers and lovers for centuries and the Kennedy's were regular visitors to the area in the early 1960s. The higgledy-piggledy, white-washed houses, the winding steps and sophisticated shops and restaurants all combine to create an exceptionally chic atmosphere.
Villa Il Pavone makes an exceptionally elegant retreat for larger families or groups of friends travelling together.
Villa Il Pavone is only 9 km from Positano, 10 km from Amalfi, 12 km from Furore, 17 km from Ravello 17 and 40 km from Vesuvius and Pompeii with its world famous archeological site. Naples international airport is about an hour's drive away. There are also frequent boats from Sorrento, Positano and Amalfi running to the islands of Capri, Ischia and Procida.
The Property. Villa Il Pavone has hosted several Oscar-winners over the years and is living proof that the loving restorations, from a crumbling ruin into this stylish property, have created a quintessential home overlooking the sea in this prestigious area on the Amalfi Coast. The villa offers luxurious accommodation for between eight and ten guests in four magnificent suites with the flexible opportunity of turning one of the sitting rooms on the ground floor into fifth double bedroom with private bathroom if required. Each suite is individually decorated with designer furnishings and impeccable style. The four double suites feature queen sized beds, large en suite bathrooms, private terraces, sea views, air conditioning and a television. One suite is situated on the ground floor and the other three are on the first floor.
The downstairs accommodation includes a spacious main sitting room with exceedingly comfortable sofas, a chic blend of modern and antique furniture and a large flat screen television. Another sitting room, which can easily be converted in a fifth double bedroom, overlooks the indoor swimming pool. The fully equipped kitchen is of a professional standard and contains everything you might need for creating delicious Italian dinners. The dining room leads off directly from the kitchen.
The views from the terraces are awe-inspiring and stretch out across the village of Praiano and the Mediterranean sea. The villa offers a stunning rooftop garden to fully appreciate these natural wonders surrounding you. In addition to the gardens with their pretty lawns, there are two swimming pools, one an indoor spa pool and the other a salt-filtered open air pool. The indoor pool has adjustable chromotherapy and aromatherapy features to complete the experience. Despite all of this beauty, the owner's favourite place to sit and soak up the sun is still in a hidden corner of the patio area where you can smell the jasmine on balmy summer afternoons.
Features
4 Double suites each with en suite bathroom, air conditioning, terrace, sea views
3 Living rooms
a livingroom can be converted on request into a fifth double bedroom with private bathroom
Fully equipped, professional kitchen
Dining room with seating for 8
Wi-Fi
Air conditioning and heating
Satellite TV, DVD player
Computer
Home theatre system and Bose sound system
Laundry facilities
Safe
Terraces, patio and gardens
Outdoor dining area
1 Outdoor swimming pool
1 Indoor spa pool with temperature control and aromatherapy/chromotherapy features
Outdoor shower
Welcome buffet
Morning housekeeping services
Breakfast buffet
Daily change of bath linen
Weekly change of bed linen
Services available on request: pre-arrival fridge stocking, Spa treatments, activities and excursions, laundry, chef services, parking place, Airport transfers
Amenities *
ADSL Wi-Fi Internet
Air Conditioning
Breakfast Service
Daily cleaning
Dishwasher
DVD Player
Hairdryer
Heating
Hot-tub
Indoor Pool
iPod docking station
Ocean Views
Satellite TV
SPA
Swimming Pool
Washing machine
* Please note:
the included amenities may vary according to final agreement, make sure to check your contract for complete list.
This is the area where your selected property is located - the pin is indicative and not an exact address.
All the availabilities below are indicative. Please
Contact us
to verify your dates.
Jan 2021
Feb 2021
Mar 2021

| | | | | | | |
| --- | --- | --- | --- | --- | --- | --- |
| Su | Mon | Tu | We | Th | Fr | Sa |
| | | | | | | |
| | | | | | | |
| | | | | | | |
| | | | | | | |
| | | | | | | |
| | | | | | | |

| | | | | | | |
| --- | --- | --- | --- | --- | --- | --- |
| Su | Mon | Tu | We | Th | Fr | Sa |
| | | | | | | |
| | | | | | | |
| | | | | | | |
| | | | | | | |
| | | | | | | |

| | | | | | | |
| --- | --- | --- | --- | --- | --- | --- |
| Su | Mon | Tu | We | Th | Fr | Sa |
| | | | | | | |
| | | | | | | |
| | | | | | | |
| | | | | | | |
| | | | | | | |

Apr 2021
May 2021
Jun 2021

| | | | | | | |
| --- | --- | --- | --- | --- | --- | --- |
| Su | Mon | Tu | We | Th | Fr | Sa |
| | | | | | | |
| | | | | | | |
| | | | | | | |
| | | | | | | |
| | | | | | | |

| | | | | | | |
| --- | --- | --- | --- | --- | --- | --- |
| Su | Mon | Tu | We | Th | Fr | Sa |
| | | | | | | |
| | | | | | | |
| | | | | | | |
| | | | | | | |
| | | | | | | |
| | | | | | | |

| | | | | | | |
| --- | --- | --- | --- | --- | --- | --- |
| Su | Mon | Tu | We | Th | Fr | Sa |
| | | | | | | |
| | | | | | | |
| | | | | | | |
| | | | | | | |
| | | | | | | |

Jul 2021
Aug 2021
Sep 2021

| | | | | | | |
| --- | --- | --- | --- | --- | --- | --- |
| Su | Mon | Tu | We | Th | Fr | Sa |
| | | | | | | |
| | | | | | | |
| | | | | | | |
| | | | | | | |
| | | | | | | |

| | | | | | | |
| --- | --- | --- | --- | --- | --- | --- |
| Su | Mon | Tu | We | Th | Fr | Sa |
| | | | | | | |
| | | | | | | |
| | | | | | | |
| | | | | | | |
| | | | | | | |

| | | | | | | |
| --- | --- | --- | --- | --- | --- | --- |
| Su | Mon | Tu | We | Th | Fr | Sa |
| | | | | | | |
| | | | | | | |
| | | | | | | |
| | | | | | | |
| | | | | | | |