Villa Crystal
Amalfi, Sorrento and Islands - Praiano
A sheer drop to the crystal sea, elegant villas set in greenery, abundant terraces of lemon trees. This is Amalfi Coast! The origins of its name go back to Hercules who found the most seductive place on earth in which to bury the nymph Amalfi with whom he had fallen in love.
Number of beds: 4
Bedrooms: 2

Amenities *
:
ADSL Wi-Fi Internet
Air Conditioning
Concierge service
Country Views
Daily cleaning
Dishwasher
DVD Player
Hairdryer
Heating
Ocean Views
Open fireplace
Satellite TV
Swimming Pool
Washing machine
* Please note:
the included amenities may vary according to final agreement, make sure to check your contract for complete list.
Nearbies:
Positano 10 km, Amalfi 13 km, Furore 15 km, Ravello 20 km, Vesuvius and Pompei 40 km Sorrento 23km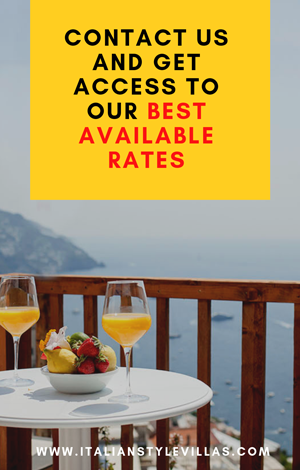 Search for your villa in Italy
Villa Crystal – Praiano – Amalfi Coast
2 Bedrooms – Pool
Location and Surrounding Area. Villa Crystal is located in the beautiful, laid-back coastal village of Praiano, close to its shops, bars, cafes and restaurants. It offers stunning views of the sea from its own swimming pool and attached gardens.
Lying half way between the internationally renowned towns of Positano and Amalfi and within easy reach of Ravello, Praiano is a picturesque and intricate maze of narrow lanes, alleyways and steps that lead down to the sea. The village is home to many churches and chapels, including the magnificent Renaissance church of San Gennaro, with its impressively ornate and colourful hand-painted floor tiles, and the Baroque cathedral of San Luca Evangelista.
Praiano's main beach is the small, enchanting Marina di Praia, which is situated at the end of the wild Praia valley, surrounded by pretty cliffs ablaze with flowers and nature. The Amalfi coast is a recipient of the Italian Blue Flag award for its clean waters and outstanding environment.
Conca dei Marini, a short distance up the road, is famous for its Emerald Cave, la Grotta dello Smeraldo. This 30 metre high, karst cave was discovered in 1932 by a local fisherman and is named after the shimmering green interior light as sunlight filters through the turquoise waters of the underwater entrance. The cave can be reached either by boat or via a set of steps.
Praiano is about 10 km from Positano and 13 km from Amalfi, 15 km from Furore, 20 km from Ravello and about 40 km from Vesuvius and Pompei with its world famous archaeological site.
Naples international airport is about an hour's drive away. There are also frequent boats from Sorrento, Positano and Amalfi running to the islands of Capri, Ischia and Procida.
The Property. Villa Crystal boasts an open plan living room and kitchen, with a fireplace, large screen TV and new appliances. It is tastefully decorated and furnished throughout, its white walls highlighting the eye-catching ceramic tiles that are typical of the local area.
The villa's two elegant bedrooms on the first floor can be accessed using a private elevator. One bedroom has an en-suite bathroom, without shower, and offers direct access to the exterior stairs that lead to the ground floor and to the swimming pool. The other bedroom boasts spectacular panoramic views; its dedicated bathroom, with shower, is situated on the ground floor.
There is a manicured garden with a private swimming pool deck situated above the villa and reachable via a set of stone steps (enhanced by gorgeous bougainvillea and lush vegetation). The verdant lawn features a beautiful open-air living area, complete with dining table and chairs, as well as a fully equipped kitchen, perfect for entertaining and preparing meals for alfresco eating. High-end outdoor furniture and sun loungers next to the swimming pool offer breathtaking views across the coast and make the area ideal for relaxing and enjoying the spectacular scenery all day long. Also on the terrace is a fully equipped bathroom, with shower.
Features *
2 Double bedrooms
3 Bathrooms
Open-plan living room with fully equipped kitchen with large refrigerator
Washing machine
Fireplace
Flat Screen TV
CD/DVD player
Swimming pool with sun-beds and outdoor shower
Well-tended gardens and terraces
Open-air living area, complete with dining table and chairs, and fully equipped kitchen
Wi-Fi
Air-conditioning
Elevator
Daily morning cleaning (except Sunday) from 10AM to 1PM
Mid-week change of bed linens, bath & pool towels (Wed)
Pool and garden maintenance
All utilities including A/C and heating, final cleaning
On request: extra housekeeping, cook services, breakfast, grocery service
* Please note:
the included amenities may vary according to final agreement, make sure to check your contract for complete list.
This is the area where your selected property is located - the pin is indicative and not an exact address.
All the availabilities below are indicative. Please
Contact us
to verify your dates.
Jun 2020
Jul 2020
Aug 2020

| | | | | | | |
| --- | --- | --- | --- | --- | --- | --- |
| Su | Mon | Tu | We | Th | Fr | Sa |
| | | | | | | |
| | | | | | | |
| | | | | | | |
| | | | | | | |
| | | | | | | |

| | | | | | | |
| --- | --- | --- | --- | --- | --- | --- |
| Su | Mon | Tu | We | Th | Fr | Sa |
| | | | | | | |
| | | | | | | |
| | | | | | | |
| | | | | | | |
| | | | | | | |

| | | | | | | |
| --- | --- | --- | --- | --- | --- | --- |
| Su | Mon | Tu | We | Th | Fr | Sa |
| | | | | | | |
| | | | | | | |
| | | | | | | |
| | | | | | | |
| | | | | | | |
| | | | | | | |

Sep 2020
Oct 2020
Nov 2020

| | | | | | | |
| --- | --- | --- | --- | --- | --- | --- |
| Su | Mon | Tu | We | Th | Fr | Sa |
| | | | | | | |
| | | | | | | |
| | | | | | | |
| | | | | | | |
| | | | | | | |

| | | | | | | |
| --- | --- | --- | --- | --- | --- | --- |
| Su | Mon | Tu | We | Th | Fr | Sa |
| | | | | | | |
| | | | | | | |
| | | | | | | |
| | | | | | | |
| | | | | | | |

| | | | | | | |
| --- | --- | --- | --- | --- | --- | --- |
| Su | Mon | Tu | We | Th | Fr | Sa |
| | | | | | | |
| | | | | | | |
| | | | | | | |
| | | | | | | |
| | | | | | | |

Dec 2020
Jan 2021
Feb 2021

| | | | | | | |
| --- | --- | --- | --- | --- | --- | --- |
| Su | Mon | Tu | We | Th | Fr | Sa |
| | | | | | | |
| | | | | | | |
| | | | | | | |
| | | | | | | |
| | | | | | | |

| | | | | | | |
| --- | --- | --- | --- | --- | --- | --- |
| Su | Mon | Tu | We | Th | Fr | Sa |
| | | | | | | |
| | | | | | | |
| | | | | | | |
| | | | | | | |
| | | | | | | |
| | | | | | | |

| | | | | | | |
| --- | --- | --- | --- | --- | --- | --- |
| Su | Mon | Tu | We | Th | Fr | Sa |
| | | | | | | |
| | | | | | | |
| | | | | | | |
| | | | | | | |
| | | | | | | |