Villa Barocca
Amalfi, Sorrento and Islands - Positano
A sheer drop to the crystal sea, elegant villas set in greenery, abundant terraces of lemon trees. This is Amalfi Coast! The origins of its name go back to Hercules who found the most seductive place on earth in which to bury the nymph Amalfi with whom he had fallen in love.
Number of beds: 24
Bedrooms: 12

Amenities *
:
ADSL Wi-Fi Internet
Air Conditioning
Barbecue
Breakfast Service
Butler
Caretaker in the grounds
Concierge service
Cooking Class
Cooking Service
Daily cleaning
Dishwasher
Hairdryer
Heating
iPod docking station
Laundry service
Ocean Views
Pool Table
Satellite TV
Swimming Pool
Washing machine
* Please note:
the included amenities may vary according to final agreement, make sure to check your contract for complete list.
Nearbies:
1,7 Km from the city center, 2 km from the beach, Furore 20 km, Ravello 25 km, Amalfi 18 km, Sorrento 17 km, Naples International Airport 60 km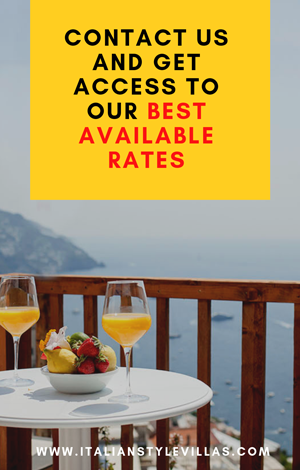 Search for your villa in Italy
Villa Barocca – Positano – Amafi Coast
12 Bedrooms – Private Infinity Pool
Location and Surrounding Area. Villa Barocca is a superb, 18th century property set in the most exclusive area of Positano, with views over the brightly-painted houses and across the Mediterranean to the Li Galli islands. Positano has been home to intellectuals, writers, poets and artists, who have for centuries wandered up and down the photogenic labyrinths of stone steps and pastel-coloured houses. The town today offers sophisticated shopping, charming restaurants, breathtaking views, several glamorous beaches and juicy lemons in every shape and form. Meandering through the arches and passageways, you'll find local shoemakers who will make you a pair of customized sandals and the majolica tiled dome of the Church of Santa Maria Assunta can be seen from almost every corner of the town.
Just off the shore of Positano are three tiny islands, Li Galli or as some people call them, Le Sireneuse. Legend has it that they were once inhabited by Parthenope and other enticing sirens who seduced passing sailors with their songs. The world famous ballet dancer, Rudolf Nureyev purchased the islands and spent the last years of his life here. The Amalfi Coastline has always been a desirable destination of the elite; from the artistic days of the Grand Tour to illustrious visitors such as Escher, Jackie Kennedy and Pablo Neruda. Furore, for example, is a picturesque village with pretty houses, shops, restaurants and bars all scattered along the hillside. The deep Furore fjord, with its network of steps and hidden beach, is a poignant reminder of the days when fishermen would haul up their catch for the villagers.
Among other countless, enchanting places to visit in the area, perhaps Ravello, Sorrento and Amalfi stand out for the first time visitor. Ravello, at 350 metres above sea level, is a UNESCO World Heritage Site and offers both unforgettable architecture and scenic beauty. The 11th century Cathedral and Villa Cimbrone are magnificent and a summer music festival is held each in the year in the gardens of the 13th century Villa Rufolo. D.H. Lawrence wrote Lady Chatterley's Lover here and the town has been frequented over the years by the likes of Greta Garbo and Winston Churchill.
Villa Barocca is an hour and a half from Naples international airport and it is easy to get transfers to and from the airport. Pompeii, Herculaneum and Vesuvius can be reached via regular, direct trains from Sorrento. It is an eight-minute walk to Positano, which has all of the necessary shops and services plus you can catch ferries to the nearby islands of Capri, Ischia and Procida from the port. Furore is 20 km from the house, Ravello is 25 km, Amalfi is 18 km along the spectacular Amalfi Coastline and Sorrento is only 17 km over the hill.
The Property. Villa Barocca offers 500 m2 of superb accommodation over four floors. The property comfortably sleeps up to 24 guests in 12 stylish, double bedrooms, each with a queen size bed and its own en suite bathroom. As a bonus point for the real romantics, all of the eight bedrooms on the ground floor and first floor have sea views and direct access to a terrace. The high quality bed and bath linen caress your senses as you slumber and imagine waking up to an enormous, light-filled bedroom that has been superbly decorated with an artist's eclectic eye for harmony and detail.
You'll find an huge living area, dining room and uniquely styled kitchen with everything you might need for recreating authentic, local dishes. You could always get a professional chef in for the evening and sip a glass of wine as you watch the boats go by from the 300m2 of panoramic terrace while your dinner is being prepared for you. The main terrace has a colonnade which has been painted by various artists over the centuries and these paintings still hang in some of the principal galleries all over the world. You'll also find a large library filled with both old and antique book plus a useful study.
The terraced gardens feature a large swimming pool with a relaxing poolside area and once you tire of soaking up the sun and splashing about in the pool, take a wander around the gardens and help yourself to the delicious oranges and lemons growing there. The homemade marmalade served at breakfast comes from these very same fruit trees.
Features
12 Double bedrooms, each with an en suite bathroom

Living areas

Dining room

Kitchen with pizza oven

Library and

Study

Outdoor dining terrace with seating for 25 guests

Swimming pool (8.5m x 4.5m x 1.3m)

Barbecue

Wi-Fi

Satellite TV

Air conditioning and heating

Safes

Indoor and outdoor stereo systems

Washing machine and dryers

Toiletries

Chef, housekeeping and concierge services (8 hours/day)

Extra services on request

: guided tours, activities and excursions, jet ski and boat rental, massages, pre-arrival fridge filling, babysitting/nanny, laundry service
Amenities *
ADSL Wi-Fi Internet
Air Conditioning
Barbecue
Breakfast Service
Butler
Caretaker in the grounds
Concierge service
Cooking Class
Cooking Service
Daily cleaning
Dishwasher
Hairdryer
Heating
iPod docking station
Laundry service
Ocean Views
Pool Table
Satellite TV
Swimming Pool
Washing machine
* Please note:
the included amenities may vary according to final agreement, make sure to check your contract for complete list.
From
To
Guests
Rate per week
08/01/2021
03/04/2021
16
€ 21251
03/04/2021
10/04/2021
16
€ 31451
10/04/2021
01/05/2021
16
€ 21251
01/05/2021
29/05/2021
16
€ 31451
29/05/2021
02/10/2021
16
€ 35300
02/10/2021
30/10/2021
16
€ 31451
30/10/2021
18/12/2021
16
€ 21251
18/12/2021
08/07/2022
16
€ 31451
08/01/2021
03/04/2021
24
€ 30150
03/04/2021
10/04/2021
24
€ 41350
10/04/2021
01/05/2021
24
€ 30150
01/05/2021
29/05/2021
24
€ 41350
29/05/2021
02/10/2021
24
€ 47500
02/10/2021
30/10/2021
24
€ 41350
30/10/2021
18/12/2021
24
€ 30150
18/12/2021
08/07/2022
24
€ 41350
Included in rental price

Wi-Fi internet, Swimming pool towels.

Staff consisting of 3 people (kitchen service, waiting service, cleaning service), 8 hours per day from 8.30 a.m. to 1.30 p.m. and from 5.00 p.m. to 8.00 p.m.

Gardener 4 hours per day.

The kitchen service is included but, on arrival, guests are required to pay 2000 Euros in cash for supplies (food and drinks and any other extra services requested), which will need to be supplemented during the stay if not sufficient.

Porter service for luggage during check-in and check-out available from 8.00 a.m.- to 6.00 p.m.

1 set of bed and bath linen per week included in the price.

Air-conditioning

Cleaning during the week 8 hours a day, 6 days per week

Cot for babies under 2 years

Electric Heating

Electricity

Final cleaning

Non included in rental price

Deposit for supplies of food and drink: 2000 Euros in cash

Refundable damage deposit to be paid in Euros on arrival € 2000

Further information

Extra hours of cleaning service by villa staff provided on request: 25 Euros per hour for each person providing the service.

Extra services to be requested in advance:

Baby-sitter: the cost of these services will be provided when the request is made Parking: 25 Euros per day for cars, 30 Euros per day for vans.

Telephone and fax according to consumption

Domestic pets Not allowed

Pool opening dates (Private pool) 15 Apr 2017 - 28 Oct 2017

Extra beds (UP TO 4) IN THE MAIN VILLA € 60,00/NIGHT/BED
This is the area where your selected property is located - the pin is indicative and not an exact address.
All the availabilities below are indicative. Please
Contact us
to verify your dates.
Feb 2021
Mar 2021
Apr 2021

| | | | | | | |
| --- | --- | --- | --- | --- | --- | --- |
| Su | Mon | Tu | We | Th | Fr | Sa |
| | | | | | | |
| | | | | | | |
| | | | | | | |
| | | | | | | |
| | | | | | | |

| | | | | | | |
| --- | --- | --- | --- | --- | --- | --- |
| Su | Mon | Tu | We | Th | Fr | Sa |
| | | | | | | |
| | | | | | | |
| | | | | | | |
| | | | | | | |
| | | | | | | |

| | | | | | | |
| --- | --- | --- | --- | --- | --- | --- |
| Su | Mon | Tu | We | Th | Fr | Sa |
| | | | | | | |
| | | | | | | |
| | | | | | | |
| | | | | | | |
| | | | | | | |

May 2021
Jun 2021
Jul 2021

| | | | | | | |
| --- | --- | --- | --- | --- | --- | --- |
| Su | Mon | Tu | We | Th | Fr | Sa |
| | | | | | | |
| | | | | | | |
| | | | | | | |
| | | | | | | |
| | | | | | | |
| | | | | | | |

| | | | | | | |
| --- | --- | --- | --- | --- | --- | --- |
| Su | Mon | Tu | We | Th | Fr | Sa |
| | | | | | | |
| | | | | | | |
| | | | | | | |
| | | | | | | |
| | | | | | | |

| | | | | | | |
| --- | --- | --- | --- | --- | --- | --- |
| Su | Mon | Tu | We | Th | Fr | Sa |
| | | | | | | |
| | | | | | | |
| | | | | | | |
| | | | | | | |
| | | | | | | |

Aug 2021
Sep 2021
Oct 2021

| | | | | | | |
| --- | --- | --- | --- | --- | --- | --- |
| Su | Mon | Tu | We | Th | Fr | Sa |
| | | | | | | |
| | | | | | | |
| | | | | | | |
| | | | | | | |
| | | | | | | |

| | | | | | | |
| --- | --- | --- | --- | --- | --- | --- |
| Su | Mon | Tu | We | Th | Fr | Sa |
| | | | | | | |
| | | | | | | |
| | | | | | | |
| | | | | | | |
| | | | | | | |

| | | | | | | |
| --- | --- | --- | --- | --- | --- | --- |
| Su | Mon | Tu | We | Th | Fr | Sa |
| | | | | | | |
| | | | | | | |
| | | | | | | |
| | | | | | | |
| | | | | | | |
| | | | | | | |