Villa Barocca
Amalfi, Sorrento and Islands - Positano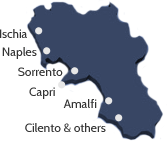 A sheer drop to the crystal sea, elegant villas set in greenery, abundant terraces of lemon trees. This is Amalfi Coast! The origins of its name go back to Hercules who found the most seductive place on earth in which to bury the nymph Amalfi with whom he had fallen in love.
Number of beds: 16+4
Bedrooms: 8+2

Amenities *
:
ADSL Wi-Fi Internet
Air Conditioning
Breakfast Service
Butler
Caretaker in the grounds
Concierge service
Cooking Class
Cooking Service
Daily cleaning
Dishwasher
Hairdryer
Heating
iPod docking station
Laundry service
Ocean Views
Pool Table
Satellite TV
Swimming Pool
Washing machine
* Please note:
the included amenities may vary according to final agreement, make sure to check your contract for complete list.
Nearbies:
750mt from the street walking 1.7Km from the city center 2km from the beach 15km Sorrento 25km Pompei 60km Naples airport 260 Rome international airport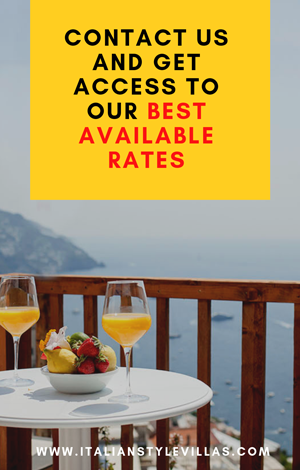 Search for your villa in Italy
Villa Barocca – Positano – Amalfi Coast
8+2 Double Bedrooms - Private infinity pool
Villa Barocca is a gorgeous historic residence built in 1741. It lays in the oldest district of Positano, overlooking the terrific Positano Bay. This area has its frist development at the end of the middle age, on the Roman ruins, there were built several villas of great importance to the north of the village with panoramic views of the bay, the Amalfi coast and Capri. Well-exposed to the sunlight, these villas were owned by richest merchants who used to figure out they trades with all the Mediterranean harbours and wanted to make a show of their claim in society 'with paintings, stucco, tile floors, frescoes, all done by local workers. In 900 many of these magnificent homes were abandoned in consequences due to geopolitical change and later with the explosion of the tourism industry transformed to meet the needs of economic exploitation without taking account of their value town. However, during the 50ies and 60ies Positano with the explosion of the myth of Dolce Vita lifestyle Positano was rediscovered again as one of the most beautiful gem of Mediterranean Sea.
Positano, on the Amalfi Coast, is one of Italy's most romantic destinations. The picturesque town is built vertically on the face of a cliff, making for stunning views of the sea. There are romantic restaurants with fantastic seafood and sea views. With its relatively mild climate, Positano can be visited year round. The villa is located right in the centre town at only 10 minutes by walking to the pedestrian area.
Villa Barocca thanks to its position can be rented with another luxury retreat in our catalogue: Palazzo dei Baroni , communicating with each other through a distance of 100 meters through the beautiful garden that separates them.
Today, Villa Barocca offers to lucky customers sleeps 16 with 4 doubles in the first case and 4 doubles in the second. Villa Barocca, offers to customers as much as 300 meters of terraces with a colonnade, made famous in the eighteenth century Neapolitan paintings found in major museums throughout the world, which keep the scenario unchanged over time, but lived, and with the background of the famous postcard of Positano. All rooms are equipped with ensuite and large bathrooms and large terrace with all the comforts that meet the standards of a 5-star luxury hotel. The Villa through the natural succession of the people who were important merchants in contact with the East, antique lord and patrons, and for the last owner love with her guardian lord who left the heir of this villa which has always taken care of and protected until his death in a visceral and romantic essendone extremely jealous. Now this feeling you can breathe again, as we guarantee that you too will continue to love this magical place, and why not, to find to you, your great love.
I'm very pleased to give you some information about our propriety.
Villa Barocca, it's an historical house of 1741 totally decorated with antic furniture and painting like a museum house.
The villa is composed by 4 floor. The principal entrance is from the second floor and you can access to the house also from a Mediterranean garden full of bougainvilleas, lemon and orange trees, from which we make the natural juice and home made marmalades that we serve for the breakfast.
From this part of the house you get to the second floor and there is a big kitchen, where you can have the typical local dishes made in a traditional way from our cook.
On the same floor there is a big room which you can use like a dining room, relaxing room, or working room, because there is a computer with all the services (WiFi, Adsl line, fax, mail…) to work in total relax. Here there is also a big library full of old and new books.
At the third floor there are four big suites with the correspondent big bathroom full of antic Neapolitan ceramics mosaic of 1700 for both bedrooms.
All the house is full of terraces, garden with a spectacular view on the beach of Positano.
We offer also two persons for the services and one butler.
On the attic 2 further new suites with bathroom are available on request.
Wellness at Villa Barocca
When the mind asks a rest, take care of the body is essential. Carefully planned to provide maximum relaxation and well-being, the Spa's luxurious and exclusive at Villa Barocca emerges as a perfect haven for your senses within his own palace, no need to leave home to receive care throughout the mind and body needs.
The wellness features, spaces beyond inspiring, fantastic massages and a gazebo in the garden (with a spectacular view), so that couples can feel or singularly and enjoy a great time to relax.
Try the wellness center experience at Villa Barocca, a unique refuge for mind and body.
Features *
2 suite with own bathroom in the attic are available on request

Mediterranean garden full of bougainvilleas, lemon and orange trees

Equipped big kitchen with wood oven

Equipped gazebo and terraces with breathtaking views

WI-FI and ADSL internet connection, telephone and fax

2 persons for the services and one butler
* Please note:
the included amenities may vary according to final agreement, make sure to check your contract for complete list.
This is the area where your selected property is located - the pin is indicative and not an exact address.
All the availabilities below are indicative. Please
Contact us
to verify your dates.
Jul 2019
Aug 2019
Sep 2019

| | | | | | | |
| --- | --- | --- | --- | --- | --- | --- |
| Su | Mon | Tu | We | Th | Fr | Sa |
| | | | | | | |
| | | | | | | |
| | | | | | | |
| | | | | | | |
| | | | | | | |

| | | | | | | |
| --- | --- | --- | --- | --- | --- | --- |
| Su | Mon | Tu | We | Th | Fr | Sa |
| | | | | | | |
| | | | | | | |
| | | | | | | |
| | | | | | | |
| | | | | | | |

| | | | | | | |
| --- | --- | --- | --- | --- | --- | --- |
| Su | Mon | Tu | We | Th | Fr | Sa |
| | | | | | | |
| | | | | | | |
| | | | | | | |
| | | | | | | |
| | | | | | | |

Oct 2019
Nov 2019
Dec 2019

| | | | | | | |
| --- | --- | --- | --- | --- | --- | --- |
| Su | Mon | Tu | We | Th | Fr | Sa |
| | | | | | | |
| | | | | | | |
| | | | | | | |
| | | | | | | |
| | | | | | | |

| | | | | | | |
| --- | --- | --- | --- | --- | --- | --- |
| Su | Mon | Tu | We | Th | Fr | Sa |
| | | | | | | |
| | | | | | | |
| | | | | | | |
| | | | | | | |
| | | | | | | |

| | | | | | | |
| --- | --- | --- | --- | --- | --- | --- |
| Su | Mon | Tu | We | Th | Fr | Sa |
| | | | | | | |
| | | | | | | |
| | | | | | | |
| | | | | | | |
| | | | | | | |

Jan 2020
Feb 2020
Mar 2020

| | | | | | | |
| --- | --- | --- | --- | --- | --- | --- |
| Su | Mon | Tu | We | Th | Fr | Sa |
| | | | | | | |
| | | | | | | |
| | | | | | | |
| | | | | | | |
| | | | | | | |

| | | | | | | |
| --- | --- | --- | --- | --- | --- | --- |
| Su | Mon | Tu | We | Th | Fr | Sa |
| | | | | | | |
| | | | | | | |
| | | | | | | |
| | | | | | | |
| | | | | | | |

| | | | | | | |
| --- | --- | --- | --- | --- | --- | --- |
| Su | Mon | Tu | We | Th | Fr | Sa |
| | | | | | | |
| | | | | | | |
| | | | | | | |
| | | | | | | |
| | | | | | | |