Villa Amalfitana
Amalfi, Sorrento and Islands - Castiglione di Ravello
A sheer drop to the crystal sea, elegant villas set in greenery, abundant terraces of lemon trees. This is Amalfi Coast! The origins of its name go back to Hercules who found the most seductive place on earth in which to bury the nymph Amalfi with whom he had fallen in love.
Number of beds: 16
Bedrooms: 8

Amenities *
:
Access to the beach
ADSL Wi-Fi Internet
Air Conditioning
Babysitter
Barbecue
Concierge service
Cooking Class
Cooking Service
Daily cleaning
Dishwasher
DVD Player
Hairdryer
Heated Pool
Heating
Hi-FI System
Hot-tub
Laundry service
Ocean Views
Open fireplace
Parking
Satellite TV
Swimming Pool
Washing machine
WIne Tasting
* Please note:
the included amenities may vary according to final agreement, make sure to check your contract for complete list.
Nearbies:
Amalfi Centre town 1,4km Atrani 800mt Ravello 5km Minori 3km Napoli Airport 65km Pompei 30km Rome Airport 270km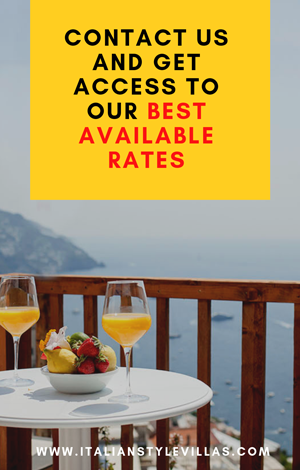 Search for your villa in Italy
Villa Amalfitana - Castiglione di Ravello
8 Double Bedrooms - Pool
Villa Amalfitana is an ancient Villa, of about 400 sqm, built in the 19th century straight up the sea of the Amalfi Coast. Its amazing terraced gardens slope down towards the sea. The Villa has just been renovated, maintaining the architectural features of the building intact. It has been transformed into a tourists accommodation with all comforts, preserving the special character of historical homes with rich antique and elegant furnishings and majolica tiled floors. Its four stories are connected by an ancient stairway with artistic inlaid wood handrails and arched windows overlooking the beautiful sea.
At the Villa's entrance, on the street level near the parking area, you can find the reception -with info and internet point- and the living room with fireplace, ancient library and TV flat LCD 40". On the garden floor, there are the internal dining room, with TV flat LCD 40" and own little wine cellar that is excavated into the rock, and the full equipped kitchen with laundry corner. Both rooms are overlooking a covered and panoramic loggia of about 60 sqm, the ideal area to have al fresco breakfast, lunch and romantic candle lights dinner with a breathtaking views of the sea and the coast. Another two little equipped kitchens are on the roof garden and into the natural cave near the sea, both have a barbeque area. The maximum guest's number is 16 people.
The names of the eight spacious and fully equipped double rooms (two of these convertible in twin beds on request) recall the passion of Ravello for classic music: Overture, Rapsodia, Suite, Fantasia, Romance, Arabesque, Melodia, Fuga. All rooms have a breathtaking view just upon the sea with balconies and/or windows, comfortable sitting corner, en suite bathroom with glass mosaic, comfortable hydro shower and/or Jacuzzi and hairdryer, heating, air conditioning, TV flat LCD with satellite, internet point, mini-bar and safe. They all have been elegantly decorated with antique furnishings, precious textile fabrics, hardwood floor and majolica tiled hand made floors.
The on a level terraces and the private park The equipped panoramic roof garden on the top and the bougainvillea terrace on the bottom, both of about 100 sqm, are the most beautiful setting for the guest's special and unforgettable events.The property has a private park of about 1.500 sqm, with one's own access to the sea by a stairway: one hundred and thirty stone steps runs through bougainvillea terraces and lemon and orange gardens, till it reaches the equipped solariums, the natural caves, the pool with water massage, of about 25 sqm, set in the panoramic viewpoint and a small private pier set in the enchanting inlet of the sea cliff.
Distances: Naples Airport, Capodichino: 60 Km; Salerno-Pontecagnano Airport; Amalfi Coast: 30 Km. Golf Club (Pontecagnano - SA): about 30 Km; Horse riding (range Carmusina): 3 Km;
Tennis (tennis Club Ravello) 5 Km.
Places to visit The lovely beaches of Castiglione and Atrani are about 10 minutes walk away. Amalfi and Minori are equidistant at about 1 Km, while Maiori is at about 1,5 Km. From Amalfi you can take a boat to Positano, Sorrento, Capri or Naples. Ravello, 350 meters on the sea level, is 5 Km far, Positano 18 Km, Salerno 25 Km, Sorrento 35 Km, Ercolano and Pompei 45 Km, Paestum 50 Km, Naples 60 Km, Rome 250 Km.
Weekly stays Saturday to Saturday; No pets please.
Features
The eight rooms services
Breathtaking view upon the sea;

Independent air-conditioning (air and heating);

Sitting corner;

TV flat LCD with satellite;

Internet Ethernet;

Minibar;

Safe;

Bathrooms with glass mosaic and accessories;

Comfortable hydro massage shower and/or Jacuzzi;

Hairdryer.
Other services included
Info & internet point in reception;

Lobby living room with fireplace and ancient library;

Dining room with wine cellar into the rock;

3 full equipped kitchens;

Laundry;

Cradle;

Barbeque;

Park and gardens: solariums on the sea, relax areas on the terraces and in the gardens overlook the sea;

Pool of 4,5X2,5mt with water massage set in the panoramic viewpoint;

Gardener;

Private access to the sea;

Parking for one car;

Area Wellness (sauna, pool)

Video surveillance;

Daily cleaning (daily 4 hours for six days);

Bed linen and towel change twice a week;

Final cleaning;

Available quick taxi service and local bus stop (SITA service) immediately outside the Villa, so don't need the car necessary
Amenities *
Access to the beach
ADSL Wi-Fi Internet
Air Conditioning
Babysitter
Barbecue
Concierge service
Cooking Class
Cooking Service
Daily cleaning
Dishwasher
DVD Player
Hairdryer
Heated Pool
Heating
Hi-FI System
Hot-tub
Laundry service
Ocean Views
Open fireplace
Parking
Satellite TV
Swimming Pool
Washing machine
WIne Tasting
* Please note:
the included amenities may vary according to final agreement, make sure to check your contract for complete list.
This is the area where your selected property is located - the pin is indicative and not an exact address.
All the availabilities below are indicative. Please
Contact us
to verify your dates.
Dec 2020
Jan 2021
Feb 2021

| | | | | | | |
| --- | --- | --- | --- | --- | --- | --- |
| Su | Mon | Tu | We | Th | Fr | Sa |
| | | | | | | |
| | | | | | | |
| | | | | | | |
| | | | | | | |
| | | | | | | |

| | | | | | | |
| --- | --- | --- | --- | --- | --- | --- |
| Su | Mon | Tu | We | Th | Fr | Sa |
| | | | | | | |
| | | | | | | |
| | | | | | | |
| | | | | | | |
| | | | | | | |
| | | | | | | |

| | | | | | | |
| --- | --- | --- | --- | --- | --- | --- |
| Su | Mon | Tu | We | Th | Fr | Sa |
| | | | | | | |
| | | | | | | |
| | | | | | | |
| | | | | | | |
| | | | | | | |

Mar 2021
Apr 2021
May 2021

| | | | | | | |
| --- | --- | --- | --- | --- | --- | --- |
| Su | Mon | Tu | We | Th | Fr | Sa |
| | | | | | | |
| | | | | | | |
| | | | | | | |
| | | | | | | |
| | | | | | | |

| | | | | | | |
| --- | --- | --- | --- | --- | --- | --- |
| Su | Mon | Tu | We | Th | Fr | Sa |
| | | | | | | |
| | | | | | | |
| | | | | | | |
| | | | | | | |
| | | | | | | |

| | | | | | | |
| --- | --- | --- | --- | --- | --- | --- |
| Su | Mon | Tu | We | Th | Fr | Sa |
| | | | | | | |
| | | | | | | |
| | | | | | | |
| | | | | | | |
| | | | | | | |
| | | | | | | |

Jun 2021
Jul 2021
Aug 2021

| | | | | | | |
| --- | --- | --- | --- | --- | --- | --- |
| Su | Mon | Tu | We | Th | Fr | Sa |
| | | | | | | |
| | | | | | | |
| | | | | | | |
| | | | | | | |
| | | | | | | |

| | | | | | | |
| --- | --- | --- | --- | --- | --- | --- |
| Su | Mon | Tu | We | Th | Fr | Sa |
| | | | | | | |
| | | | | | | |
| | | | | | | |
| | | | | | | |
| | | | | | | |

| | | | | | | |
| --- | --- | --- | --- | --- | --- | --- |
| Su | Mon | Tu | We | Th | Fr | Sa |
| | | | | | | |
| | | | | | | |
| | | | | | | |
| | | | | | | |
| | | | | | | |