Monastero su Ravello
Amalfi, Sorrento and Islands - Ravello
A sheer drop to the crystal sea, elegant villas set in greenery, abundant terraces of lemon trees. This is Amalfi Coast! The origins of its name go back to Hercules who found the most seductive place on earth in which to bury the nymph Amalfi with whom he had fallen in love.
Number of beds: 10
Bedrooms: 5

Amenities *
:
Air Conditioning
Babysitter
Barbecue
Caretaker in the grounds
Concierge service
Cooking Service
Country Views
Dishwasher
Hairdryer
Heating
Hi-FI System
Ocean Views
Open fireplace
Satellite TV
Swimming Pool
Washing machine
* Please note:
the included amenities may vary according to final agreement, make sure to check your contract for complete list.
Nearbies:
Amalfi 6,8 km Positano 25,2 km Pompei 31,7 km Naples 56,1 km Naples Capodichino 59,5 km Naples station 56,1 km Rome 273 km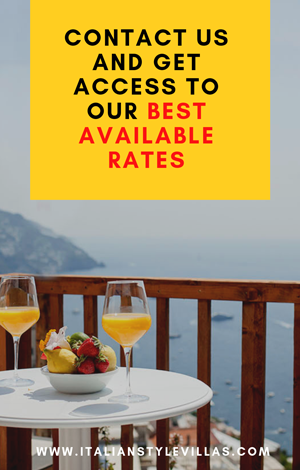 Search for your villa in Italy
Il Monastero su Ravello – Ravello – Amalfi Coast
5 Double Bedrooms - Pool
This magnificent Villa, Il Monastero su Ravello, is located in the middle of Minuta, in Scala, facing the promontory of the famous Villa Cimbrone, in Ravello, and overlooks the villages of Amalfi and Atrani. The distinguishing features of this exclusive residence are the enchanting gardens which frame the estate and the breathtaking panoramas out to the sea and along the coast. The villa is adjacent to the antique, IX Century, Romanesque church of Santa Maria Annunziata, chosen worldwide by innumerable couples for their wedding day and to spend unforgettable days in the most romantic place. The Villa is available for special events and ceremonies up to 100 persons outside.
The location and the most interesting to see along the Amalfi Coast are: the Cathedral of Amalfi and its cloister (Paradise Cloister), the Church of Santa Maria Assunta in Positano, the churces of San Salvatore of Birecto and Santa Maria Maddalena to Atrani, Villa Rufolo and Cimbrone in Ravello, the churches of San Luca and San Gennaro inPraiano and their viewpoint, the Church of San Pancrazio,Conca dei Marini and his lookout, the church of Santa Trofimena and Roman villa in small groups to collegiate church of Santa Maria a Mare and the Castle of San Nicolas de Thoro Plano inMaiori. Among the various provinces of the coast, stands outScala, the oldest one. The Villa may be reached along a small, characteristic pathway made up of a hundred steps, about 100 metres from the bus stop and about 700 metres from the centre of Scala, where all the necessary services may be found. Distance to: Ravello – 2 Km; Amalfi - 6 Km; Pompei -27 Km; Salerno -30 KM; Napoli - 60 Km.
The Villa is divided into three, independent sections with three floors. The main building comprises: a ground floor with a large, luxurious lounge, including a fireplace, a table, which has been carefully restored and is extendable to accommodate 20 places, and a well equipped kitchen; a first Floor with two double bedrooms, each with en-suite facilities. One bedroom has a balcony with a panoramic view; a second floor with two double bedrooms, each with en-suite facilities. One Bedroom has a cot and a Balcony with a panoramic view. The upper floors may be reached either by the external staircase or by the internal, spiral staircase. There is also a dependence, reached externally, with a double bed, a sofa-bed and en-suite amenities.
A patio, furnished with an elegant, wicker lounge an furthermore the carefully tended gardens with the three-tiered lawn to enjoy and, to get her making the Villa Il Monastero su Ravello the ideal place for an unforgettable stay and fabulous, special events and ceremonies. The kitchen garden, where you can pick fresh, uncontaminated products, with its unique, incomparable flavour, is not to be missed. N.B. Animals are not allowed!
Features *
4 Double Bedrooms

4 En-suite bathrooms

1 Double bedroom in the dependance equipped with air - conditioning, central - heating, satellite TV and a bathroom with shower

Swimming Pool

Garden with breathtaking panoramas

Terrace with solarium, a wood- burning oven, barbecue, chairs, tables, sun - umbrellas and a sun – chairs

Patio with wicker lounge

Lounge room equipped with a fireplace, air-conditioning, central - heating, Satellite TV, stereo - CD and internet point/wireless

Kitchen equipped with air- conditioning, cooker with 4 gas hobs and 1 electric hotplate, electric oven and microwave, slicer and dishwasher

Laundry equipped with a washing - machine, iron and ironing - board

Air conditioning and heating

Sat TV and DVD/CD player

Internet Wi-Fi connection

Included Services: air - conditioning, central - heating, gas, Internet; not included daily cleaning

On request available: cooking classes using the villa's home-grown products. Eno-gastronomic tour, cultural tour, hiking, boat trips, pizza party, fishing lessons, scuba - diving etc. (advance booking requested)

End of stay cleaning: 200 Euro
* Please note:
the included amenities may vary according to final agreement, make sure to check your contract for complete list.
This is the area where your selected property is located - the pin is indicative and not an exact address.
All the availabilities below are indicative. Please
Contact us
to verify your dates.
May 2020
Jun 2020
Jul 2020

| | | | | | | |
| --- | --- | --- | --- | --- | --- | --- |
| Su | Mon | Tu | We | Th | Fr | Sa |
| | | | | | | |
| | | | | | | |
| | | | | | | |
| | | | | | | |
| | | | | | | |
| | | | | | | |

| | | | | | | |
| --- | --- | --- | --- | --- | --- | --- |
| Su | Mon | Tu | We | Th | Fr | Sa |
| | | | | | | |
| | | | | | | |
| | | | | | | |
| | | | | | | |
| | | | | | | |

| | | | | | | |
| --- | --- | --- | --- | --- | --- | --- |
| Su | Mon | Tu | We | Th | Fr | Sa |
| | | | | | | |
| | | | | | | |
| | | | | | | |
| | | | | | | |
| | | | | | | |

Aug 2020
Sep 2020
Oct 2020

| | | | | | | |
| --- | --- | --- | --- | --- | --- | --- |
| Su | Mon | Tu | We | Th | Fr | Sa |
| | | | | | | |
| | | | | | | |
| | | | | | | |
| | | | | | | |
| | | | | | | |
| | | | | | | |

| | | | | | | |
| --- | --- | --- | --- | --- | --- | --- |
| Su | Mon | Tu | We | Th | Fr | Sa |
| | | | | | | |
| | | | | | | |
| | | | | | | |
| | | | | | | |
| | | | | | | |

| | | | | | | |
| --- | --- | --- | --- | --- | --- | --- |
| Su | Mon | Tu | We | Th | Fr | Sa |
| | | | | | | |
| | | | | | | |
| | | | | | | |
| | | | | | | |
| | | | | | | |

Nov 2020
Dec 2020
Jan 2021

| | | | | | | |
| --- | --- | --- | --- | --- | --- | --- |
| Su | Mon | Tu | We | Th | Fr | Sa |
| | | | | | | |
| | | | | | | |
| | | | | | | |
| | | | | | | |
| | | | | | | |

| | | | | | | |
| --- | --- | --- | --- | --- | --- | --- |
| Su | Mon | Tu | We | Th | Fr | Sa |
| | | | | | | |
| | | | | | | |
| | | | | | | |
| | | | | | | |
| | | | | | | |

| | | | | | | |
| --- | --- | --- | --- | --- | --- | --- |
| Su | Mon | Tu | We | Th | Fr | Sa |
| | | | | | | |
| | | | | | | |
| | | | | | | |
| | | | | | | |
| | | | | | | |
| | | | | | | |