Tenuta Il Giardino Siciliano
Sicily - Villasmundo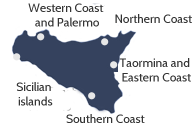 Taormina, perched 200 meters above sea level, soars above a landscape dominated by the Ionian Sea and the volcanic Etna. With its intrigue derived from its history and vibrant lifestyle, it is no surprise that it is one of the most sought after locations in Sicily. Just further down the Eastern coast we find Siracusa with its persevering Greek origins mixed with baroque detailing all framed by the unbeatable seaside.
Number of beds: 16
Bedrooms: 8

Amenities
:
ADSL Wi-Fi Internet
Air Conditioning
Butler
Concierge service
Cooking Service
Country Views
Dishwasher
DVD Player
Heating
Hi-FI System
Open fireplace
Parking
Satellite TV
Swimming Pool
Tennis Court
Washing machine
Nearbies:
Beach 15 minutes drive, Syracuse 30 km, Noto 60 km and Ragusa less than 100 km
Search for your villa in Italy
Tenuta Il Giardino Siciliano – Villasmundo - Sicily
8 Bedrooms – Pool – Tennis Court
A truly incredible historical building which is ideal for large groups wishing to discover Sicily in style.
Location and Surrounding Area. The Tenuta il Giardino Siciliano is set just back from the coast in a pretty area of Sicily, halfway between Catania and Syracuse. The incredible gardens and breathtaking views of Mount Etna in the distance will make it very hard indeed to leave the property but if you do, the nearest beach is only 15 minutes away at Brucoli and there are plenty of sandy beaches about half an hour's drive from the property.
Syracuse is a listed UNESCO World Heritage Site and was founded as an important Greek settlement. It matched Athens in size during its heyday and was the birthplace of the esteemed mathematician Archimedes. The surrounding area is literally littered with sites of important Greek, Roman and Baroque archaeological interest; Ortygia island, the Temple of Apollo and the amphitheatre to name but a few.
Catania sits at the foot of one of the world's most active volcanoes, Mount Etna. The Roman poet Virgil wrote what could well have been a first-hand description of one of the volcano's frequent eruptions in his Aeneid. Taormina is a lively, celebrity-studded town perched on the clifftops and has seen many an artist and writer pass through its streets. Noto, Modica and Ragusa are also UNESCO World Heritage Sites and are within easy driving of the Tenuta il Giardino Siciliano.
Catania and Palermo both have international airports, Catania's is about half an hour's drive and Palermo's about 250 km away. Syracuse is 30 km from the property, Noto 60 km and Ragusa less than 100 km away.
The Property. The driveway to Tenuta il Giardino Siciliano leads up through the splendid gardens and once you catch sight of the house, it will take your breath away. This is one of Sicily's finest historical villas and its timeless elegance is almost unique. The property has recently been restored to a very high standard and houses antique furniture and collectable artwork that have been in the family for generations.
Five of the beautifully decorated double bedrooms are on the first floor of the main house and have an en suite bathroom each. The other three bedrooms with en-suite bathrooms are on the ground floor, just across the courtyard.
The entrance hall leads into a large double sitting room with vaulted ceilings and a generous fireplace for romantic evening aperitifs. There is also a second double living room if you're looking for some space and privacy. The dining room also is off the entrance hall and retains original antique tiled floors. The magnificent dining table can comfortably seat all the house guests. There is a spacious, fully equipped kitchen.
The property includes immaculate lawns complete with a variety of typical Mediterranean flora. The swimming pool is gently shaded by palm trees and there is an exotic hortus conclusus, enclosed Andalucian-Arabic garden just to one side. The all-weather tennis court is also near the swimming pool, ideal for an athletic game of tennis rounded off with a refreshing swim.
The property offers a discrete and professional staff in the form of a butler, cook, maids and a gardener to make sure that your stay is as idyllic and restful as possible. Let the butler know what you'd like for lunch or dinner, along with any special requirements and leave it to the staff to arrange. All of the food and wine we choose is locally produced to give you the chance of sampling fresh, delicious products.
Download this Villa details and photos as pdf

Features
8 double bedrooms with en-suite bathrooms (7 doubles and 1 twin)
Large swimming pool (18 x 8 m) with sun-beds
All-weather tennis court
Spectacular gardens
2 double living rooms
Large dining room
Fireplace
Fully equipped kitchen
Air conditioning
Heating
Wi-Fi throughout
Satellite TV, DVD and Stereo
This is the area where your selected property is located - the pin is indicative and not an exact address.