Villa Antica
Amalfi, Sorrento and Islands - Massa Lubrense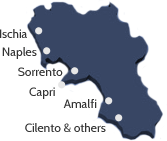 It is one of the most popular destinations with international tourism, attracted by the vivacity of this seaside resort. Its beauty has been celebrated since Roman times: the town overhanging the gulf of Naples, surrounded by gardens of land diving into the sea.
Number of beds: 9
Bedrooms: 5

Amenities
:
ADSL Wi-Fi Internet
Dishwasher
Hairdryer
Heating
Ocean Views
Open fireplace
Satellite TV
Swimming Pool
Washing machine
Nearbies:
Massa Lubrense 2 km, Sorrento 8 km, Positano 20 km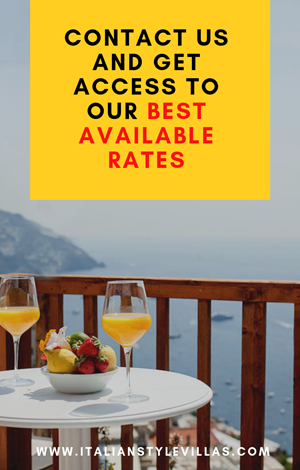 Search for your villa in Italy
Villa Antica – Massa Lubrense – Sorrento Coast
5 Bedrooms – Pool
The villa is set amongst breathtaking views in a quiet area only 2 km from Massa Lubrense, right in the heart of the Sorrento Peninsular.
The property sleeps up to a total of nine guests; five people in the main house and four in the annexe.
The main house offers two living rooms; the first, with an open fireplace, which then leads into the second, enormous living area, which also has a dining table. The kitchen is fully equipped with a vast array of cooking utensils, including some traditional ones in copper. There is also a laundry room and a handy, extra downstairs bathroom.
The master bedroom with private bathroom is on the first floor, as are the twin room and a single room with a shared bathroom. The master bedroom has a set of pretty steps leading down into the gardens.
The annexe is adjacent to the main property and has a double bedroom and a twin bedroom on the first floor with a shared bathroom. There is a cozy sitting room with an open fireplace and a kitchen on the ground floor.
Air-conditioning is in all the bedrooms
The gardens surround the property and contain majestic magnolia trees, lemon trees and olive trees. To complete the scene, there is a tradition stone grinding machine, a small tree platform and swings for children to play on. The enormous swimming pool is furnished with sun loungers and umbrellas. There is a wood-fired oven, an outside dining area, a patio and various pretty corners with benches for relaxing in the sun with a good book.
The villa is 8 km from the centre of Sorrento and 20 km from Positano.
Features
3 Bedrooms in the main house (1 double, 1 twin and 1 singles)
2 Bedrooms in the annexe (1 double and 1 twin)
1 sofa bed in the annexe for 1 extra guest
4 Bathrooms
Living rooms
Air conditioning in all the bedrooms
Fireplaces
2 Equipped kitchens
Laundry room
Wi-Fi internet
SAT TV
Swimming pool with sun loungers and umbrellas
Garden with magnolia trees, lemon trees and olive trees
Patio with outside dining area
Wood-fire oven
Apr 2019
May 2019
Jun 2019

| | | | | | | |
| --- | --- | --- | --- | --- | --- | --- |
| Su | Mon | Tu | We | Th | Fr | Sa |
| | | | | | | |
| | | | | | | |
| | | | | | | |
| | | | | | | |
| | | | | | | |

| | | | | | | |
| --- | --- | --- | --- | --- | --- | --- |
| Su | Mon | Tu | We | Th | Fr | Sa |
| | | | | | | |
| | | | | | | |
| | | | | | | |
| | | | | | | |
| | | | | | | |

| | | | | | | |
| --- | --- | --- | --- | --- | --- | --- |
| Su | Mon | Tu | We | Th | Fr | Sa |
| | | | | | | |
| | | | | | | |
| | | | | | | |
| | | | | | | |
| | | | | | | |
| | | | | | | |

Jul 2019
Aug 2019
Sep 2019

| | | | | | | |
| --- | --- | --- | --- | --- | --- | --- |
| Su | Mon | Tu | We | Th | Fr | Sa |
| | | | | | | |
| | | | | | | |
| | | | | | | |
| | | | | | | |
| | | | | | | |

| | | | | | | |
| --- | --- | --- | --- | --- | --- | --- |
| Su | Mon | Tu | We | Th | Fr | Sa |
| | | | | | | |
| | | | | | | |
| | | | | | | |
| | | | | | | |
| | | | | | | |

| | | | | | | |
| --- | --- | --- | --- | --- | --- | --- |
| Su | Mon | Tu | We | Th | Fr | Sa |
| | | | | | | |
| | | | | | | |
| | | | | | | |
| | | | | | | |
| | | | | | | |

Oct 2019
Nov 2019
Dec 2019

| | | | | | | |
| --- | --- | --- | --- | --- | --- | --- |
| Su | Mon | Tu | We | Th | Fr | Sa |
| | | | | | | |
| | | | | | | |
| | | | | | | |
| | | | | | | |
| | | | | | | |

| | | | | | | |
| --- | --- | --- | --- | --- | --- | --- |
| Su | Mon | Tu | We | Th | Fr | Sa |
| | | | | | | |
| | | | | | | |
| | | | | | | |
| | | | | | | |
| | | | | | | |

| | | | | | | |
| --- | --- | --- | --- | --- | --- | --- |
| Su | Mon | Tu | We | Th | Fr | Sa |
| | | | | | | |
| | | | | | | |
| | | | | | | |
| | | | | | | |
| | | | | | | |

Jan 2020
Feb 2020
Mar 2020

| | | | | | | |
| --- | --- | --- | --- | --- | --- | --- |
| Su | Mon | Tu | We | Th | Fr | Sa |
| | | | | | | |
| | | | | | | |
| | | | | | | |
| | | | | | | |
| | | | | | | |

| | | | | | | |
| --- | --- | --- | --- | --- | --- | --- |
| Su | Mon | Tu | We | Th | Fr | Sa |
| | | | | | | |
| | | | | | | |
| | | | | | | |
| | | | | | | |
| | | | | | | |

| | | | | | | |
| --- | --- | --- | --- | --- | --- | --- |
| Su | Mon | Tu | We | Th | Fr | Sa |
| | | | | | | |
| | | | | | | |
| | | | | | | |
| | | | | | | |
| | | | | | | |