Villa Dalia
Sicily - Favignana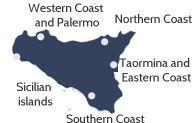 Eolie's 8 islands including Stromboli, Lipari and Salina then there are the Egadi (Favignana), the Pelagie (Lampedusa), Ustica e Pantelleria "connect" to form a precious pearl necklace encompassing the mother perl of all islands, that is Sicily. A spectacular patrimony of nature, cuisine and culture offering a variety as wide as the expanse of the islands themselves.
Number of beds: 8
Bedrooms: 4

Amenities *
:
Air Conditioning
Caretaker in the grounds
Daily cleaning
Dishwasher
iPod docking station
Ocean Views
Washing machine
* Please note:
the included amenities may vary according to final agreement, make sure to check your contract for complete list.
Nearbies:
Port of Favignana 3 km, Cala Bianca and Cala Rossa beaches 3 minutes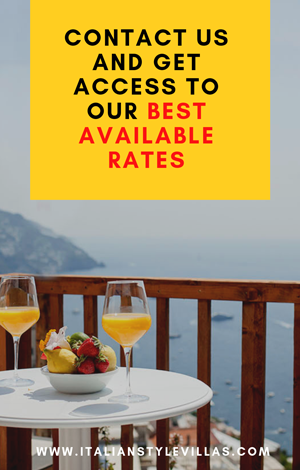 Search for your villa in Italy
Villa Dalia – Favignana - Sicily
4 Bedrooms – Patio
Beach villa set in lovely Mediterranean gardens on an unspoilt island off the beaten track.
Location and Surrounding Area. Favignana is the largest of the three, sleepy Egadi islands just off the western coast of Sicily. In addition to its unspoilt traditional lifestyle, Favignana is perhaps most famous for its spectacular scenery and the intense blue of its waters. The turquoise sea laps against little sandy beaches and rocky coastlines and with Sicily's spectacular sunshine, Favignana really is a photographer's dream come true. In fact, various Italian movies have been filmed here; for example Il commissario lo gatto, L'isola dei segreti, L'isola and C'è sempre un perché.
Villa Dalia is situated just behind the white-sand cove of Cala Azzurra and the wilder, rocky Cala Rossa. Both beaches are only three minutes from the villa on a bicycle, which means you can run down to the beach, splash around in the water and still come home for a mid-morning coffee before heading down again for your next swim. Cala Rossa is probably one of the prettiest beaches on Favignano and overlooks Levanzo, the smallest island in the Egadi archipelago. In 2015, Cala Rossa was voted Italy's most beautiful beach by the website Skyscanner.
Favignana covers less than 20km2 of mostly flat ground and getting around the island couldn't be simpler. The distances make walking a feasible option so long as you avoid the midday temperatures in summer. Cycling is a popular option amongst the locals but if you looking for a less energetic holiday, taxis, cars, scooters and open-top buggies can easily be hired at the port.
Villa Dalia is less than 3km from the port of Favignana, where regular ferries leave for the other Egadi islands of Marettima and Levanzo and the cities of Trapani and Marsala on the main island of Sicily. The ferries to Trapani take 30 minutes. Trapani is about an hour's drive to Palermo international airport.
The Property. Villa Dalia sleeps up to eight guests in four spacious double rooms, each with a private en-suite bathroom and a furnished, outside patio area. The villa is beautifully decorated in colonial style and features a comfortable sitting room and a fully-equipped modern kitchen.
There are plenty of shady areas for al fresco dining overlooking the sea in the balmy Sicilian evenings. The garden is enormous, 15,000 m2 and offers manicured lawns, rock gardens, palm trees, cacti and an abundance of Mediterranean style plants. There are even three caves within the gardens, which were once places for extracting the local tufo stone.
Features *
4 Double bedrooms with en suite bathrooms and private patio areas
1 Living room
1 Kitchen
Air conditioning
Heating
Washing machine
Digital TV
iPod speakers
Garden
Outdoor patios
Caretaker on site
Daily cleaning service
Bed linen and bath towels
* Please note:
the included amenities may vary according to final agreement, make sure to check your contract for complete list.