Masseria Blu
Apulia Calabria and Basilicata - Ostuni
Nature, history and art have made Apulia a major tourist destination:discover a new land for your holidays.
Number of beds: 10
Bedrooms: 5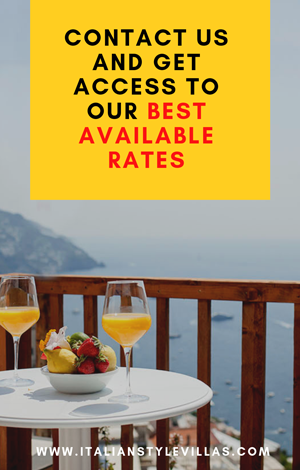 Search for your villa in Italy
Masseria Blu – Ostuni- Apulia
5 Bedrooms – Pool - SPA
Location and Surrounding Area. The Masseria Blu features a romantic stone balcony and a spectacular azure façade, as blue as the summer sky in Puglia. The garden offers spacious, luxuriant lawns, a private pool, olive groves, flowers and Mediterranean vegetation. These lovely spaces, the pool, the relaxation areas and the spa with a Turkish bath all combine to render the Masseria Blu a perfect destination for a relaxing stay. It is ideal for both families and groups of friends.
The Masseria Blu stands in the exquisite, rural beauty speckled with the ancient olive trees and old-fashioned trulli so typical of Puglia. It is only a couple of kilometres from the fabulous White City of Ostuni and some of the prettiest beaches on this stretch of the Brindisi coastline. It is in an ideal location for discovering the wonders of Puglia: The White City of Ostuni is only 4km away and the characteristic villages of Cisternino, Locorotondo, Alberobello and Martina Franca in the gorgeous Valle d'Itria are nearby. Then there are the famous caves in Castellana, the Baroque city of Lecce and other pearls in the Salento area like Otranto, Gallipoli and the splendid Matera with its stunning Sassi (rock caves).
The Masseria Blu is only 10 km from the sea and the coastline varies from the white sand beaches of the Parco delle Dune Costiere and the enchanting coves of Torre Pozzelle through to the Torre Guaceto nature reserve, which is as much a paradise for beach lovers as for walkers. This area of Puglia has a mild climate and can easily be explored all year round. There is so much to see, do, taste and admire; the old villages, the beaches, the countryside rich in attractions, the exceptional local cuisine and delicious gastronomic traditions.
With so much else going on, make sure you don't miss out on the chance to kick back and recuperate here at the Masseria Blu. Not only can you revel in the sheer beauty of the colours and fragrances of the surrounding countryside, you can also relax around the swimming pool, try the tasty local dishes, get to know the horses and donkeys or take part in the everyday activities (making homemade pasta, jams and marmalades, tomato sauce, natural face creams and perfumed body oils). The owners are from here, live close by and are more than happy to share the delights of this beautiful area and pass on any advice to help make your stay here as pleasurable and as comfortable as possible.
The Property. Masseria Blu is a seven hectare, characteristic resort and offers its guests four independent houses, each with private garden and swimming pool. The Masseria Blu is the largest and most prestigious of these houses. It was built in the 18th century and was once the holiday home of a wealthy family from Ostuni. It was tastefully restored using high quality, traditional materials to preserve the original aspect. The resulting home welcomes its guests with comfortable, elegant furnishings and all the charm of visible stonework, antique flooring and period furniture.
The house covers a total of 250m2 over two floors. There are five bedrooms, five bathrooms (of which three are en suite), a dining room with a fireplace, a fully equipped kitchen, a large sitting room, a parlour with a fireplace, a spa, a Turkish bath and a romantic stone balcony which leads onto a spacious terrace with breathtaking views out across the valley. The outside area has two patios furnished with tables and chairs, a small bar and a lounging area around the pool.
Features
5 Double bedrooms (double or twin)
5 Bathrooms (3 en suite)
1 Dining room with fireplace
1 Fully equipped kitchen, complete with dishwasher and microwave oven
1 Living room
1 Parlour with fireplace
Laundry room with washing machine
1 Spa with Jacuzzi and Turkish bath
1 Furnished balcony
Terrace
Swimming pool
Sun beds in the poolside area
2 Covered patios with table, sitting area and corner bar
Barbecue
Wi-Fi
Satellite TV
Air conditioning in three of the bedrooms
Central heating (via either hot water from the fireplace or gas)
Electric gate
Alarm system
Safe
On request: typical dishes from Puglia, cooking classes, beauty sessions with natural cosmetics, tour guides, weddings and private event
Amenities *
ADSL Wi-Fi Internet
Air Conditioning
Barbecue
Cooking Class
Country Views
Dishwasher
Heating
Hot-tub
Open fireplace
Parking
Satellite TV
SPA
Swimming Pool
Washing machine
* Please note:
the included amenities may vary according to final agreement, make sure to check your contract for complete list.
Amenities *
Pets admitted
Playground for children
Hairdryer in bathroom
Barbecue
Safe Box
Country Views
Baby cot
Available for events
Internet in common areas and garden
the villa is in a peaceful area, it is recommendable for yoga retreats
the villa is next to a vineyard or a winery
the villa has a maximum distance of 1,5km
Dishwasher
Washing machine
Beds and Mattresses
Toilettries and courtesy kit
Nearby
* Please note:
the included amenities may vary according to final agreement, make sure to check your contract for complete list.
From
To
Guests
Rate per week
01/01/2021
02/04/2021
€ 2500
02/04/2021
26/06/2021
€ 3800
26/06/2021
28/08/2021
€ 4900
28/08/2021
25/09/2021
€ 3800
25/09/2021
22/12/2021
€ 2500
Included in rental price

Electricity up to 200 kwh
Water
Gas
Linen change once a week
Final cleaning
Cleaning 3 times a week

swimming pool (5x8)

Non included in rental price

3 € per hour for extra for heating

1,00 € per person a day

50 € each extra bed

15 € per dog

Further information

Security refundable deposit Eur 1.000
This is the area where your selected property is located - the pin is indicative and not an exact address.
All the availabilities below are indicative. Please
Contact us
to verify your dates.
Feb 2021
Mar 2021
Apr 2021

| | | | | | | |
| --- | --- | --- | --- | --- | --- | --- |
| Su | Mon | Tu | We | Th | Fr | Sa |
| | | | | | | |
| | | | | | | |
| | | | | | | |
| | | | | | | |
| | | | | | | |

| | | | | | | |
| --- | --- | --- | --- | --- | --- | --- |
| Su | Mon | Tu | We | Th | Fr | Sa |
| | | | | | | |
| | | | | | | |
| | | | | | | |
| | | | | | | |
| | | | | | | |

| | | | | | | |
| --- | --- | --- | --- | --- | --- | --- |
| Su | Mon | Tu | We | Th | Fr | Sa |
| | | | | | | |
| | | | | | | |
| | | | | | | |
| | | | | | | |
| | | | | | | |

May 2021
Jun 2021
Jul 2021

| | | | | | | |
| --- | --- | --- | --- | --- | --- | --- |
| Su | Mon | Tu | We | Th | Fr | Sa |
| | | | | | | |
| | | | | | | |
| | | | | | | |
| | | | | | | |
| | | | | | | |
| | | | | | | |

| | | | | | | |
| --- | --- | --- | --- | --- | --- | --- |
| Su | Mon | Tu | We | Th | Fr | Sa |
| | | | | | | |
| | | | | | | |
| | | | | | | |
| | | | | | | |
| | | | | | | |

| | | | | | | |
| --- | --- | --- | --- | --- | --- | --- |
| Su | Mon | Tu | We | Th | Fr | Sa |
| | | | | | | |
| | | | | | | |
| | | | | | | |
| | | | | | | |
| | | | | | | |

Aug 2021
Sep 2021
Oct 2021

| | | | | | | |
| --- | --- | --- | --- | --- | --- | --- |
| Su | Mon | Tu | We | Th | Fr | Sa |
| | | | | | | |
| | | | | | | |
| | | | | | | |
| | | | | | | |
| | | | | | | |

| | | | | | | |
| --- | --- | --- | --- | --- | --- | --- |
| Su | Mon | Tu | We | Th | Fr | Sa |
| | | | | | | |
| | | | | | | |
| | | | | | | |
| | | | | | | |
| | | | | | | |

| | | | | | | |
| --- | --- | --- | --- | --- | --- | --- |
| Su | Mon | Tu | We | Th | Fr | Sa |
| | | | | | | |
| | | | | | | |
| | | | | | | |
| | | | | | | |
| | | | | | | |
| | | | | | | |