Villa La Posta
Rome and Latium - Ladispoli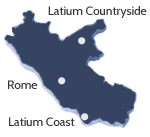 A mosaic of various terrains immersed in marina life rolling along the coast from the Gulf of Gaeta up to the Tuscan border. The geological terroir is extremely varied and interesting with tamed trails offering opportunities to observe bays, beaches, coves, caves, natural parks and tiny fishing villages that have become picturesque towns for relaxing vacations.
Number of beds: 38
Bedrooms: 19

Amenities *
:
Access to the beach
ADSL Wi-Fi Internet
Air Conditioning
Babysitter
Breakfast Service
Cooking Class
Daily cleaning
DVD Player
Gym
Hairdryer
Heated Pool
Heating
Hi-FI System
Indoor Pool
Laundry service
Ocean Views
Open fireplace
Parking
Satellite TV
SPA
Tennis Court
WIne Tasting
* Please note:
the included amenities may vary according to final agreement, make sure to check your contract for complete list.
Nearbies:
Rome 35 km Cerveteri 10 km Bracciano 24 km Civitavecchia 35 km Tarquinia 76 km Fiumicino Leonardo da Vinci international airport 20 km Ciampino 53 km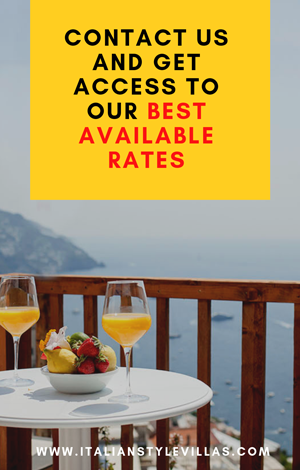 Search for your villa in Italy
Villa La Posta – Ladispoli - Latium
19 Bedrooms - Indoor Pool – Private beach - Tennis Court and Fitness Centre
La Posta Vecchia, Relais & Châteaux, was once the residence of J.Paul Getty who transformed it into a magical temple of art and is now both a luxury hotel with 19 rooms facing the Tyrrhenian sea and also a museum of considerable importance.
THE HISTORY La Posta Vecchia Hotel is a mansion built in around 1640 on the remains of the Roman city of Alsium, commissioned by the Orsini princes to receive friends and travellers. In 1693 Flavio and Lelio Orsini sold the property – the castle of Palo with La Posta Vecchia – to Livio Odescalchi. La Posta Vecchia maintained its function as a rest stop until 1918 when it began to deteriorate to such an extent that it almost fell into ruin. In 1960 it was purchased by J. Paul Getty, who brought it back to its historic splendour and furnished it with pieces from princely residences all over the world. During the renovation work, the remains of a large Roman villa were discovered which form the heart of the small archaeological museum situated in the hotel basement. The current owner, who bought it directly from the American magnate, brought La Posta Vecchia back to its original function of refined hospitality, transforming it in 1992 - without touching any of the treasures collected by J. Paul Getty - into one of the finest hotels of the Relais & Châteaux Association, equipped with all modern conveniences and security systems.
THE HOTEL The 19 rooms and suites each have their own particular style and original furnishings, some bearing the names of personalities who have stayed in the mansion in various eras, others the names of the past owners of the furniture present in the rooms. The common denominator is the total absence of noise other than the sounds of nature: that of the luxuriant historic park and that of the Tyrrhenian sea which is present here in all its vastness. Each room is equipped with a safe, mini-bar with a rich selection of drinks, DVD player, Sky TV, pay per view and Wi-Fi internet connection.
THE SURROUNDINGS The museum's internal Roman museum offers guests the opportunity to see the remains of a second century B.C. Roman villa discovered during the hotel renovation work. The towns and villages situated in the immediate vicinity of the hotel form an area which has everything for the perfect tourist trail. The necropolis of Cerveteri, declared a Unesco World Heritage Site in 2004, and Tarquinia are examples of Etruscan civilisation a few kilometres from the hotel. The Castle of Bracciano which can be visited with multilingual guides and the villages of Trevignano and Anguillara Sabazia complete a day on the banks of the lake which formed after the volcano became dormant. Ostia Antica, approximately 30 minutes away, provides an opportunity to broaden one's knowledge of Roman civilisation. Villa Adriana and Villa d'Este complete a picture of Imperial Roman history that is enclosed within a range of just a few kilometres.
THE CESAR RESTAURANT Michele Gioia, the young Chef, provides dishes from Italian and local tradition with the addition of the expertise and experience that he has gained over the course of his career. The vegetables used as ingredients in all dishes are grown in the kitchen garden – renovated by the famous landscape Architect Paolo Pejrone - thus preserving the classic perfumes and flavours of organic cultivation. Particular attention is paid to vegetarians, as well as those with celiac disease, with specially dedicated menus. The elegantly furnished restaurant has a spectacular sea-facing patio on which the fresh sea breezes may be enjoyed. Dinners for just two people can be organised in "reserved, exclusive" places with a menu carefully selected by the Chef."The Cesar Restaurant has 2 Forchette" Gambero Rosso Guide 2010; "The Cesar Restaurant has 1 Michelin star" Michelin Guide 2008.
RELAXATION & ACTIVITIES. The Beauty Centre, located by the indoor swimming pool, newly refurbished and enlarged for the season 2010, will have two treatment rooms, a relaxation bathtub and a Hammam. It offers a wide range of massages and aesthetic treatments using natural products from the Lakshmi and Dermo 28 lines. All treatments will also be available in the intimacy of some rooms. It is possible to play tennis in our new tennis court, jog in the park and use our canoe. We would be pleased to arrange for you any other sporting activity in the area such as golf and horse riding. Bicycles and a club car are made available to guests for visits to our kitchen garden and park.
BEACH & POOL CLUB Services reserved for non-resident guests, according to availability, for which a kit with beach towel and slippers is provided, along with reserved sun loungers with towels. The life guard service is guaranteed from 10.00 a.m. to 7.00 p.m. every day including Sundays.
EXCLUSIVE USE OF THE HOUSE The entire hotel may be reserved for exclusive use. The hotel's distinguishing features make it an ideal location for first class meetings where the absolute peace and privacy are conducive to excellent brain storming sessions. The Mansion, with its 19 rooms, is also perfect for exclusive occasions such as birthdays, weddings and family get-togethers.
OUR MUSEUM La Posta Vecchia was built on the ruins of an ancient Roman Villa dating from the second century B.C. which formed part of the historic settlement of the Roman port of Alsium. The multitude of remains that have been discovered form part of the private collection on display for hotel guests.
DISTANCES Just 25 minutes from Fiumicino Leonardo da Vinci international airport and 60 km from Ciampino. 30 minutes from the port of Civitavecchia (35 km.), the naval pole of the Mediterranean basin, and 25 minutes from the touristic port of Riva di Traiano.
Features *
11 Double bedrooms, 5 junior suites & 3 master suites
Plasma TV, DVD and SKY (satellite TV), wi-fi internet, air conditioning, safe in each room
Wide range of DVD selection available
Internet access in room and desktop computer in main hall
Room service
Laundry and dry cleaning
Shoe cleaning service
Private parking
Heliport - coordinates GPS N 41° 56' 006''- E 12° 06'351''
Indoor pool with heated water
Patio equipped with parasols and sun loungers with bar and snack service
Private beach equipped with parasols and sun loungers, bar service, canoes available
Massage and Ayurvedic treatments en suite and outdoors
Tennis court fitness center on-site, golf and horse riding in the vicinity
Personal Trainer on request
Panoramic helicopter trips on request
Private tours on request
Personal shopper on request
Bicycles available
Baby-sitting service
Beauty center - Hairdresser
Private museum
Wine tasting
Cooking courses
Food & beverage service and Spa treatments are not included
"The Cesar" RESTAURANT: indoor and outdoor dining overlooking the Tyrrhenian sea, Mediterranean cuisine using organic produce, home-grown and locally sourced, special vegetarian and gluten-free menus, private dining in the museum or garden gazebo, live music every night, small banquets, lunch and dinner (maximum 80 guests)
MEETINGS: conference room with natural light and seaside view (maximum 60 seats Theatre style); video projector, monitor and 2 flipcharts provided; free Wi-Fi connection; additional equipment available upon request
* Please note:
the included amenities may vary according to final agreement, make sure to check your contract for complete list.
This is the area where your selected property is located - the pin is indicative and not an exact address.