Villa Camilla
Rome and Latium - Sabaudia
A mosaic of various terrains immersed in marina life rolling along the coast from the Gulf of Gaeta up to the Tuscan border. The geological terroir is extremely varied and interesting with tamed trails offering opportunities to observe bays, beaches, coves, caves, natural parks and tiny fishing villages that have become picturesque towns for relaxing vacations.
Number of beds: 10
Bedrooms: 5

Amenities *
:
ADSL Wi-Fi Internet
Air Conditioning
Barbecue
Cooking Service
Daily cleaning
Dishwasher
DVD Player
Hi-FI System
Ocean Views
Parking
Satellite TV
Washing machine
* Please note:
the included amenities may vary according to final agreement, make sure to check your contract for complete list.
Nearbies:
Latina 27,8 km Roma 94,4 km Roma Ciampino Airport 99,6 km Roma Fiumicino Airport 107 km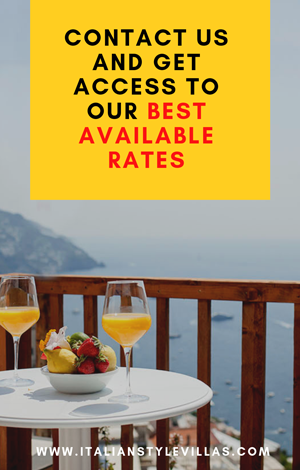 Search for your villa in Italy
Villa Camilla – Sabaudia – Latium
5 Bedrooms
The property is situated in a residential area and located with only a few minutes walk away from a 20 Km of white sandy beach (about 2,5 km), in the middle of the Circeo National Park. The Park is situated along the Tyrrhenian coast in the South of Rome, between Anzio and Terracina, and it extends itself for about 8.500 hectares in the province of Latina. Established in 1934, the Parco del Circeo was born in order to protect not only a single species but also a rich group of typical biomes with a consequent abundance of species. the different environments of the Park can be easily reached by several roads, and visited through by public roads and by roads linking one estate to the other, pedestrian paths, cycling and pedestrian tracks with path signs (in the forest), and some equipped paths.
New and fascinating town, Sabaudia is encircled by unaffected natural attractions, breathtaking views and numerous green areas, from which the term "garden town" derives. Being situated in the heart of the Circeo National Park, Sabaudia is a peculiar and singular example of a successful cohabitation of nature and built landscape. The coastal dunes, 23 km in length and exceptionally rich in vegetation. Along the dunes, there are four lakes. Sabaudia has become an important tourist centre, thanks to its splendid architecture and breathtaking landscapes, and a renowned seaside resort. Though a young town, Sabaudia offers the possibility of visiting historical sites and in particular prehistoric and Roman remains.
Main locations surroundings: Priverno Fossanova's Abbey, Ninfa's Gardens, Pontine's Island, Terracina, Gaeta, Sperlonga, Mount Cassino Abbey, Sermoneta, Rome, Naples.
Accommodation
Villa Camilla is located in the "Circeo" national park area, within the famous and prestigious compound named "Baia D'Argento", that means silver bay. Just like "Lago di Paola" looks like when the secular oak tree forest that surrounds that area reflects on the lake.
The "Lago di Paola" has a villas area on one side and Sabaudia beach and Torre Paola sea cliff on the opposite.
Supermarkets and all the main shops are five minute drive from Sabaudia or San Felice Circeo. Restaurants are walking distance from the property. However, the area is very quiet and peaceful ideal for a relax family summer holiday.
Villa Camilla can accommodate up to 10 guests in 5 bedrooms, each one with fan and/or air conditioning. It has 5 bathrooms, a large living room, a dining room, a porch, a kitchen and a big terrace.
The villa's garden is furnished with comfortable sofas and a barbecue area overlooking the pine forest. Bicycles are available for guests in the Villa. Within Baia D'Argento's compound it is also possible for guests to use tennis club facilities as well as arrange horse riding along Sabaudia beachfront.
Villa Camilla provides a concierge service for any information about excursions in the close Isole Pontine (Ponza, Palmarola, Ventotene, ecc), yacht charters and anything else the guests may require during their stay. Daily cleaning and change of linen twice a week are included.
Villa Camilla is the right place for those who want to spend a vacation close to the sea, ideal also for long stays.
Features *
Air conditioning in all the bedrooms

A daily maid service included

Washing Machine and dishwasher

Coking service on request
* Please note:
the included amenities may vary according to final agreement, make sure to check your contract for complete list.
This is the area where your selected property is located - the pin is indicative and not an exact address.