Villa Careggi
Tuscany - Florence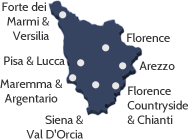 Florence never ceases to amaze. As Stendhal once said, it is the town of subtle allure, where the importance of its most famous masterpieces never decreases. It has provided inspiration for poets and artists and continues to amaze for the gentle beauty of its views.
Number of beds: 12
Bedrooms: 7

Amenities *
:
ADSL Wi-Fi Internet
Air Conditioning
Barbecue
Breakfast Service
Caretaker in the grounds
City Views
Country Views
Daily cleaning
Dishwasher
DVD Player
Hairdryer
Heating
Hot-tub
iPod docking station
Open fireplace
Parking
Satellite TV
Swimming Pool
Washing machine
* Please note:
the included amenities may vary according to final agreement, make sure to check your contract for complete list.
Nearbies:
Florence city center 15 minutes by car Florence airport (FLR) 07 km - 18 minutes Florence SMN train station 06 km - 20 minutes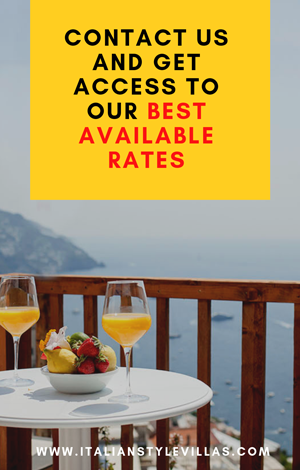 Search for your villa in Italy
Villa Careggi – Florence
7 Bedrooms – Pool – Large Indoor Whirlpool
Superb 15th century, hilltop estate with glorious views across Florence and yet only ten minutes from the city centre.
Location and Surrounding Area. Villa Careggi enjoys a magnificent location on a hilltop just outside Florence. You can spend hours gazing at the twinkling lights of the city from the peace and quiet of the immaculate terraced gardens, which cover an area of two hectares.
Florence is an art-lovers paradise; it was the centre of the Italian Renaissance movement and the museums, galleries, palaces and churches hold some of the world's greatest artistic treasures. The Cathedral of Santa Maria del Fiore in Piazza del Duomo is the largest building in Medieval Europe and Brunelleschi's Dome is not only a masterpiece of engineering but also the largest brick dome in the world. The octagonal St. John's Baptistery is one of the oldest buildings in Florence and is a marvellous example of the rich Florentine Romanesque style. The Bell Tower next to the cathedral was designed by Giotto and the climb up its 414 steps is well worth the effort for the astounding view from the top over Florence and the surrounding hills. The Uffizi, Bargello, Pitti Palace, Boboli Gardens and the Accademia have to been seen and once you tire of art and history, take a wander through the unforgettable streets and across the Ponte Vecchio bridge which spans the River Arno. Florence is also home to designer shopping and fine wine and dining experiences. Thick, juicy Florentine steaks are a local speciality and best accompanied by a delicious, local Chianti wine.
Any visit to Tuscany should include Pisa, Lucca, San Gimignano and Siena, which are all an easy drive away.
For golf aficionados, the prestigious 18-hole Golf dell'Ugolino is the oldest Golf club in Italy. It even features in Chris Santella's best-selling book, "Fifty places to play golf before you die". There is also a riding centre nearby for spectacular horse-riding treks in the Chianti hills and a nearby tennis court.
Villa Careggi is about an hour's drive from Siena, Lucca, San Gimignano and Arezzo and less than half an hour from Florence international airport. Pisa and Bologna international airports are about an hour's drive from the villa.
The Property. Villa Careggi sleeps up to 12 guests in seven magnificent bedrooms, five of which have a private bathroom. There are three doubles and a single bedroom on the first floor of the main house and a spacious suite with kitchenette and living room plus two double bedrooms in the Tower annexe. Each of the bedrooms has been lovingly decorated to create an individual, cozy environment.
The ground floor of the main house has two gorgeous living rooms, both with an open fireplace and one with frescoes. The dining room seats up to 12 guests and the kitchen is a chef's dream with sleek work surfaces and all of the gadgets necessary for rustling up delicious meals. There is also an extra bathroom on the ground floor and a useful laundry room with washing machine, tumble dryer, iron and ironing board in the Tower. If you fancy getting away from it all for a couple of hours, you'll find a delightful TV room at the top of the Tower annexe. The wine cellars have been converted into a lovely spa area with a stylish whirlpool bath. The whirlpool has a salt filter rather than a chlorine filter so you can stay in the water for as long as you like.
The gardens are terraced and are full of beautiful olive trees and a selection of fine fruit trees. There is even a panoramic "dipping" pool on one of the terrace where a refreshing dip on a hot summer afternoon equates to luxurious living as you revel in the water and the views over Florence.
Features *
1 Double suite with bedroom, bathroom, corner kitchen and bathroom
4 Double bedrooms with en suite or private bathrooms
1 Double bedroom, which shares a bathroom with the single room
1 Single room
2 Additional bathrooms, one downstairs and one in the spa
2 Sitting rooms with open fireplaces, one with frescoes
Dining room
Modern, fully-fitted kitchen
TV room
Laundry room

with washer and dryer, iron and ironing board

Fireplaces
Spa with whirlpool bath (3m x 2m)
Terraced garden with ponds and fountains, lemon plants and persimmon trees
Outdoor pool (160 x 150 inches) with a great view of Florence
Air-conditioning in 5 of the bedrooms
Wi-Fi
Cable TV
Heating
3-hour daily maid service
Services on request: chef, guided tours, personal shopper, wine-tasting tours, personal trainer (yoga, pilates, fitness), massage
* Please note:
the included amenities may vary according to final agreement, make sure to check your contract for complete list.
All the availabilities below are indicative. Please
Contact us
to verify your dates.
Sep 2019
Oct 2019
Nov 2019

| | | | | | | |
| --- | --- | --- | --- | --- | --- | --- |
| Su | Mon | Tu | We | Th | Fr | Sa |
| | | | | | | |
| | | | | | | |
| | | | | | | |
| | | | | | | |
| | | | | | | |

| | | | | | | |
| --- | --- | --- | --- | --- | --- | --- |
| Su | Mon | Tu | We | Th | Fr | Sa |
| | | | | | | |
| | | | | | | |
| | | | | | | |
| | | | | | | |
| | | | | | | |

| | | | | | | |
| --- | --- | --- | --- | --- | --- | --- |
| Su | Mon | Tu | We | Th | Fr | Sa |
| | | | | | | |
| | | | | | | |
| | | | | | | |
| | | | | | | |
| | | | | | | |

Dec 2019
Jan 2020
Feb 2020

| | | | | | | |
| --- | --- | --- | --- | --- | --- | --- |
| Su | Mon | Tu | We | Th | Fr | Sa |
| | | | | | | |
| | | | | | | |
| | | | | | | |
| | | | | | | |
| | | | | | | |

| | | | | | | |
| --- | --- | --- | --- | --- | --- | --- |
| Su | Mon | Tu | We | Th | Fr | Sa |
| | | | | | | |
| | | | | | | |
| | | | | | | |
| | | | | | | |
| | | | | | | |

| | | | | | | |
| --- | --- | --- | --- | --- | --- | --- |
| Su | Mon | Tu | We | Th | Fr | Sa |
| | | | | | | |
| | | | | | | |
| | | | | | | |
| | | | | | | |
| | | | | | | |

Mar 2020
Apr 2020
May 2020

| | | | | | | |
| --- | --- | --- | --- | --- | --- | --- |
| Su | Mon | Tu | We | Th | Fr | Sa |
| | | | | | | |
| | | | | | | |
| | | | | | | |
| | | | | | | |
| | | | | | | |

| | | | | | | |
| --- | --- | --- | --- | --- | --- | --- |
| Su | Mon | Tu | We | Th | Fr | Sa |
| | | | | | | |
| | | | | | | |
| | | | | | | |
| | | | | | | |
| | | | | | | |

| | | | | | | |
| --- | --- | --- | --- | --- | --- | --- |
| Su | Mon | Tu | We | Th | Fr | Sa |
| | | | | | | |
| | | | | | | |
| | | | | | | |
| | | | | | | |
| | | | | | | |
| | | | | | | |