The Hamlet
Tuscany - Grassina
Florence never ceases to amaze. As Stendhal once said, it is the town of subtle allure, where the importance of its most famous masterpieces never decreases. It has provided inspiration for poets and artists and continues to amaze for the gentle beauty of its views.
Number of beds: 22
Bedrooms: 11

Amenities *
:
ADSL Wi-Fi Internet
Air Conditioning
Breakfast Service
Country Views
Dishwasher
Hairdryer
Heating
Open fireplace
Parking
Satellite TV
SPA
Swimming Pool
Washing machine
WIne Tasting
* Please note:
the included amenities may vary according to final agreement, make sure to check your contract for complete list.
Nearbies:
Florence town and Train Station 9 km, Grassina closest town 800 meters, FIorence Peretola Airport 25 km, Siena 73 km, Golf club Ugolino 4 km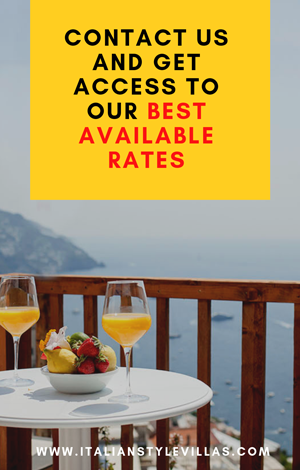 Search for your villa in Italy
The Hamlet – Grassina – Florence Countryside
11 Bedrooms in five units – Pool
The Hamlet is a historic building, that was first a lookout tower and then a convent. The property is really close to Florence, that is at 15 minutes driving away, and really closer to Antella and Grassina with shops and restaurants. The villa, the large garden and the swimming pool all have a terrific view of Chianti Countryside, Florence and its Duomo.
The Hamlet is a part of a larger Estate once owned by the Medici's. The former Medici Villa is a reimagined Estate that welcomes guests year-round to enjoy the delights of Tuscany and offers the chance to arrange a visit to the vineyards and to the olive groves.
Nestled into the Chianti Colli Fiorentini hills circling Florence where wine has been produced for centuries, this vineyard has a proud history of more than a century of wine production. Our labels has earned the reputation for the production of Chianti DOCG, Chianti Colli Fiorentini DOCG, Vin Santo, and a Super Tuscan IGT.
More than 12,000 olive trees of four different varieties combine to create our multi award-winning Extra Virgin Olive Oil. During the harvest, you can watch or join us in picking grapes and olives.
In the villa or at the Villa Medicea is also possible to have wine or olive oil tastings, cooking classes or to plan an event in one of the exclusive and suggestive spaces dedicated to it.
The Hamlet has been recently renovated with great care. The latest technologies has been used to respect the Estate's ancient history. The furnishings and temperature control systems wrap each villa in modern Tuscan comfort. the Hamlet offers 5 independent units around a shared courtyard with views towards Florence and Chianti region. the apartments share a private pool with a solarium, a courtyard with a view towards Florence. The Hamlet can accommodate up to 22 people, and the Villa can be booked singly or in different combinations. Once rented in exclusivity a dining area to eat altogether will be set up.
The Hamlet offers comfortable beds, premium linens, full screen TVs and laptop-size safes. With Wi-Fi Internet access, satellite TV, a fully equipped laundry and housekeeping once a week, your Tuscan adventure will be realized in style.
As well as wine and olive oil production, the Estate offers zero kilometre fresh produce for sale. A box can be delivered to your Villa before you arrive, to help you savour the fresh flavours of Tuscany.
Casa F
2 bedrooms - 4 people
Villa F provides charming accommodation for four people in two bedrooms, with an additional double sofa bed in the living room. Both bedrooms are en-suite (one with a walk-in shower, the other with a full-size bath, and both with 'his and hers' basins) and have windows on two sides for magnificent views.
On the ground floor a comfortable living room leads to the kitchen, with a dining table that seats six, and a practical island unit. There is a connecting door from the living room to Casa V next door, so if you and your friends book both villas, it's easy to socialize.
This beautifully refurbished villa is close to a cycle track, which can take you on a tour of the local vineyards. It's an ideal base for healthy exercise and perhaps a little wine-tasting too!
Casa V
3 bedrooms - 6 people
Casa V sleeps six people in three double bedrooms. The main bedroom is en-suite, with a double walk-in shower and 'his and hers' basins, while the other two bedrooms (which look out on your terrace) share a bathroom, also with walk-in shower.
Downstairs the large living room has a double sofa bed, and leads to the dining room with a grand table that seats eight. There's a cloakroom conveniently tucked away, and a large well-equipped kitchen. Doors open from the dining room onto the shared terrace, with fabulous views of Florence and the countryside.
A door in the entrance hallway connects with Casa F next door, so if you have a larger group on holiday, attending a social event or staying on business.
Casa C
3 bedrooms - 6 people
Casa C is the largest unit at the Hamlet, with two exciting extras: a bedroom in a tower with 360 degrees views! All Hamlet apartments offer uplifting vistas, but the view from Casa C's old lookout tower is finest of all. And, a private ancient wine cellar.
Casa C sleeps six people in three spacious double bedrooms. The largest bedroom has a magnificent en-suite spa bathroom with double walk-in showers and a full-size bath. The second bedroom (on the same level) and the third bathroom, upstairs in the tower, both have en-suites with double walk-in showers. All have 'his and hers' basins.
Downstairs there's an inviting living room with double sofa bed, and a separate studio / T.V. lounge with adjacent cloakroom. The dining room with eight seat table opens onto the terrace and includes a kitchen and separate laundry room. Lavishly restored, staying in Casa C will make you feel like a Medici aristocrat.
Casa A
2 bedrooms - 4 people
Casa A features a large open plan room with a view, and what a spectacular view it is, looking out onto a secluded terrace, shared swimming pool and beyond to the glories of the Tuscan countryside.
Sleeping four people in two double bedrooms, both with baths en-suite and 'his and hers' basins, Casa A conveniently combines living room (with double sofa bed), eight seat dining table and a kitchen, with a cloakroom tucked away.
Both the ground and first floor have connecting doors to Casa D next door, so if you book both villas together, it's easy for you and your friends to get together for drinks, dinner (indoors or al fresco on the terrace) or simply enjoying the beautiful scenery.
Casa D
1 bedroom - 2 people
Casa D is the perfect size for a couple or perhaps an executive enjoying an extended stay. We welcome guests all year round.
With one double en-suite bedroom, it's intimate yet comfortable. Downstairs the open plan living room, with double sofa bed, dining table and kitchen, opens out onto a private terrace. Beyond that is the large swimming pool, and stretching into the far distance, the captivating Tuscan countryside.
Upstairs, light floods into the double bedroom from a large window with spectacular views of Florence, and the en-suite bathroom includes a double walk-in shower and 'his and hers' basins. On this level and the ground floor, there are connecting doors to Casa A.
Main Distances: Florence town and Train Station 9 km, Grassina closest town 800 meters, FIorence Peretola Airport 25 km, Siena 73 km, Golf club Ugolino 4 km.
Features *
Five individual apartments (Casa F and V, and Casa A and D can also be joined together)

Communal terrace and swimming pool, with wonderful views

Private gardens and terraces overlooking the swimming pool or the communal terrace and Florence

Each villa has bedrooms for single or double occupancy, with two twin beds, a queen or king size bed

Flat screen TV

A double sofa bed (on request)

Contemporary fully equipped kitchens

Luxurious spa bathrooms

Modern Tuscan interior design

Air-conditioning, heating and ceiling fans individually adjustable in each villa

Unlimited electricity, gas, water and Wi-Fi internet access

Ample power outlets in every room

Telephone

Self-catering, with fresh locally produced food (including organic) available on the estate

Washing machine and dryer, iron and ironing board

Housekeeping once a week, including linen changes

Ample parking space for cars and bicycles

Extra Maid service available on request

Cooking service available on request
* Please note:
the included amenities may vary according to final agreement, make sure to check your contract for complete list.
This is the area where your selected property is located - the pin is indicative and not an exact address.