Orazio Apartment
Tuscany - Florence
Florence never ceases to amaze. As Stendhal once said, it is the town of subtle allure, where the importance of its most famous masterpieces never decreases. It has provided inspiration for poets and artists and continues to amaze for the gentle beauty of its views.
Number of beds: 4
Bedrooms: 2

Amenities *
:
ADSL Wi-Fi Internet
Air Conditioning
City Views
Daily cleaning
Dishwasher
DVD Player
Hairdryer
Heating
Hi-FI System
Satellite TV
Washing machine
* Please note:
the included amenities may vary according to final agreement, make sure to check your contract for complete list.
Nearbies:
Florence Airport 6,7 km San Gimignano 52,7 km Lucca 74,0 km Siena 75,6 km Arezzo 78,2 km Pisa 85,7 km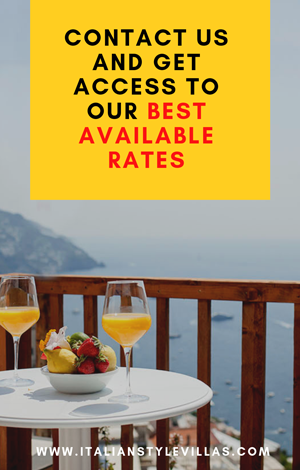 Search for your villa in Italy
Orazio Apartment - Florence
2 Double bedrooms
Palazzo Tornabuoni dates back to the 14th century, at a time when Florence was beginning to expand beyond its original Roman centre. Compared to the Via delle Belle Donne, Via Tornabuoni and Piazza Antinori were then parallel side streets leading out towards the city's exits. It was only later, towards the mid 15th century, that Via Tornabuoni and Piazza Antinori were expanded and became the place where rich Florentines bought and refurbished large buildings to turn them into stately homes. Throughout the centuries, Palazzo Tornabuoni was extensively remodelled, acquiring its present day aspect around the mid 18th century.

The apartment has an enormous sitting room overlooking the façade of the church of San Gaetano. At night the church is beautifully floodlit, and the white marble Medici crest, visible directly opposite the sitting room, stands out creating a very dramatic effect.
Orazio Apartment Description (130 sq. m. - sleeps 4)
Located on the elegant Piazza Antinori facing the church of San Gaetano, this sumptuous newly re-decorated apartment takes its name from the large Medici coat of arms which rests on the façade of the Church.
One steps from the landing into a large rectangular hall, painted in a soft tone of peach. The antique furniture and carpets and the ornamental brass wall-lamps all contribute to give and air of quiet elegance and luxury. To the right of the entrance, the first bedroom, with twin beds. The room is decorated in soft ochre and terracotta, with delightful prints on the walls and a pretty and spacious painted wardrobe in one corner. Opposite the entrance, a vestibule annexed to the large blue tiled bathroom with tub and hand shower. The vestibule, with wash-basin, is stunningly decorated in neo-classical style with trompe l'oeil marbleising in tones of green and ochre yellow and grey. To the left of the entrance, across the hall-way, the very large sitting room, with its impressive view over San Gaetano.

The colour palette is a mixture of soft greens, spicy reds and rusts. A three-seater and a two-seater sofa and two large arm-chairs create a cosy corner, with side tables and beautifully painted chinoiserie panels. The rest of the room is left empty to give space, with a few chairs and small side-tables along the walls. Beautiful period prints of Medici Villas adorn the walls. Through a door, the small but fully equipped kitchen in tones of light blue and white. Leading into the kitchen, a small antechamber with a balcony window looking out onto the church. A bar-ledge runs along the wall, providing an ideal place for a "snack with a view". Behind the sitting room is the double bedroom, in a stunning mint-green. The choice of fabrics ranges from rust coloured, to green moiré and wonderful spice-coloured printed patterns. The room has an elegant en-suite bathroom in cream tiles and a tub and hand-shower. The apartment has an armoured door, independent heating, air-conditioning, bell and buzzer, telephone (hi speed Internet), satellite TV (LCD), 4-burner gas stove, oven, fridge/freezer, crockery, hair dryer, two sets of linen and towels. There is a heating contribution during the winter season (November 1 - April 30). The apartment is served by a lift and has a day-time porter service.
Features
2 Double bedrooms (1 with bathroom en-suite)

Fully equipped kitchen with 4 ring cooker and oven (electric), fridge and refrigerator, American coffee maker, toaster, dishwasher

Telephone and hi speed Internet connection

Air conditioning and heating

On request: DVD player, CD player, microwave, answering machine, baby crib, high chair, weekly / daily cleaning
Amenities *
ADSL Wi-Fi Internet
Air Conditioning
City Views
Daily cleaning
Dishwasher
DVD Player
Hairdryer
Heating
Hi-FI System
Satellite TV
Washing machine
* Please note:
the included amenities may vary according to final agreement, make sure to check your contract for complete list.
This is the area where your selected property is located - the pin is indicative and not an exact address.