Villa Costa Amalfi
Amalfi, Sorrento and Islands - Furore
A sheer drop to the crystal sea, elegant villas set in greenery, abundant terraces of lemon trees. This is Amalfi Coast! The origins of its name go back to Hercules who found the most seductive place on earth in which to bury the nymph Amalfi with whom he had fallen in love.
Number of beds: 10
Bedrooms: 4

Amenities *
:
ADSL Wi-Fi Internet
Air Conditioning
Barbecue
Breakfast Service
Concierge service
Cooking Service
Daily cleaning
Dishwasher
DVD Player
Hairdryer
Heating
Hi-FI System
iPod docking station
Ocean Views
Open fireplace
Satellite TV
Swimming Pool
Washing machine
* Please note:
the included amenities may vary according to final agreement, make sure to check your contract for complete list.
Nearbies:
Naples international airport 60 km, the world famous archaeological site of Pompei 30 km, Sorrento 30 km, Amalfi 10 km, Positano20, Ravello 15 km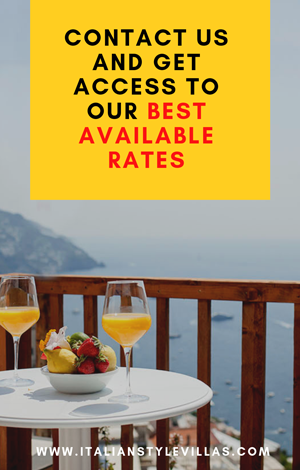 Search for your villa in Italy
Villa Costa Amalfi – Furore – Amalfi Coast
4 Bedrooms – Pool
This spectacular 16th century fortress has been recently renovated to create an elegant residence with a terrace, infinity pool, garden and lemon grove overlooking the Amalfi Coastline.
It is located just minutes away from the centre of the picturesque village of Furore, with its pretty houses, shops, restaurants and bars all scattered along the hillside.
The Amalfi Coastline has always been a desirable destination of the elite; from the artistic days of the Grand Tour to illustrious visitors such as Escher, Jackie Kennedy and Pablo Neruda. The deep Furore fjord, with its network of steps and hidden beach, is a poignant reminder of the days when fishermen would haul up their catch for the villagers.
Among the countless enchanting places to visit in the area, perhaps Ravello, Positano and Amalfi stand out for the first time visitor. Ravello, at 350 metres above sea level, is a UNESCO World Heritage Site and offers both unforgettable architecture and scenic beauty. The 11th century Cathedral and Villa Cimbrone are magnificent and a summer music festival is held each in the year in the gardens of the 13th century Villa Rufolo. D.H. Lawrence wrote Lady Chatterley's Lover here and the town has been frequented over the years by the likes of Greta Garbo and Winston Churchill.
The delights of Positano and Amalfi have inspired artists, writers and lovers for centuries. The higgledy-piggledy, white-washed houses clustered up and down the winding steps and sophisticated shops and restaurants all combine to create an exceptionally chic atmosphere.
Naples international airport is only 60 km away, the world famous archaeological site of Pompeii and the timeless resort of Sorrento are 30 km away, Amalfi and Positano are a mere 10 km and 20 km breathtaking drive along the celebrated Amalfi Coast road and Ravello is just 15 km up the hill.
Villa Costa Amalfi is a dreamy location for romantic adventures exploring the whole of the glorious Amalfi Coastline.
The Property
Villa Costa Amalfi offers the facilities of a 5 star hotel whilst retaining the privacy of an exclusive villa: 24/7 concierge service, butler, experienced and discreet staff, top class chef, porter, daily change of bed linen, courtesy kit including slippers and minibar in the rooms.
The visitor is welcomed into an large, fragrant courtyard with lemon trees and shady terraced gardens overlooking the sea. The kitchen, sitting room and dining room are all situated on the ground floor. The kitchen is decorated with Neapolitan majolica tiles, locally known as "riggiole" and has a unique wooden table in the centre, which has been lovingly crafted from original wooden fixtures found in the house before the restorations began. The kitchen opens out into the elegant dining room containing a beautiful wooden table and 19th century Neapolitan dresser and the sitting room has an open fireplace and comfortable armchairs for settling down to lengthy after-dinner conversations. The whole of the ground floor is tiled with traditional terracotta.
An unusual, vaulted staircase leads up to the three bedrooms, each with private bathroom, on the first floor. All of the bedrooms are exquisitely furnished in baroque style, have vaulted ceilings and all of the bed linen is of exceptional quality; woven on a 19th century loom in the ancient Sarno style.
The Santa Rosa bedroom is designed with an elegant lower floor sitting area and bathroom while the bedroom itself is on a mezzanine level above. The Sant'Alfonso room contains 18th century furniture and an antique wrought-iron chandelier covered in gold leaf. The San'Andrea room has a large upholstered bed, antique furniture and a crystal chandelier. This bedroom also has its own private terrace with sunbathing area.
The terraced gardens all face the sea and are perfect for al fresco dining with the stunning backdrop of the Mediterranean Sea and Amalfi Coastline. There is an infinity swimming pool, an organic vegetable garden, a herb garden and a lemon grove.
The annex accommodates up four people and its design is inspired by the winter gardens of 18th century castles. The rooms have the same stunning panorama and contain four single beds and a private bathroom. Villa Hotel Costa Amalfi can also be rented without the annex.
PLEASE NOTE: the villa is on a pedestrian, a staircase of about 70 steps will lead you from the main road to the villa.
Features *
3 double bedrooms, each with private bathroom

1 very large room with 2 queen size beds plus bathroom in the second residence (in alternative, this room could comfortably contain 4 twin beds)

Each room equipped with mini fridge, I-pod docking station, air-conditioning, TV flat screen

Infinity swimming pool (heated on request)

Large, sunny courtyard overlooking the sea

Barbecue

Fully-equipped kitchen with oven, microwave, refrigerator and freezer, toaster, dishwasher, kettle, espresso coffee machine

Heating and air-conditioning

Fireplace

Wi-Fi throughout

Satellite TV, DVD player, HI-FI system

Surround sound audio system

Safe box

Butler

Luggage porter service

Chef service (from 1 pm – 3 pm and from 6 pm -

8:30 pm. A charge will applied for extra hours)

Continental breakfast from 8 - 11am

Daily cleaning (5 hours/day including laundry service, turnaround of the rooms every evening. Any extra cleaning at a charge of €25/hour)

Daily pool cleaning

Gardener

Daily transfer to and from Amalfi harbour

Welcome dinner

Daily change of bath and pool towels

Bed linen changed twice a week

Final cleaning service
* Please note:
the included amenities may vary according to final agreement, make sure to check your contract for complete list.
Reviewed by:
How did you enjoy your ISV experience; actual accommodations, amenities and services

We had the most amazing week at the villa!!! The hosts were incredibly nice and welcoming. Caterina worked very hard to make sure our stay was perfect(and was a baker!) the girls were the suretest, as well as the gardener, and what can we say about chef Vito's food!!! World class! Michelin star worthly! We went to highly recommended restaurants in the area and none come even close to the quality of Vito's food! The villa is breathtaking, every last detail is carefully taken care of with a lot of love, the accommodations were great for young children and the view was like heaven! The villa had nothing to envy a five star hotel (except maybe Canadian). Strong air conditioning but it is the people working here that really bring it to a whole new level of exellence! Thank you for our week in paradise. We will never forget everyone's incredible kindness. We hope to see everyone again when we come back and to see Vito's cookbook in every bookstore around the world!!!
Grazie, with love.
Reviewed by:
How did you enjoy your ISV experience; actual accommodations, amenities and services

Wow! What an experience. We had an incredible stay here. The girls were amazing... The chef first class.... The house super cozy.... The view we wake up to every morning was unreal! The location of the house was great because it was in the middle where we can drive to the other beautiful cities in the Amalfi Coast... Our whole experience was so relaxing and the staff accomodated to all our wants and needs and above and beyond! Staying at this house gave my first experience to Italy one of the best ever, there's no other feeling in the world to be able to be away from home but feel like you've at home away from home.
This is the area where your selected property is located - the pin is indicative and not an exact address.