Villa Amalfi View
Amalfi, Sorrento and Islands - Amalfi
A sheer drop to the crystal sea, elegant villas set in greenery, abundant terraces of lemon trees. This is Amalfi Coast! The origins of its name go back to Hercules who found the most seductive place on earth in which to bury the nymph Amalfi with whom he had fallen in love.
Number of beds: 16
Bedrooms: 8

Amenities *
:
ADSL Wi-Fi Internet
Air Conditioning
Barbecue
Dishwasher
Gym
Hairdryer
Heating
Ocean Views
Open fireplace
Parking
Satellite TV
SPA
Swimming Pool
Washing machine
* Please note:
the included amenities may vary according to final agreement, make sure to check your contract for complete list.
Nearbies:
Amalfi 2,7 km, Ravello 9,4 km, Positano 13,5 km, the Path of the Gods 17,6 km, the Valle delle Ferriere 18,7 km, Vietri sul Mare 24,5 km, Napoli 60 km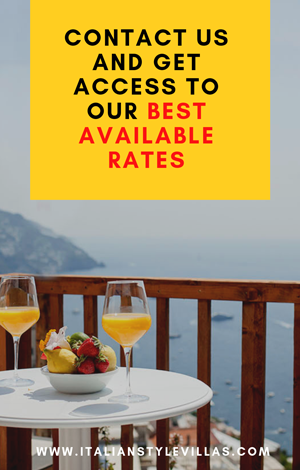 Search for your villa in Italy
Via Amalfi View - Amalfi – Amalfi Coast
8 Bedrooms – Pool – Gym – Sauna
Location and Surrounding Area. Located in one of Italy's most memorable destinations, this magnificent eight-bedroom property is ideally situated to offer complete privacy and tranquility to its guests, providing a perfect seaside retreat for the sweet idleness the Italians refer to as "dolce far niente". The allure of the Amalfi coast's natural beauty has been drawing people to the region long before it had a name: its dramatic charm and idyllic weather enticed ancient Roman nobles to build their villas there, a real estate trend that, over time never faded. Today, the mountains and sea cliffs are dotted with pastel confections of holiday homes and sumptuous villas, which have elevated the coastline to one of the most fabulous and unique destinations in the world.
The town of Amalfi is the most heavily frequented by travelers, and part of that has to do with the fact that it is a major intersection for nearly all the buses, boats and ferries shuttling tourists between islands and towns. The crowds can be overwhelming, but try to visit the town's major attraction, the Duomo di Amalfi, whose façade is covered in an opulent striped stonework pattern. Speaking of beauty, one of Italy's most stunning hiking trails is hemmed into the hills above the Amalfi coast. The Path of the Gods, as it is called, is a gentle five-hour hike that snakes high above the coast through small villages. You will encounter valleys with farmers and sheepherders selling their products, and beautiful sea views.
Dramatic, deluxe and more than a little dashing, Positano is the Amalfi coast's front-cover splash, with vertiginous houses tumbling down to the sea in a cascade of sun-bleached peach, pink and terracotta. No less photo-worthy are its steep streets and steps, flanked by wisteria-draped hotels, smart restaurants and fashionable retailers. Founded in the 5th century as a sanctuary from barbarian invaders fresh from sacking Rome, Ravello was built, in contrast to other Amalfi settlements, up on a hill rather than down on the coast. Ravello's refinement is exemplified in the town's polished main piazza, where debonair diners relax under the canopies of al fresco cafes, and also reflected in its lush villas, manicured gardens and one of Italy's finest musical festivals.
Marking the end of Amalfi's coastal road, Vietri sul Mare is the ceramics capital of the region. Production dates back to Roman times, but it took off an industrial scale in the 16th and 17th centuries with the development of high, three-level furnaces. The unmistakable local style found favor in the royal court of Naples, which became one of Vietri's major clients. Later, in the 1920s and 30s, the arrival of international artists led to a shake-up of traditional designs. These days, the historic center is packed with decorative tiled-front shops selling ceramic wares of every description. The Valle delle Ferriere is a protected area and a wonderful region to explore for those who enjoy hiking. Throughout this region, you will find some absolutely stunning natural scenery and a myriad of hiking and cycling trails winding through the luscious forests.
Villa Amalfi View is 59 km from Napoli Centrale Railway Station, 60 km from Napoli, and 63 km from Napoli International Airport. Amalfi is 2,7 km from the villa, Ravello is 9,4 km, Positano is 13,5 km, the Path of the Gods is 17,6 km, the Valle delle Ferriere is 18,7 km and Vietri sul Mare is 24,5 km.
The Property. Perched high above Amalfi with panoramic views over the crystal-clear waters of the Tyrrhenian Sea, Villa Amalfi View is the result of a perfect balance between Italian tradition and contemporary style, providing a unique retreat for those seeking complete privacy and pure relaxation in one of the most appreciated areas in Italy. This elegant property, which has been meticulously restored to the highest of standards adding the conveniences and comforts of modern living, measures 500 square meters and can accommodate up to sixteen guests, offering eight double bedrooms and ten bathrooms distributed over four floors. The charming views over the surrounding area instantly give a sense of peace and calm, making Villa Amalfi View the ideal place for relaxing under the Italian sun.
Surrounded by vineyards, olive groves, lemon trees, and impressive terraces overlooking the turquoise sea, the villa boasts a modern infinity swimming pool and a poolside area equipped with comfortable sun loungers and parasols providing plenty of shade on hot summer days: offering a peaceful atmosphere, the area beside the pool is the ideal place for basking in the sun and enjoying true moments of relaxation in the company of a good book and a glass of prosecco. The villa's terraces also offer a bar, and a number of furnished and peaceful corners where guests can intimately spend time together while enjoying traditional Italian food and the mild Mediterranean climate.
Flooded with light, the lower floor of the villa houses a comfortable double bedroom featuring en-suite bathroom with shower, closet, and direct access to the terrace. On the same floor, you will also find a magnificent suite complete with living room, en-suite bathroom with shower and direct access to the terrace. The lower floor also boasts a bar and an exceptional wellness area complete with gym, sauna and Turkish bath. After a long day of sightseeing, relax in the sauna or stretch out in the gym: what could be more relaxing than having all your needs met without having to leave the comfort of your own villa? The villa's ground floor boasts a spacious living room, a double bedroom complete with closet and en-suite bathroom with shower, and a double bedroom featuring en-suite bathroom with large shower. The ground floor also houses a bedroom, bathroom and laundry reserved to the villa's staff members.
On the first floor, the interior living space is uniquely furnished with comfortable sofas and armchairs, while large windows overlooking the Tyrrhenian Sea create a luminous atmosphere dominated by light colors. The first floor also features a magnificent fully-equipped kitchen with adjoining dining room and pantry, and a service bathroom at the guests' disposal to guarantee the most comfortable stay. From the kitchen, you can access the outdoor furnished patio. On the same floor, you will also find two comfortable double bedrooms with en-suite bathroom with shower and a suite featuring a light-filled living room and en-suite bathroom with shower. Each bedroom boasts inviting views over the Amalfi coast and its turquoise sea.
The second floor of the villa houses a spacious living room, a small kitchenette and a service bathroom at the guests' disposal to ensure the most comfortable stay. On the same floor, you will also find a spacious double bedroom featuring a large bathroom with shower, and a comfortable bedroom with sofa bed. This floor boasts an independent entrance and direct access to the magnificent terrace overlooking the crystal-clear waters of the Tyrrhenian sea. This splendid residence, which has recently undergone a meticulous and loving restoration, still preserves the charm and tradition of a historical property, and its sumptuous interiors perfectly reflect the villa's rich past. Wi-Fi Internet connection throughout the villa and air conditioning make this property complete and perfect for even the most demanding guests. Villa Amalfi View also features washing machine, dishwasher, barbecue, and a private parking area for the exclusive use of the villa's guests.
Features *
8 Double bedrooms

10 Bathrooms

Swimming pool

Furnished poolside area

Terraces

Al fresco lounge and dining area

Bar

Gazebo

Gym

Sauna and Turkish bath

Fully-equipped kitchen and kitchenette

Living and dining area

Laundry

Barbecue

Flat-screen TV

Closet

Washing machine

Dishwasher

Wi-Fi internet connection

Air conditioning

Private parking area
* Please note:
the included amenities may vary according to final agreement, make sure to check your contract for complete list.
All the availabilities below are indicative. Please
Contact us
to verify your dates.
Jul 2020
Aug 2020
Sep 2020

| | | | | | | |
| --- | --- | --- | --- | --- | --- | --- |
| Su | Mon | Tu | We | Th | Fr | Sa |
| | | | | | | |
| | | | | | | |
| | | | | | | |
| | | | | | | |
| | | | | | | |

| | | | | | | |
| --- | --- | --- | --- | --- | --- | --- |
| Su | Mon | Tu | We | Th | Fr | Sa |
| | | | | | | |
| | | | | | | |
| | | | | | | |
| | | | | | | |
| | | | | | | |
| | | | | | | |

| | | | | | | |
| --- | --- | --- | --- | --- | --- | --- |
| Su | Mon | Tu | We | Th | Fr | Sa |
| | | | | | | |
| | | | | | | |
| | | | | | | |
| | | | | | | |
| | | | | | | |

Oct 2020
Nov 2020
Dec 2020

| | | | | | | |
| --- | --- | --- | --- | --- | --- | --- |
| Su | Mon | Tu | We | Th | Fr | Sa |
| | | | | | | |
| | | | | | | |
| | | | | | | |
| | | | | | | |
| | | | | | | |

| | | | | | | |
| --- | --- | --- | --- | --- | --- | --- |
| Su | Mon | Tu | We | Th | Fr | Sa |
| | | | | | | |
| | | | | | | |
| | | | | | | |
| | | | | | | |
| | | | | | | |

| | | | | | | |
| --- | --- | --- | --- | --- | --- | --- |
| Su | Mon | Tu | We | Th | Fr | Sa |
| | | | | | | |
| | | | | | | |
| | | | | | | |
| | | | | | | |
| | | | | | | |

Jan 2021
Feb 2021
Mar 2021

| | | | | | | |
| --- | --- | --- | --- | --- | --- | --- |
| Su | Mon | Tu | We | Th | Fr | Sa |
| | | | | | | |
| | | | | | | |
| | | | | | | |
| | | | | | | |
| | | | | | | |
| | | | | | | |

| | | | | | | |
| --- | --- | --- | --- | --- | --- | --- |
| Su | Mon | Tu | We | Th | Fr | Sa |
| | | | | | | |
| | | | | | | |
| | | | | | | |
| | | | | | | |
| | | | | | | |

| | | | | | | |
| --- | --- | --- | --- | --- | --- | --- |
| Su | Mon | Tu | We | Th | Fr | Sa |
| | | | | | | |
| | | | | | | |
| | | | | | | |
| | | | | | | |
| | | | | | | |