Torre di Clavel
Amalfi, Sorrento and Islands - Positano
A sheer drop to the crystal sea, elegant villas set in greenery, abundant terraces of lemon trees. This is Amalfi Coast! The origins of its name go back to Hercules who found the most seductive place on earth in which to bury the nymph Amalfi with whom he had fallen in love.
Number of beds: 11
Bedrooms: 7

Amenities *
:
Access to the beach
ADSL Wi-Fi Internet
Barbecue
City Views
Dishwasher
DVD Player
Hairdryer
Hi-FI System
Ocean Views
Open fireplace
Parking
Satellite TV
Washing machine
* Please note:
the included amenities may vary according to final agreement, make sure to check your contract for complete list.
Nearbies:
Town centre 1,7 km Sorrento 15 km Pompei 25 km Naples Capodichino airport 60 km Rome 260 km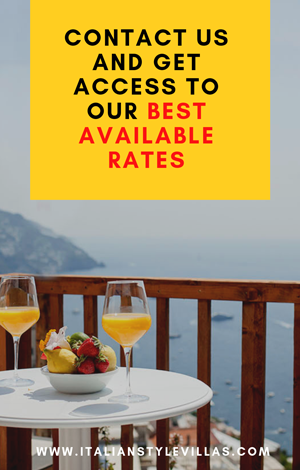 Search for your villa in Italy
Torre di Clavel – Positano – Amalfi coast
4 double bedrooms + 3 single
Torre Clavel dates back to the early 13th century when the Normans built a fortress over this promontory to protect the coast from the attack of the Saracens. At the beginning of the last century, the artistic sensibility of the futurist writer, Gilbert Clavel, overwhelmed by the beauty of the site and its surroundings, was inspired to begin a renovation of the property. He also commissioned a specially designed interior with the help of his fellow artisan and friend Enrico Lietz. Gilbert Clavel entertained many famous guest in his house such as Cocteau, Depero and Pablo Picasso, who met his future wife Olga Kaklowa here. The result of Clavel's toil is the Tower, a pentagonal residence on four levels, with a subterranean level built directly into the rock. The villa's interiors are characterized by a fascinating variety of shapes, yet are furnished with a delightful simplicity. The structure, in fact, spreads over a number of levels and separated areas all connected by different pathways, passages, corridors and hallways in a perfect balance with the natural environment of sea, beach and cliffs. This allows a large group of people to enjoy both secluded and shared spaces, leaving to its guests the choice to use their own private spaces (kitchen, lounge room, etc.) or gather to embrace together, that typically Italian lifestyle perfectly incarnated by this sensational property. The picture is completed by an exceptional staff whose love and dedication to this property will make them an essential part of your perfect holiday. You can arrive at the villa by water taxi directly from the main beach, or on foot crossing the beach at Fornillo and taking the staircase to the private entrance gate and path. There are three principal terraces plus a private descent on a characteristic narrow staircase to the sunny beach. Torre Clavel is one of the most spectacular and elegant residence on the whole Amalfi coast as it truly represents the definition of class: Elegance without Ostentation.
Torre Clavel is set in three different parts: LA TORRE: Lower level - Fully equipped modern kitchen (4-burner gas stove, oven, refrigerator, separate freezer, dishwasher). First level - "The Blue Bedroom", a cozy double bedroom (beds can be separated) with a charming window overlooking the sea. This bedroom has a beautiful new en-suite bath (tub with hand-held shower) with a lovely window overlooking Positano. Second level - a spacious living room with views toward Positano, ocean and seacoast, with a fireplace of antique glass tiles. There is also a small refrigerator for keeping cold drinks, a TV, and a CD/tape player. Also on this level is a charming single bedroom with en-suite bathroom and shower. This bedroom has access to a small balcony overlooking the sea and the islands of Isole dei Galli. Third level - "The Yellow Bedroom", stairs leading up to a spacious double bedroom (queen size) finished in lemon yellow and turquoise blue tones with en-suite bathroom complete with double sink and bathtub. An internal staircase leads to the top of the Torre, where there is a roof terrace with a 360° view over the sea and the coast. A balcony circles the tower on three sides, and includes a south-facing open terrace with a painted tile floor created by the famous ceramicist, Ernestine. LE SIRENE: First level - "The Sirene Bedroom". A bright and spacious double bedroom (beds can be separated) with all west-facing windows, bookcases and desk designed by Clavel, a small corridor that leads to en-suite bathroom with bathtub and separate shower. Second level - "The Diamond Bedroom". In this part of the house there is a single bedroom called Diamante, so named for the diamond shape of the ceiling designed by Clavel when he laid the parquet floor. A charming and distinctive room with a window onto Positano. It is equipped with a TV (satellite) and a fan. There is a unique open-space small bathroom with shower and drapes for privacy. Third level - Living/dining room with bamboo couches and chairs for five and a round dining table for four. Also in this room, a TV (satellite) with VCR (PAL), and a portable CD/tape player/tuner. In the new corner kitchen there is a 4-burner gas stove, microwave, refrigerator, separate freezer, small electric grill and a double sink with granite countertops. Le Sirene also has a fantastic, spacious terrace with breathtaking views of the Isole dei Galli and the Amalfi Coast, a teak dining table with director's chairs for eight, and a BBQ. PORTICATO: Lower level - Here one finds a long, tiled dining terrace furnished with a wooden table large enough to accommodate everyone for a long lunch or al fresco dinner. The view, stupendous through an open stone arch framing Positano, is comfortable and delightful by day and night. Also on this level one finds a sitting room furnished with red and white cushions on wicker couches accommodating six comfortably, a CD/tape player and double doors and windows opening to the dining terrace. A small corridor leads to the main fully-equipped kitchen (5-burner gas stove, oven, large refrigerator, separate freezer, dishwasher) recently refurbished with Vietri ceramics and a charming window facing Positano. This is also the kitchen where Angela, the wonderful chef, prepares delicious meals! There is also a spacious adjacent room, generally used by the staff for laundry, casual meals, etc. Arched glass doors lead to a covered terrace and washing machine. This floor also accommodates the caretaker's apartment which has its own and independent access. First level - "The Green Bedroom". Lovely double bedroom (beds can be separated), screened and opening onto the principal terrace. It has a ceiling fan and also has breathtaking views of Positano. This bedroom shares with a single bedroom, a beautiful full bathroom (tub with hand held shower) with bright yellow tiles, double sink and small window facing Positano. The single bedroom, also called the "Library", has been recently restored with care taken to respect the typical style of the house with antique parquet floors and an original desk designed by Clavel. A window and double doors also open to the principal terrace. There is a new guest half bathroom located on this floor. Wi Fi internet now available.
Location. Torre Clavel sits on a rocky outcrop surrounded by the blue sea. It is reachable only by boat or on a footpath from one of Positano's main beaches (Fornillo). From the terrace one can look seaward toward the isles of Capri and Isole dei Galli, or turn to the picturesque town of Positano. Positano offers no shortage of cafés, shops and restaurants for whiling away an afternoon or evening. Visitors are sure to enjoy a scenic drive along the coastal road stopping at Praiano and Amalfi and then to the renowned hillside town of Ravello with its incomparable view from the famous gardens of Villa Rufolo. Excursions in the other direction might include a boat trip to the island of Capri, a visit to Napoli, or an exploration of Pompeii and Herculaneum and the fascinating ruins of these ancient cities destroyed by the eruption of Mt. Vesuvius in the 1st century A.D.
Amenities and Facilities. Full staff includes caretaker, housekeeper (6 hrs/day, 7 days/wk), an excellent cook and server for meals. Some English is spoken by the caretaker and the cook. Linens are changed twice weekly. There are numerous staircases, corridors and walkways linking the various rooms making this hazardous for anyone unsteady on their feet. This residence is unsuitable for young children, especially if not supervisioned; two cribs available for children up to 3 yrs. old. A porteur service is available at your arrival and your departure, Boats on the property are available for hire with or without a skipper. All bathrooms (except the half bath) are provided with hairdryers. The Cook: 6 hours per day (from 10 a.m. to 4 p.m.) works 7 days per week except for rentals longer than a week when Saturday is her day off.On request: Transfers and excursions; parking at the public car-park in Positano.
Features *
7 Bedrooms (4 double, 3 single)

6,5 Bathrooms with hairdryer

Fully equipped kitchen with a 5-burner gas stove, microwave, refrigerator, separate freezer, small electric grill, dishwasher

Washing machine

Terrace and BBQ

Sat TV, CD player, VCR player

Internet Wi-Fi
* Please note:
the included amenities may vary according to final agreement, make sure to check your contract for complete list.
Reviewed by: H. Mackey, June 2017
How did you enjoy your ISV experience; actual accommodations, amenities and services

Ciao Daniela,
WOW what a wonderful holiday. Everything you planned and reserved for us was perfect. All the transfers and people you put us in touch with were so very nice and helpful. Daniele Esposito,the caretaker, is a sweetheart. I love his passion for Clavel. He gave us a wonderful tour and we got to enjoy the grotto. Annie is a lovely person and so easy to get along with. She was perfect for our group.

I can't say enough about Nicola, the chef, and the sweet women who helped him and took care of the house. Nicola had my eleven year old granddaughter, Clara, cooking with him. We were all very pleased with the food he prepared for us and enjoyed hearing local stories.


The villa was more than we imagined and we were happy to just stay there and go to town and play in the Mediterranean Sea. Last but not least the Pompeii/Naples trip was hot and tiring but more than worth it. Our guide was very good with the children and was very impressive in her knowledge. I have wanted to see Pompeii since I was a little girl and it did not disappoint.

The pizza in Naples was Delizioso!

Thank you and Gianluca for helping us make this such a wonderful experience.

Best regards,

Helen

PS. Some of us went to Rome afterwards and found the city exciting, fantastic, beautiful and we are all in love with Italy.
This is the area where your selected property is located - the pin is indicative and not an exact address.