Palazzo dei Baroni
Amalfi, Sorrento and Islands - Positano
A sheer drop to the crystal sea, elegant villas set in greenery, abundant terraces of lemon trees. This is Amalfi Coast! The origins of its name go back to Hercules who found the most seductive place on earth in which to bury the nymph Amalfi with whom he had fallen in love.
Number of beds: 8
Bedrooms: 4

Amenities *
:
ADSL Wi-Fi Internet
Air Conditioning
Breakfast Service
Butler
Concierge service
Cooking Class
Cooking Service
Daily cleaning
Dishwasher
DVD Player
Hairdryer
Heated Pool
Indoor Pool
iPod docking station
Laundry service
Ocean Views
Pool Table
Satellite TV
SPA
Swimming Pool
Washing machine
* Please note:
the included amenities may vary according to final agreement, make sure to check your contract for complete list.
Nearbies:
750mt from the street walking 1.7Km from the city center 2km from the beach 15km Sorrento 25km Pompei 60km Naples airport 260 Rome international airport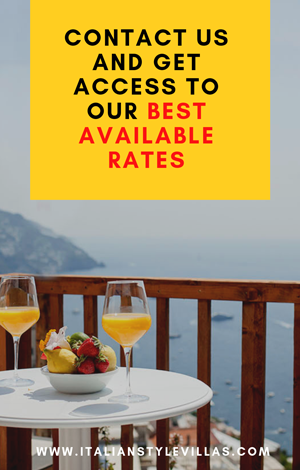 Search for your villa in Italy
Palazzo dei Baroni - POSITANO
4 Bedrooms - Spa
Palazzo dei Baroni was built in 1716 by renowned craftsmen who included in the construction of the property, prestigious lacquered doors, frescoed ceilings, and stucco, lace like walls.
The palace is incredibly detailed in every way and overwhelms any guest with its exclusivity, elegance, and historical frame. The residence and its service are both cared for in every detail and the property is equipped with the finest textiles, hand embroidered in Victorian style, exclusive ceramic tables, service for 12 on prestigious local ceramic from Vietri sul Mare, authentic painted wooden doors, and silver cutlery. The property offers a large, flat screen TV, fast Internet connection, changeable hi-fi system, and full spa & wellness area with Turkish bath, sauna, and thermal pool. Palazzo dei Baroni surely preserves the highest quality and charm of a historical residence integrated with the most comfortable and modern facilities.The facades and the external areas are painted and refreshed with a warm red colour alternated with light yellow. This Pompeian red is typical to the traditions of the entire area, originally invented and used by the Romans, where from the colour takes its name. Both internal and external parts of the villa are kept in the original Neapolitan baroque style, which is so characteristic of the period during which it was constructed.
From its terraces, extensions of the house that dominate the town center of Positano, the dreamlike views are just spectacular, extending onto Positano's beach and the colourful homes that line its panorama, while the Mediterranean and the romantic Galli islands lie in the background. This unique view allows guests to follow the changes of the sky and sea during the day and night.
First Floor: The ground floor is divided into two areas separated by the main entrance hall that leads out onto either the terrace or a set of stairs leading either up to the first floor or down to the ground floor.The main entrance to the villa brings you into the large kitchen and dining room, both with vaulted ceilings painted in a warm, yellow-beige colour. The kitchen has a large antique stone fireplace, which was part of the original house. Copper pots are lined all over the kitchen walls, which is furnished with a wooden table, 6 chairs and wooden bench. Antique wooden sideboard. Flat screen TV. The large and fully equipped kitchen boasts antique tile floors and offers an 8 range stovetop, oven, double marble sink, and dishwasher. Separate laundry room with sink and large refrigerator with separate freezer. A large, French wooden door leads out onto the terrace.Formal dining room with library opens onto a tea-lounge and studio room. The dining area has a large wooden table with 6 antique wooden chairs from the 17th century. The dining room can be used for serving breakfast or elaborated lunch or dinners. Guests will also enjoy a library filled with rare books on art and history as well as more modern readings in many foreign languages. The tea lounge has a wonderful antique fireplace and two, large, comfortable armchairs. The studio corner enjoys a wooden desk with computer with flat screen and fast internet connection. The magnificent old paintings in the studio room shows depict Alessandro Magno and, like the kitchen, a large set of French wooden doors lead out onto the terrace.The beautiful terrace serves as an extension of the house lined with terracotta tiles and a built-in bench. The terrace is ideal for relaxing and enjoying the spectacular views of the colourful and bright houses of Positano, the blue Mediterranean, the surrounding beaches, as well as the charming and romantic Galli islands located just in front of the coastline, once belonging to the infamous Russian ballerina, Nurijev. The terrace is also ideal for external meals and sunset cocktails. It boasts wrought iron tables topped with ceramic tiles and comfortable chairs for your relaxing. The terrace can also be shaded by large umbrellas.
Ground Floor:19 steps takes you down a prestigious stone staircase to a full relax and wellness centre. Simply amazing. The pavement is covered in antique terracotta tiles alternated with majolica and its rooms boast vaulted ceilings from the 17th century with golden stucco decorations, partly in gold, allowing for the same bright yellow colour as the rest of the property. In the niches along the stairs, you'll find 2 beautiful large and precious antique porcelain vases reflecting the style of those displayed at the National Museum of Art Capodimonte in Naples. The vases date back to the 17th C. and are painted with scenes from the mythological and Neapolitan landscapes showing Mount Vesuvius.
Upon reaching the ground floor, you find, immediately to your left, a beautiful Turkish bath tiled with antique tiles and a terracotta tiled floor, a Finnish Sauna with seating for 2. Two showers identified by a lovely marble face sculpture from which the water exits, encircled by antique mosaic tiles dating back to the 17th century, originating from the Neapolitan School of Giustiniani. The sauna and Turkish bath are situated next to a relaxation lounge with sofas and cushions, a massage bed, coach chairs, large, antique terracotta vases from the 17th century and the 18th century, and a large plasma TV. The focal point, as if this were not enough, is a large, indoor, fully functional, heated thermal pool in green and Turkish terracotta tiles (7.5 meters long x 4.90 meters wide x 2 meters deep). The pool is a true hydro-thermal therapy pool, with waterfalls, Jacuzzi seats, jets for cervical and lumbar massages, and rotating currents. There is also a private changing area continuously supplied with large bathing towels, bathrobes, and slippers. On the opposite side of the pool lies the villas decorative, consecrated catholic chapel with wooden benches. The spa leads out, through a set of French wooden doors, onto a ground floor terrace that is furnished with sun lounge chairs ideal for sunbathing or relaxing, while enjoying a drink and the incredible views. The terrace also features a very decorative plunge pool with hydro-massage bed tiled with majolica tiles, allowing seating to 2 people.
Second Floor: 26 Steps leads up the beautiful stone staircase to the first floor where the two luxurious and exclusive master bedrooms are located. Two wooden sculptures, decorated in gold, lead you up the staircase. Each master bedroom is very spacious and boasts high ceilings, air conditioning, and en-suite facilities. Both suites are decorated in an elegant and warm Neapolitan baroque style, which characterizes the entire residence. Warm and bright colours mix with antique wooden furniture and other decorative elements in baroque style to match the finest quality textiles, such as the organza and dark red velvets found in the bedrooms.The window sills are set in an époque baldachin with gold stucco decorations and are sewed with the finest coral stones and mother pearl decorations.The ceilings are painted on old wall paper in a Neapolitan baroque style, restoring the original design with bright colours which fully respect the charm and style of the bedrooms.The terracotta tiled floors are covered with Oriental carpets. A sofa, two comfortable armchairs, and a pouf chair complete the seating décor and are all refined with silk textiles from famous local fabric producers from San Leucio near Naples, making both bedrooms ideal for relax day and night. The bedrooms both boast antique wooden dressers, a large double bed with bedside tables and lamps. The first bedroom enjoys windows and 3 balconies, two overlooking the sea and the colourful houses and beach found in the centre of Positano. Its en-suite bathroom is filled with majolica tiles, boasts a separate changing area and closet, large shower, and marble sink. The second bedroom has a small altar and French doors with access onto the balcony. En-suite bathroom in similar style as the first. The sea-view balcony also features an old small watchtower with a charming and characteristic cupola covered with ceramic tiles, one of the symbols of the Amalfi Coast.
Loft – Third Floor: The third floor finds another lovely two double bedrooms, however, neither of which have en-suite bathrooms. There is a beautiful, large, full bathroom located in the middle of the two bedrooms and another located at flight of stairs down. There is also a small terrace around back of the villa, on the top floor, with outside table and chairs for external dining.
Features *
4 Bedrooms (2 en suite)

4 Bathrooms

2 Terraces equipped with sun chairs und sun umbrella

Orange garden

Fireplace

Flat screen TVs in bedrooms, in the studio, in the dining area, and pool & spa area

Fully equipped kitchen

Dishwasher, separate dispenser room with sink, large refrigerator and separate freezer

Formal dining room with library opening onto a tea-lounge and studio room

Satellite TV with SKY and pay-TV for vision of films in foreign languages

Internet connection and one portable PC at clients disposal

Indoor heated pool with hydro massage (7.5 mt x 4.90 mt x 2 mt)

Turkish bath

Finnish sauna

Massage bed

Internal and external hi-fi system (Can be controlled from each room)

DVD in both suites and living area

Heating

Air Conditioning

Buffet breakfast included in the rental rate

Pizza Oven

Breakfast

Laundry room with washing machine and ironing facilities

Chef service for lunch/dinner included
Extra Services available on request:
Selection of Italian and French wines and Champagne

Massage: Masseuse available

Extra staff hours

Meals can be organized in the collaboration with a professional Chef

Laundry service

Telephone to be paid on site (according to consumption)

Porter service

Boat & Yacht Rentals

Transfers & Private Drivers

Babysitter
* Please note:
the included amenities may vary according to final agreement, make sure to check your contract for complete list.
This is the area where your selected property is located - the pin is indicative and not an exact address.
All the availabilities below are indicative. Please
Contact us
to verify your dates.
Jul 2020
Aug 2020
Sep 2020

| | | | | | | |
| --- | --- | --- | --- | --- | --- | --- |
| Su | Mon | Tu | We | Th | Fr | Sa |
| | | | | | | |
| | | | | | | |
| | | | | | | |
| | | | | | | |
| | | | | | | |

| | | | | | | |
| --- | --- | --- | --- | --- | --- | --- |
| Su | Mon | Tu | We | Th | Fr | Sa |
| | | | | | | |
| | | | | | | |
| | | | | | | |
| | | | | | | |
| | | | | | | |
| | | | | | | |

| | | | | | | |
| --- | --- | --- | --- | --- | --- | --- |
| Su | Mon | Tu | We | Th | Fr | Sa |
| | | | | | | |
| | | | | | | |
| | | | | | | |
| | | | | | | |
| | | | | | | |

Oct 2020
Nov 2020
Dec 2020

| | | | | | | |
| --- | --- | --- | --- | --- | --- | --- |
| Su | Mon | Tu | We | Th | Fr | Sa |
| | | | | | | |
| | | | | | | |
| | | | | | | |
| | | | | | | |
| | | | | | | |

| | | | | | | |
| --- | --- | --- | --- | --- | --- | --- |
| Su | Mon | Tu | We | Th | Fr | Sa |
| | | | | | | |
| | | | | | | |
| | | | | | | |
| | | | | | | |
| | | | | | | |

| | | | | | | |
| --- | --- | --- | --- | --- | --- | --- |
| Su | Mon | Tu | We | Th | Fr | Sa |
| | | | | | | |
| | | | | | | |
| | | | | | | |
| | | | | | | |
| | | | | | | |

Jan 2021
Feb 2021
Mar 2021

| | | | | | | |
| --- | --- | --- | --- | --- | --- | --- |
| Su | Mon | Tu | We | Th | Fr | Sa |
| | | | | | | |
| | | | | | | |
| | | | | | | |
| | | | | | | |
| | | | | | | |
| | | | | | | |

| | | | | | | |
| --- | --- | --- | --- | --- | --- | --- |
| Su | Mon | Tu | We | Th | Fr | Sa |
| | | | | | | |
| | | | | | | |
| | | | | | | |
| | | | | | | |
| | | | | | | |

| | | | | | | |
| --- | --- | --- | --- | --- | --- | --- |
| Su | Mon | Tu | We | Th | Fr | Sa |
| | | | | | | |
| | | | | | | |
| | | | | | | |
| | | | | | | |
| | | | | | | |