Casa Afrodite
Amalfi, Sorrento and Islands - Positano
A sheer drop to the crystal sea, elegant villas set in greenery, abundant terraces of lemon trees. This is Amalfi Coast! The origins of its name go back to Hercules who found the most seductive place on earth in which to bury the nymph Amalfi with whom he had fallen in love.
Number of beds: 6
Bedrooms: 3

Amenities *
:
ADSL Wi-Fi Internet
Air Conditioning
Daily cleaning
Dishwasher
Heating
iPod docking station
Ocean Views
Open fireplace
Table tennis
Washing machine
* Please note:
the included amenities may vary according to final agreement, make sure to check your contract for complete list.
Nearbies:
Spiaggia Grande 400 m, Spiaggia del Fornillo 400 m, Cassiopea 500 m, Sorrento 17 km, Ravello 25 km, Amalfi 18 km, Naples international airport 32 km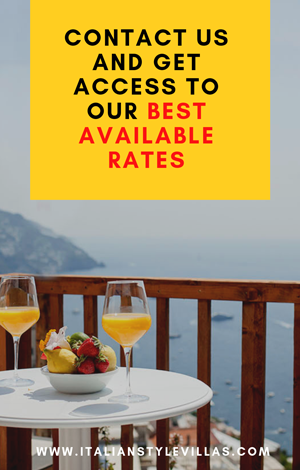 Search for your villa in Italy
Casa Afrodite – Positano – Amalfi Coast
3 Bedrooms – Terrace with sea-view
Stunning villa with sea views and superb location by the beach in Positano.
Location and Surrounding Area. Casa Afrodite is nestled into the gorgeous Punta Reginella, a highly sought-after area in Positano, just 400 metres from the main beach and full of trattorias and quality restaurants.
Positano has been home to intellectuals, artists and the international elite, who have wandered up and down the picturesque labyrinth of stone steps and pastel-coloured houses for centuries. The town today offers sophisticated shopping, charming restaurants, breathtaking views, several glamorous beaches and juicy lemons in every shape and form! Meandering through the arches and passageways, you'll find local shoemakers who will make you a pair of customized sandals and the majolica tiled dome of the Church of Santa Maria Assunta can be seen from almost every corner of the town. Casa Afrodite is just a couple of minutes away on foot from the church.
Just off the shore of Positano are three tiny islands, Li Galli or as some people call them, Le Sireneuse. They can be clearly seen from the villa's panoramic terrace. Legend has it that they were once inhabited by Parthenope and other enticing sirens who seduced passing sailors with their song. The world famous ballet dancer, Rudolf Nureyev purchased the islands and spent the last years of his life here.
Among the countless enchanting places to visit in the area, perhaps Ravello, Sorrento and Amalfi stand out for the first time visitor. Ravello, at 350 metres above sea level, is a UNESCO World Heritage Site and offers both unforgettable architecture and scenic beauty. The 11th century Cathedral and Villa Cimbrone are magnificent and a summer music festival is held each in the year in the gardens of the 13th century Villa Rufolo. D.H. Lawrence wrote Lady Chatterley's Lover here and the town has been frequented over the years by the likes of Greta Garbo and Winston Churchill.
Casa Afrodite is just 400 m from the Spiaggia Grande, 400 m from Spiaggia del Fornillo and 500 m from Cassiopea. Positano port is a 4-minute walk away and it is easy to catch ferries to the nearby islands of Capri, Ischia and Procida. Naples international airport is 32 km from the property, Ravello 25 km, Amalfi 18 km along the spectacular Amalfi Coastline and Sorrento 17 km over the hill.
The Property. Casa Afrodite sleeps up to six guests in three, air-conditioned, double bedrooms, two of which have en suite bathrooms and walk-in closets. The master bedroom and second double bedroom are on the first floor. The rooms have all been lovingly decorated with enviable style by the owners and each one opens out onto terraces with breathtaking views across the Mediterranean Sea.
The living accommodation includes a chic, modern kitchen with all of the necessary utensils for rusting up sublime meals to be eaten either al fresco on the terrace or in the panoramic dining room. The living spaces are designed for kicking back and relaxing as you sip a glass of chilled, white wine and watch the boats go by. There is even a hammock and ping pong table. The villa is spread out over 300 square metres so there is plenty of space for everyone. Last but by no means least, there is a handy laundry room near the kitchen.
Features *
3 Double bedrooms (2 with en suite bathrooms)
3 Bathrooms
Living room
Dining room
Fully-equipped kitchen with microwave and dishwasher
Laundry room
Terraces overlooking the sea
High speed Wi-Fi
Docking stations for iPods
Air conditioning
Heating
Washing machine and tumble dryer
Iron and ironing board
Ping pong table
Safe
Daily cleaning
Extra services on request: bicycle rental, car rental, excursions and guided tours
* Please note:
the included amenities may vary according to final agreement, make sure to check your contract for complete list.