Villa San Vito
Sicily - San Vito Lo Capo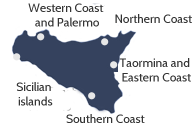 You there, do you know where cedar blooms? Splendor amongst the browning leaves and the golden oranges, with a sky azure spiraling down to a sweet sapphire, humble mirth sprouting, laurel soaring...(Johann Wolfgang von Goethe).
Number of beds: 6 + 1
Bedrooms: 3

Amenities
:
ADSL Wi-Fi Internet
Air Conditioning
Country Views
Dishwasher
DVD Player
iPod docking station
Ocean Views
Satellite TV
Swimming Pool
Washing machine
Nearbies:
Erice and Trapani 37 km, beach of San Vito Lo Capo 8 min. by car, beach of Macari 2 min. by car, Riserva dello Zingaro 12 min. by car, the international airports of Palermo 85 km
Search for your villa in Italy
Villa San Vito – San Vito Lo Capo
3 Double Bedrooms – Pool
Exquisitely furnished renovated ancient villa with a cosy garden and pool overlooking the North-West coast of Sicily.
Location and Surrounding Area. San Vito lo Capo is a small seaside town known in particular for its beach, which is on a sheltered bay overlooked by Monte Monaco. In the town centre, the 15th-century San Vito Sanctuary is a fortress-like structure with Arab-Norman architecture, a style that is also evident in the town's Santa Crescenzia Chapel and the circular Torrazzo Tower; the Arabic influence is also found in the local cuisine, which includes cous-cous among the local specialities. In September every year there is even a 6-day cous-cous festival celebrating the fish version of this renowned dish. October is the month for the San Vito Climbing Festival, which in recent years has expanded considerably to now boast the name of the Mediterranean's biggest outdoor sports festival. San Vito is just a few minutes distance from the renowned Riserva Naturale dello Zingaro, a 7km stretch of coastal land closed to every form of traffic and designated as a natural reserve including a huge variety of flora and fauna, old tuna-fishing stations and unspoilt pristine pebble beaches leading to clear blue sea.
The historical little hilltop town of Erice stands at 775 m above sea level overlooking Trapani. It is a fascinating place characterized by tiny, winding stone streets, breathtaking views, two castles and the remains of ancient temples from Greek times. Erice is famous as the host city of important scientific meetings including an annual Workshop on Molecular Gastronomy organised by the controversial astrophysicist Antonino Zichichi, who was born in the area.
The provincial capital of the area, Trapani is an historical, fishing town standing at the Western tip of Sicily on a promontory jutting out into the sea. It is a city steeped in history, as is well documented in its several museums, dedicated, among other things, to the Sea, to Prehistory and to Salt mining. The old town is well preserved and buzzing with restaurants and events in the summer, and Trapani also the best place from which to take a boat to the neighbouring Egadi islands.
The Egadi islands of Favignana, Levanzo and Marettimo can all be visited on a day trip from Trapani, although to truly appreciate these hidden little corners of paradise the visitor is advised to stay a few days. All three islands are very relaxing and little known to tourists outside Italy, and best appreciated by those seeking a holiday based around swimming and diving in crystal-clear waters or hill walking in the interior. There is a protected marine reserve around the islands, whose coastal waters contain caves, shipwrecks and rich marine life, making these some of the best waters in the entire Mediterranean for snorkelling and scuba diving.
The Property. Villa San Vito is an ancient house made of local stone and set in a hundred-year-old olive grove with a beautiful view over the Gulf of Macari. The villa has been meticulously refurbished and furnished with exquisite taste to provide guests with a sumptuously relaxing context in which to stay. What immediately catches the visitors' attention is the incredible sense of care for details – from the earth-coloured natural paint of the walls and the lighting, to the great variety of carefully selected wooden furniture and soft furnishings.
The ground floor includes a living room with aged, leather sofas, a wooden dining table, exotic rugs and three direct access points to the garden; and a fully equipped kitchen including a cooker, oven and dishwasher. The first of the three double bedrooms is also on the ground floor, and includes an en-suite bathroom and direct access to the garden.
The upper floor consists of two double bedrooms, each with a king-size bed, a sofa, a desk and other soft furnishing of the highest quality. The bedrooms include en-suite bathrooms with a large shower, and direct access to a small, furnished terrace with a view over the sea.
Besides the presence of the pool, the garden is resplendent with a large variety of plants and furnished with armchairs, recliners and a hammock; the perfect poolside setting for guaranteeing absolute relaxation. It also includes a large table for outdoor dining.
Wonderful beaches are very near to the villa, such as Macari, Uzzo and Tonnarella, in the famous nature reserve of the Zingaro.
Getting There: The international airports of Trapani and Palermo are respectively 60km and 85km away. Erice and Trapani are both at a distance of 37km. Distances to the beach (by car): 8 minutes from the beach of San Vito Lo Capo, 2 minutes from the beach of Macari and 12 minutes from the Riserva dello Zingaro.
Download this Villa details and photos as pdf

Features
3 Bedrooms, each with en-suite bathroom
Six Beds (with the possibility to add a seventh single bed)
Fully furnished garden with a full range of Mediterranean plants
Infinity pool (7 x 4 metres – 1 - 1.4 metres deep)
Outdoor patio
Kitchen with cooker, oven and dishwasher
Washing Machine
Air conditioning in all rooms
Internet Wi-Fi, Digital TV, IPod speakers and DVD Player
Weekly Cleaning every Saturday
1 set of bed linen and 1 set of bath towels per person
Minimum stay - 7 days (from Saturday 16,00 to Saturday 10,00)
Extra Services available on request: extra cleaning, change of linen, breakfast at the hotel Capo San Vito, candlelit dinner on the beach at the hotel Capo San Vito, access to the wellness area at the hotel Capo San Vito, shuttle service between property and airports, overland tours, sailing excursions