Villa Regina Venice
Veneto and Trentino - Venice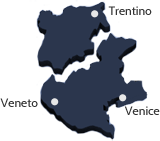 "Venice is like eating an entire box of chocolate liqueurs in one go." - Truman Capote.
Number of beds: 36
Bedrooms: 18

Amenities
:
ADSL Wi-Fi Internet
Air Conditioning
Butler
City Views
Concierge service
Cooking Service
DVD Player
Hi-FI System
iPod docking station
Laundry service
Open fireplace
Satellite TV
Swimming Pool
WIne Tasting
Nearbies:
Padova 47,3 km Ferrara 112 km Verona 121 km Bologna 154 km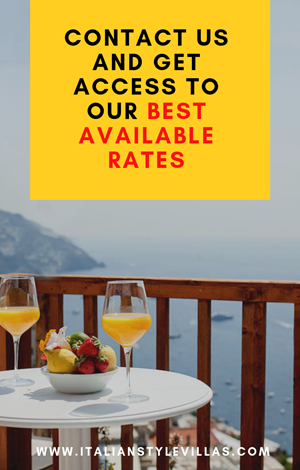 Search for your villa in Italy
Villa Regina Venice – Venice
18 Bedrooms - Pool
Villa Regina Venice is situated on the island of Giudecca, facing the Grand Canal and San Marco. Its idyllic situation offers the peace and calm of being away from the crowds while being just a few minutes' boat-ride from the city's heart.
Villa Regina Venice was built as a home for noble Venetian families. In the early 20th century it became a luxury pensione for artists, actors and writers of the era. It is located in an historic palazzo from the Renaissance, and has been superbly restructured with every modern convenience.
As well as its winter garden and Mediterranean Pool, surrounded by the garden, Villa Regina Venice can offer full hotel services: concierge, chef, governess, and butler are all available on demand.
Villa Regina Venice is located on the Giudecca Island facing St. Mark's Square. The Giudecca Island, referred to as "the Soho of the Lagoon," is less known to tourists yet well frequented by artists and the bon vivant crowd. It provides a lovely escape from the bustle of the Venetian crowds but is still conveniently close to the city's centre for shopping, restaurants, and museums.
Our private shuttle boat service is available every day around the clock for guests departing from our dock to all the sister Bauer Hotels in St.Mark.
Scenic space and staging: two factors that come to life in the enchanted places where the stories we read as children are set, stories such as The Wizard of Oz, Alice in Wonderland, Peter Pan, The Little Prince … Stories which are very different from one another but which all share a common denominator: their sense of space, a kaleidoscopic setting rich in ever-changing shapes and colours. Authors describe places with a view to bewitching their readers, to energize them with those sensations that are the prelude to some fabulous story-telling: the spectacle itself.
Any space, any architectural volume, described only in terms of its shape and size, is like an empty stage: a theatrical machine bereft of scenery, the curtain lowered on a bare proscenium.
Venice is a city where scenic space itself is the main player and where, especially in the eighteenth century, architects, painter and sculptors apportioned this most multifaceted stage to produce the most extraordinary rendering of our history and culture.
As an artist and painter who has also worked for many years in theatre and film, I believe that any pictorial act involving figures, embellishment and framing is the equivalent of creating a stage setting in a scenic space; it is so much more than mere decoration, that would be too restrictive, just as it would have been for Palazzo Frollo, today known as Villa Regina.
Palazzo Frollo possesses two fundamental features, volume and light, that can generate a thrilling yet restrained carousel through a multitude of forms and colours with a fresh, contemporary feel. Not all buildings and places can be enhanced with scenery, decorations and paint; Palazzo Frollo can. It is, in my view, the ideal setting for an illustrated theatre. Its rooms relate with each other and the building's surroundings on two levels, water and land, the inspiration for the range of forms and colours I used, made all the more magical by the light reflected by the water, and the light filtered through the green of the plants and vegetation.
The painting technique used for the decorations in the villa itself is known as mezzo fresco.
In this technique, once the artist has prepared his or her support in keeping with the 'full' fresco technique, they then paint onto almost dry plaster in an advanced state of carbonation. It is possible to obtain a painting surface sufficiently bound by calcium carbonate if the paints are thinned with calcium hydroxide, which acts as a binder (plaster paint).
Accommodation
GROUND FLOOR
TURCHESE. One bedroom 'residenza' with en-suite bathroom; living room with dry bar cabinet; garden views. East - 60m² / 646ft².
OPALE. Large one bedroom studio with working fireplace and wet bar cabinet; en-suite bathroom; garden view. West - 70m² / 753ft².
ACQUA MARINA. Two bedroom 'residenza' with en-suite bathroom; cosy living-room with veranda and working fireplace; full kitchen; garden access. East - 150m² / 1615ft².
FIRST FLOOR
ZAFFIRO. Two bedroom 'residenza' with en-suite bathroom; large walk-in closets; living room with amazing views of San Marco; dining room with working fireplace; custom designed kitchen. N/S – 190m² / 2045ft².
PERLA. One master bedroom and one guest room with en-suite bathrooms; living room facing North-West onto the lagoon and San Marco; separate custom designed kitchen; two floors. N/W/E – 150 m² / 1615 ft².
CORALLO. Two bedroom 'residenza' with en-suite bathroom; walk-in terrace; large living room with fireplace overlooking the private garden; separate custom-made kitchen. S/E ­150m² / 1615ft².
SECOND FLOOR
AMBRA. One master bedroom, library with day bed; two en-suite bathrooms; large living room with double height ceiling; incredible view of San Marco and the lagoon; wide custom designed kitchen. N/W – 180m² / 1938ft².
GIADA. Two bedroom 'residenza' with en-suite bathrooms; large living room with double height ceiling; incredible view of San Marco and open Basin; wide custom designed kitchen. N/E -140m² / 1507ft².
AGATA. Two bedroom 'residenza' with en-suite bathrooms; Large living room with double height ceiling; open view of private gardens; spacious custom designed kitchen. East – 150m² / 1614ft².
ONICE. Two bedroom 'residenza' with en-suite bathrooms; large living room with double height ceilings; open view of private gardens; full custom designed kitchen. South ­150m² / 1614 ft².
RESIDENZA F. Two master bedrooms with en-suite bathrooms; large closets, powder room; living-room with eight breathtaking North-view windows facing San Marco and eight more facing South onto the garden; custom designed kitchen and pantry room. North -300m² / 3229ft².
Our CONCIERGE can organize water transfers with your private hostess. Private WATER TAXI directly to the Villa from the apt dock: about 30 minutes. ALILAGUNA (public water-ferry) leaves every hour from apt dock to San Marco about 45 min.
Features
18 Double bedrooms in 11 apartments

Design equipped kitchen in each apartment

Wine bar and reading room

Terraces with breathtaking views of the city and the garden

Sat TV, DVD/CD player, WI-FI internet, I-Pod docking station

Concierge, chef, governess, laundry service, shuttle service and butler are all available on demand
This is the area where your selected property is located - the pin is indicative and not an exact address.