Villa Alice
Amalfi, Sorrento and Islands - Positano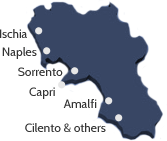 A sheer drop to the crystal sea, elegant villas set in greenery, abundant terraces of lemon trees. This is Amalfi Coast! The origins of its name go back to Hercules who found the most seductive place on earth in which to bury the nymph Amalfi with whom he had fallen in love.
Number of beds: 14
Bedrooms: 6

Amenities
:
ADSL Wi-Fi Internet
Air Conditioning
Barbecue
Breakfast Service
Concierge service
Cooking Service
Daily cleaning
Dishwasher
DVD Player
Heated Pool
Heating
Hot-tub
Laundry service
Ocean Views
Open fireplace
Parking
Satellite TV
Swimming Pool
Washing machine
Nearbies:
Amalfi 16,2 km Pompei 37,5 km Naples 59,7 km Naples Airport Capodichino 63,1 km Naples Central Train Station 59,7 km Rome 277 km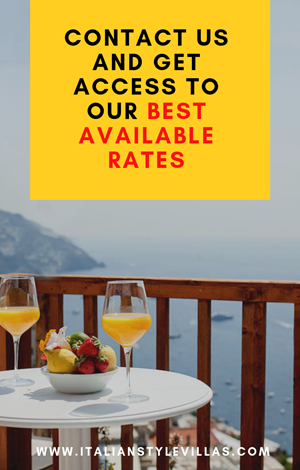 Search for your villa in Italy
Villa Alice – Positano – Amalfi Coast
6 Bedrooms – Heated Pool
Beautiful Positano on the Amalfi coast is known throughout the world as one of the top Italian destinations. Villa Alice is a magical property that will make your stay even more enjoyable and relaxing. Besides luxuriating in the many comforts that the villa offers, the main places of interest in town are only about ten minutes away on foot; the famous pedestrian area, the beach, shops and restaurants.
The style of the villa is typical of many of the properties on the Amalfi Coast. The entrance is about 50 steps down from the road and upon entering the house, you'll find yourself struck by the breathtaking views from the balconies.
The master bedroom with ensuite bathroom is absolutely stunning; spacious, air conditioning, large closets, television, fireplace, an area with armchairs and a balcony overlooking the sea and the city and furnished with pieces of art. The en-suite bathroom is spacious and you have the choice of a bath, shower or hydro massage.
From the corridor, a staircase leads upstairs where there are two further bathrooms with shower and two spacious double bedrooms. Both bedrooms have a balcony, TV, air conditioning, fireplaces and a living area with sofas, TV and closets. There is also a loft area with a double bed and a TV.
Going downstairs, there is a TV area with large sofas, a laundry room, a bathroom with tub / shower and two double bedrooms, one with en suite, and both with air conditioning, TV and access to the big balcony.
The kitchen is on the same floor and is fully fitted with a stove and oven, refrigerator, microwave, coffee maker, blender and all the necessary appliances. The dining area is next to the kitchen and is surrounded by a wall mosaic.
The main terrace has an outdoor dining area, an area with sofas and a staircase that leads to the garden with the large swimming pool with sun loungers, all surrounded by spectacular views of the coast, the sea and nature.
Features
6 Double bedrooms

6 Bathrooms

One double sofa-bed

Outdoor heated swimming pool (4 m x 8 m) with sun-beds

Balconies and terraces with breathtaking sea-views

Pergola equipped for outdoor dining

Fireplace

Fully equipped kitchen with stove and oven, a refrigerator, a microwave, coffee maker, blender and all the necessary appliances

Laundry room

Air conditioning

Garden with BBQ

Internet Wi-Fi connection

Satellite TV

Services included: all the utilities, final cleaning, bed/bath linen (changed daily), maid service (4 hours a day), air conditioned

Porter service upon check in/out
This is the area where your selected property is located - the pin is indicative and not an exact address.
Apr 2019
May 2019
Jun 2019

| | | | | | | |
| --- | --- | --- | --- | --- | --- | --- |
| Su | Mon | Tu | We | Th | Fr | Sa |
| | | | | | | |
| | | | | | | |
| | | | | | | |
| | | | | | | |
| | | | | | | |

| | | | | | | |
| --- | --- | --- | --- | --- | --- | --- |
| Su | Mon | Tu | We | Th | Fr | Sa |
| | | | | | | |
| | | | | | | |
| | | | | | | |
| | | | | | | |
| | | | | | | |

| | | | | | | |
| --- | --- | --- | --- | --- | --- | --- |
| Su | Mon | Tu | We | Th | Fr | Sa |
| | | | | | | |
| | | | | | | |
| | | | | | | |
| | | | | | | |
| | | | | | | |
| | | | | | | |

Jul 2019
Aug 2019
Sep 2019

| | | | | | | |
| --- | --- | --- | --- | --- | --- | --- |
| Su | Mon | Tu | We | Th | Fr | Sa |
| | | | | | | |
| | | | | | | |
| | | | | | | |
| | | | | | | |
| | | | | | | |

| | | | | | | |
| --- | --- | --- | --- | --- | --- | --- |
| Su | Mon | Tu | We | Th | Fr | Sa |
| | | | | | | |
| | | | | | | |
| | | | | | | |
| | | | | | | |
| | | | | | | |

| | | | | | | |
| --- | --- | --- | --- | --- | --- | --- |
| Su | Mon | Tu | We | Th | Fr | Sa |
| | | | | | | |
| | | | | | | |
| | | | | | | |
| | | | | | | |
| | | | | | | |

Oct 2019
Nov 2019
Dec 2019

| | | | | | | |
| --- | --- | --- | --- | --- | --- | --- |
| Su | Mon | Tu | We | Th | Fr | Sa |
| | | | | | | |
| | | | | | | |
| | | | | | | |
| | | | | | | |
| | | | | | | |

| | | | | | | |
| --- | --- | --- | --- | --- | --- | --- |
| Su | Mon | Tu | We | Th | Fr | Sa |
| | | | | | | |
| | | | | | | |
| | | | | | | |
| | | | | | | |
| | | | | | | |

| | | | | | | |
| --- | --- | --- | --- | --- | --- | --- |
| Su | Mon | Tu | We | Th | Fr | Sa |
| | | | | | | |
| | | | | | | |
| | | | | | | |
| | | | | | | |
| | | | | | | |

Jan 2020
Feb 2020
Mar 2020

| | | | | | | |
| --- | --- | --- | --- | --- | --- | --- |
| Su | Mon | Tu | We | Th | Fr | Sa |
| | | | | | | |
| | | | | | | |
| | | | | | | |
| | | | | | | |
| | | | | | | |

| | | | | | | |
| --- | --- | --- | --- | --- | --- | --- |
| Su | Mon | Tu | We | Th | Fr | Sa |
| | | | | | | |
| | | | | | | |
| | | | | | | |
| | | | | | | |
| | | | | | | |

| | | | | | | |
| --- | --- | --- | --- | --- | --- | --- |
| Su | Mon | Tu | We | Th | Fr | Sa |
| | | | | | | |
| | | | | | | |
| | | | | | | |
| | | | | | | |
| | | | | | | |