Giardini di Val d'Orcia - Castello
Tuscany - Chianciano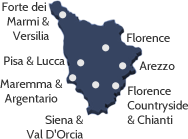 Siena, modern Italians living in a town that looks like time stopped 200 years ago. Steeped in tradition, you can taste it in their cuisine, and feel it during the spectacular Palio. Just beyond the ancient walls the famous rolling hills of the Valdorcia and just a stones throw away the land of the beloved Brunello. Indulge in all of this and more!
Number of beds: 10
Bedrooms: 5

Amenities
:
ADSL Wi-Fi Internet
Country Views
DVD Player
Hi-FI System
Open fireplace
Satellite TV
Swimming Pool
Nearbies:
Arezzo 74,3 km Siena 86,0 km Florence 133 km Florence Airport 147 km Pisa 213 km Lucca 204 km
Search for your villa in Italy
Castello I Giardini di Val d'Orcia – Chianciano – Tuscany
5 Bedrooms – pool
The Castle I Giardini di Val d'Orcia offers all the special charm, character and seclusion of a private home and garden, with the additional advantage of having the restaurant, tennis, playground and other children's activities within easy reach.
When, in the early eighties, the owner began to renovate the square fortified farmhouse for many centuries occupied by 7 peasant families, an open informal garden was designed to blend into the surrounding countryside, and rambling roses, shrubs and bulbs planted to soften the stone-flagged courtyard shaded by a large linden tree.
Two sides of the courtyard became the home of the owner and her children, who still live there when the whole family gets together. Recently the Castle has become available for rent. The house is on two levels with windows facing south over the Val d'Orcia, west beyond the horse paddocks to the sunset beyond the distant hills, and over the courtyard. From the front door steps lead down the lower garden level and an open living space with rattan sofas and armchairs and with a spectacular view over the valley and beyond it to the Monte Amiata. Large clumps of rosemary, lavender and thyme rise from the open lawn with areas where walnut, apricot, cherry, plum, quince and fig trees provide shade and seclusion. There is a rectangular swimming pool (15 X 5 m.), also looking out towards the view but tucked away where bathers cannot be seen, with a shower and changing room next door.
Doors from the courtyard and the main door on the west side lead into the ground floor. There is an entrance hall, a cloak room for guests, a library/study, a large sunny living room with windows looking out both ways over the courtyard and the valley, with a pretty fireplace with antique Neapolitan tiles. The dining room is a beautiful tiled kitchen with a raised fireplace, a large table extendable to 14 places, and a smaller kitchen next door where the cooking is actually done. Next to the dining room is a comfortable and informal living/playroom with satellite TV and an entire book-case with children's books, some dating back to Castello's childhood. French doors lead to a wisteria and rose-shaded pergola. This becomes the main dining space in summer, in the shade at lunch time and looking out towards the sunset in the evening. A wood oven in front of the pergola can be used to cook pizza and succulent roast meat. A guest room with twin queen-size beds and en suite bathroom is also on this floor.
A flight of stairs leads up to the first floor, where a suite with a room with a large double bed and another with twin beds sharing a bathroom and a smaller washroom is ideal for a family. Two other large rooms with double beds, each with en suite bathroom are also on this floor. One is called the "African" room for its paintings and sculptures from Zimbabwe, the other the "yellow" room for its shades of wash on the walls, curtains and bedspread, carpets from Morocco, and sunny exposure. Both rooms look south over the valley. Antique family furniture, paintings, and objects can be found in all rooms in the house.
The garden and pool are looked after by two gardeners. From 8.30 to 2.30 the services of a maid/cook who has been working for the owner for many years are included. She will prepare breakfast and lunches with fresh products from the vegetable garden and orchard, and leave dinner to be heated up on request. She can also be available to cook and serve evening meals at an additional cost.
Download this Villa details and photos as pdf

Features
5 Bedrooms (4 double 1 twin)

Garden with pergola and wood oven

Sat TV
This is the area where your selected property is located - the pin is indicative and not an exact address.