Villa Parabita
Apulia Calabria and Basilicata - Gallipoli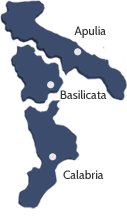 Nature, history and art have made Apulia a major tourist destination:discover a new land for your holidays.
Number of beds: 6
Bedrooms: 3

Amenities
:
ADSL Wi-Fi Internet
Air Conditioning
Barbecue
Breakfast Service
Country Views
Dishwasher
Hairdryer
Heating
Hi-FI System
Parking
Satellite TV
Swimming Pool
Table tennis
Washing machine
Nearbies:
Porto Badisco and Castro less than 50 km, Gallipoli 10 km, Porto Selvaggio about 20 km, Brindisi international airport 85 km and Bari international airport about 200 km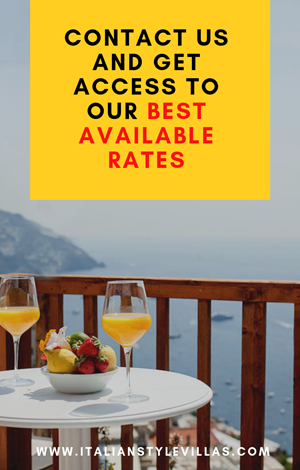 Search for your villa in Italy
Villa Parabita - Gallipoli - Apulia
3 Bedrooms – Pool
Charming villa in the countryside with a natural-style swimming pool.
Location and Surrounding Area. Villa Parabita is an oasis of peace and tranquillity. It is surrounded by vineyards, olive groves and magnificent, old fig trees. The flavours of the food and wine in this area are those of ancient times, where the fruit tastes as it should and a couple of simple vegetables will create a variety of mouthwatering dishes.
Gallipoli offers visitors a splendid historical centre and plenty of sites of architectural and artistic interest. The 17th century baroque cathedral of Sant'Agata has a richly decorated facade and a polychrome high altar by Cosimo Fanzago. Both Gallipoli and Porto Cesareo are excellent spots for enjoying an evening aperitif as you watch the sun set over the water.
Porto Selvaggio is a fantastic natural oasis lapped by the uncontaminated waters of the Ionian Sea. This area of coastline offers both timeless villages and sandy coves worthy of a refreshing swim. The turquoise waters in the sheltered cove at Porto Badisco make for safe swimming and excellent snorkelling. According to Virgil, Porto Badisco was the site of Aeneas's first landing in Italy after his escape from Troy but some historians dispute the fact and suggest the Roman harbour of Castro instead. Castro is another gorgeous, coastal fishing village with the historical centre up on the hill and the lively marina below.
Sports enthusiasts will be happy to hear that there are plenty of local facilities that offer cycling, fishing, scuba diving, kite-surfing and water-skiing. Or why not rent a yacht and explore the gorgeous little Island of Sant'Andrea?
Villa Parabita is 85 km from Brindisi international airport and about 200 km from Bari international airport. Gallipoli is less than 10 km from the villa, Porto Selvaggio about 20 km and Porto Badisco and Castro less than 50 km.
The Property. Villa Parabita sleeps up to six guests in one master bedroom with en suite bathroom and two further double bedrooms with a shared bathroom. The rooms are all named after the natural elements in local dialect: the master bedroom is "lu mare" (the sea), the first double is "lu sole" (the sun), the second double is "lu jentu" (the wind) and the shared bathroom is aptly named lu silentu (the silence). The rooms feature the traditional vaulted ceilings of Puglia, which create a serene and harmonious atmosphere.
The kitchen and living areas also have gorgeous vaulted ceilings and offer plenty of space for cooking delicious meals and entertaining new friends. The kitchen is fitted with all modern conveniences and has a relaxed dining area for six to eight guests.
The swimming pool is perfect for splashing about on hot, summer afternoons and the unique design means that you can easily laze away your time half in and half out of the water. The pool is set into pretty lawns and the is lots of space for children to run around.
Features
1 Master double bedroom with en suite bathroom
2 Double bedrooms
1 Further bathroom
Swimming pool with sun-debs and sun umbrella
Garden with vineyards, olive groves and magnificent, old fig trees
Porch equipped for outdoor dinner and lounge
Living area
Fully equipped kitchen with fridge, freezer, oven, microwave and other utilities
Sat TV and Hi-Fi system
Dryer
Wine cellar